A Jolting January for Stocks
Wall Street is off to its worst start in 18 years. All the headwinds are keeping many investors nervous
by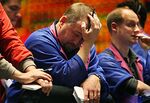 When the calendar changed to Feb. 1, investors could finally put behind them a brutal month on Wall Street. U.S. stocks, represented by the broad S&P 500 index, fell 6.1% last month, one of the worst Januaries on record.
January is often a great month for stocks, as investors reallocate portfolios and invest yearend bonuses. It has provided positive returns for investors in 37 of the past 58 years.
But this year a wave of news and a rising anxiety level caused many to flee stocks. The trends that unnerved investors are almost too numerous to list: A disappointing holiday season for retailers. Weak economic data, particularly for manufacturers, accompanied economists issuing end-of-the-year forecasts that included a strong chance of recession in 2008. Many were disappointed the Federal Reserve hadn't cut interest rates faster in the face of this economic weakness. The economy became topic No. 1 for Presidential candidates and Congress, which prepared a fiscal stimulus package. The housing market showed no sign of stopping its slide. The credit crisis dragged on, as Wall Street prepared for a dismal corporate earnings season with huge losses at financial companies a major culprit.
Is there any chance the financial markets can drive away all this gloom in February and beyond? It won't be easy.
Bond Insurer Woes
The market's problems aren't over, says Lawrence Creatura, a portfolio manager at Clover Capital Management: "No one really feels comfortable in my profession right now." So much bad news at once is historically unusual, making this an especially uncertain time for investors, Creatura says.
Still, hopes have risen recently, as stocks bounced back a bit from their worst January lows. There were a few glimmers of hope out there.
William Rutherford, president of Rutherford Investment Management, says one key problem is the woes of bond insurers like Ambac (ABK). Bankruptcy by bond insurers could set off a domino effect in credit markets, making a terrible environment even worse. So he hopes that discussions of a bond insurer bailout are successful.
"That problem needs to be solved," Rutherford says. "That's probably the single biggest issue facing the market right now."
Uncertain Executives
Another factor to watch, says John Thornton, portfolio manager at Stephens Investment Management Group: The fourth-quarter corporate earnings season will stretch into February.
Thornton says he's less interested in last quarter's results than in whether executives expect an especially tough 2008. So far, executives seem uncertain as to how the year is shaping up. He says he'll be listening to see whether that tone changes in the next week, as January's business results cause CEOs' fears of recession to either intensify or ease.
The announcement of Microsoft's (MSFT) bid for Yahoo (YHOO) on Feb. 1 raised another intriguing question: Might the market see a resurgence of mergers-and-acquisition activity? If so, that's a bullish sign of buying interest.
Creatura thinks unique circumstances—a need to take on Google (GOOG)—explain the Yahoo deal, but another trend could boost M&A activity. Overseas companies may begin hunting for bargains in the U.S. stock market. "Domestic assets are on sale," he says, because of both the weak U.S. dollar and the weak stock market.
A "Global Effort" Needed
One savior that has helped turned the market around lately is the deep interest rate cuts by the Federal Reserve in the second half of January. Low rates are designed to boost economic activity and could ease some pressure on the financial sector and housing markets.
Rutherford, however, is hoping central banks in other parts of the world also start cutting rates. "We really need a concerted global effort by central banks to head off a global recession," Rutherford says.
Many investors already expect the U.S. economy to slow down. That's why the 17,000 drop in jobs in January had only a limited impact on the stock market on Feb. 1. "I don't think we need a lot more evidence to prove the case," Rutherford says. But a global slowdown could deepen any recession, robbing U.S. companies of strong export revenue and high profits from overseas.
So there are some signs that February could be a better month than January. But the level of uncertainty is so high that few are willing to make a bet on a rebound quite yet. "I don't think I'm going to be in a bunker all year long," Creatura says. "But right now I think it makes sense to be a little patient."
Before it's here, it's on the Bloomberg Terminal.
LEARN MORE