How Sony Can Keep the Momentum
After the consumer-electronics giant reported record earnings, BW asked analysts what Howard Stringer and Co. should focus on next
Kenji Hall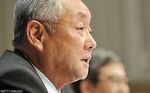 When Sony (SNE) released its third-quarter earnings Jan. 31, investors had plenty to be ecstatic about. Analysts had been predicting that Sony Chief Finance Officer Nobuyuki Oneda would declare the yearend holidays as the company's most profitable quarter ever, and Oneda didn't disappoint. October-to-December revenues and net profit were record highs, he told journalists in Tokyo.
The period highlighted, once again, how far Sony has come (BusinessWeek.com, 1/8/08) since Chairman and CEO Howard Stringer took over in mid-2005. Back then, Stringer and Co. laid out specific profit targets and promised to snip away at units that weren't vital to the company's consumer-electronics and digital entertainment businesses.
Time for New Goals
Most analysts think Sony will meet nearly every target on time. The one Sony says it may not reach: an operating profit margin of 5%. That's unlikely after the company's downward revision of its full-year operating profit forecast to $3.85 billion, 9% lower than its previous prediction of $4.2 billion. It blamed the yen's rise and stock market's swoon over the U.S. subprime mortgage mess.
But the revision wasn't entirely unexpected, and many analysts feel Stringer and Co. now need to consider setting the bar higher. The question is, what should Stringer's new goals be? BusinessWeek asked financial and tech-sector analysts to jot down a few things they want Stringer's management team to accomplish over the next three years. Some common themes: innovate like Apple (APPL), manage the financial books like Matsushita Electric Industrial (MC) (soon to be renamed Panasonic), and make the gaming business profitable as fast as possible. Here's a more detailed look at what analysts want to see from Sony.
Boost return on equity. Sony should aim for a return on equity of between 10% and 15%, says Kota Ezawa, of NikkoCitigroup. ROE gauges how much profit a company is making with the money it has raised from shareholders, and Ezawa and many other analysts prefer it over profit-margin targets because it shows them how a company measures up against others in the industry. Ezawa also says Stringer's team should decide whether to buy or bail out of Sony-Ericsson, the successful cell-phone venture that's 50-50 owned with Sweden's Ericsson, and examine the possibility of selling the 60% stake in Sony Financial Holdings it held onto after the IPO last year.
Learn from the Vaio. Sony should raise its return on capital to 6%, a 20-year high, from the current 4%, says Yuji Fujimori at Goldman Sachs (GS). One obstacle: Too much product inventory has hurt the company's cash flow and held back the unprofitable TV business, says Fujimori. According to Goldman Sachs' research, Sony's TV inventory levels are around 10 weeks, but the industry norm is four to eight weeks. Indeed, there was so much extra stock over the Christmas holiday that Sony ended up promoting both new and old flat-panel liquid-crystal-display TVs. Sony has to transfer the best practices of the Vaio business to TVs, Fujimori says. Sony's Vaio PC business is a model of supply chain management.
Products don't get shipped to retailers until there's sales data showing demand, so inventory remains low.
Encourage more brainstorming. Sony should revive Sony Dream World events, similar to Apple's Macworld Conference & Expo, which it staged years ago in Japan and France, says Richard Doherty, senior analyst at The Envisioneering Group. There, managers and designers from different divisions were free to brainstorm in real time. It was just the kind of cross-pollination that Sony needs. Management should also consider funding more radical tech ideas and lift the veil on technologies now being developed by researchers, Doherty says. For example, he says Sony has multiple advanced display technologies in the labs that it's being far too quiet about.
Spend the cash. Sony has to focus on growth, and the key, says Koichi Hariya of Mizuho Securities, will be how the company spends an estimated $4.8 billion windfall from the Sony Financial Holdings IPO (BusinessWeek.com, 10/11/07), the unloading of Sony's former Tokyo headquarters building, and the sale to Toshiba of some chip assembly lines. Given that Sony's electronics division has already shed assets, it's hard to imagine Sony investing heavily in semiconductors or TV-display technology, Hariya says. That's one reason why Macquarie Securities' David Gibson thinks Sony should reward investors through regular share buybacks.
Outsource more production. Sony's Oneda acknowledged that TVs are likely to remain in the red this fiscal year through March. To make TVs profitable, says Koya Tabata of Credit Suisse (CS), Sony should outsource smaller LCD TVs with screens measuring around 30 inches instead of trying to do everything in-house—from producing key chips and components to final assembly. Sony's move to outsource low-end digital cameras to Taiwan's Hon Hai Precision Industry is a case in point. Hon Hai now makes about a third of Sony's point-and-shoot cameras and Sony's camera profit margins are above 20%. Sony can outsource low-end TVs bound for Brazil, Russia, India, and China and focus on making high-end sets for developed countries.
Emulate Apple. Now that Sony's restructuring phase is past, the company must develop hit products that are easy to use and have a distinctive Sony look and feel, says Yoshiharu Izumi of JPMorgan (JPM). Here, Sony must look to Apple as the benchmark. Sony should make the user interface of its gadgets more user-friendly, Izumi says.
Shed some businesses. Sony should have a vision for where the consumer-electronics industry will be in 10 to 15 years so it can prepare itself, says Carl Gressum of Ovum. He points to Philips (PHG) as an example of an electronics manufacturer that is doing this. Philips has been divesting manufacturing facilities to focus on medical systems and on merging health and electronics. Stringer needs to ask whether Sony should keep its music and movie businesses—and if so, how it can use this content to drive the market for its network-connected gizmos. So far, having content hasn't been much of an advantage, and in some cases it's been a hindrance, Gressum believes. One example: Because of intellectual-property worries, Sony was slow to offer music in the common MP3 format for its Walkman players. In video games, Sony is at work on its next-generation PlayStation 4. It must not repeat the mistakes—too pricey, production snafus, too little supply—of the PS3 launch.