Why Rupert Won't Make the WSJ Fully Free
Murdoch may believe the revenue from subscriptions and the site's lucrative online ad rates are just too good to give upfor now
Tom Lowry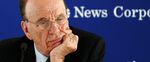 Ever the newspaperman itching to be first, Rupert Murdoch scooped his own executive team at Dow Jones by revealing that The Wall Street Journal Web site will not go completely free. Made during a talk at the World Economic Forum in Davos, the News Corp. (NWS) chairman's remarks came just hours before a planned announcement, from Dow Jones' New York headquarters, on Jan. 24 about the future of the site.
Murdoch's decision to maintain wsj.com's subscription model came as a shock to those outside his inner circle. After all, he had been hinting for months he was prepared to make the bold move to convert what is largely regarded as the Internet's most successful paid content site into a free site to ratchet up traffic and boost its share of ad revenues.
But in a series of meetings in recent weeks with his confidants, Dow Jones CEO Les Hinton and Journal publisher Robert Thomson (both transplants from News Corp. U.K.), and with the old Dow Jones executive team, notably outgoing publisher Gordon Crovitz and Todd Larsen, chief operating officer for the company's consumer media group, Murdoch came around to the idea that ditching subscriptions just doesn't make sense right now. The subscription model has been in place since wsj.com's launch in 1996.
Having His Cake and Eating It, Too
Speculation that Murdoch may have been mulling an about-face first began to dribble out after he met with The Journal's bureau chiefs and top editors in New York, starting with a dinner at the Marriott hotel in lower Manhattan on Jan. 9.
While no consultants were brought in, Dow Jones executives presented plenty of so-called scenario modeling to Murdoch. In the end, however, Murdoch decided for himself, about a week before his trip to Davos. Could he have been spooked by the impact of a possible decline in ad spending? Possibly, but Murdoch is never one to worry in the short term, showing his strength over and over again as a strategic and patient long-range thinker.
"There was no come-to-Jesus moment for him. He simply saw the benefits of having paid subscribers," says one executive close to Murdoch. And with plans to make more of the site free—The Journal announced on Jan. 10 that its editorial page content will now be free—Murdoch clearly believes he can have the best of both models. Murdoch hopes to boost subscription revenues (in Davos, he suggested rates would go up), believing demand among online readers is inelastic and many subscriptions are paid by employers, anyway. He is also hoping for an increase in ad revenues based on the additional traffic the newly free content will presumably generate. News Corp. and Dow Jones declined to make Murdoch or any executives available for comment on The Journal's Web strategy. (News Corp.'s $5 billion acquisition of Dow Jones closed on Dec. 13.)
Number Crunching: CPMs and Unique Visitors
One figure that must have resonated for Murdoch as he pondered the switch is $100 million—the annual amount WSJ stood to lose. The Journal's online subscription revenues are reportedly about $60 million a year (from 989,000 subscribers), and advertisers pay a premium—to the tune of $40 million—for a closed subscription site with affluent, regular readers, according to one executive familiar with wsj.com's operations. Jeffrey Rayport, chairman of Marketspace, a digital media strategy firm, estimates that wsj.com's CPMs, or what advertisers must pay for a thousand ad impressions on its site, run as high as $60. By contrast, CPMs for Murdoch's other hot online property, MySpace, are only about 30¢. CPMs for other blue chip content companies with free sites tend to be in the $25 to $30 range, says Rayport.
According to data from ComScore (SCOR), wsj.com has an average of 2.8 million unique visitors a month. That number would need to increase by 133% to make up for lost subscription revenue, says analyst Michael Nathanson of Bernstein & Co. In the highly competitive online business news field, the break-even hurdle for Murdoch may have seemed too high. Yahoo! (YHOO) Finance, the category leader, draws 13.6 million unique visitors a month. Achieving page views on that scale for wsj.com, says Bear Stearns (BSC) analyst Spencer Wang, is "unlikely given that Yahoo Finance aggregates content from multiple sources [including The Wall Street Journal] and also has a large base of portal users to draw from."
Settled—For Now
Who knows? Perhaps Murdoch will experiment with this hybrid model for a while but eventually change his mind, as he has been known to do. The internal debates will surely continue with some die-hard proponents of the paid content model arguing, as they have since 1996, that because The Wall Street Journal delivers premium news and analysis, readers should have to pay. Others will counter that even though The Journal has proved to be a stellar online brand, the time has come to drop its walled garden, if it is to achieve the scale of the Net's top-tier players, even if revenues can't be made up initially.
"To win in this online category, you have got to be able to hold your own against Yahoo Finance," says Marketspace's Rayport. "And you are not going to be able to do that until you bulk up your audience." He believes Murdoch could drop the paid model without losing half of wsj.com's CPM, as some analysts have suggested would happen. "He could still charge $40, and I do believe his audience would grow tenfold," says Rayport. That's a bullish move Murdoch isn't ready to embrace—yet.
Before it's here, it's on the Bloomberg Terminal.
LEARN MORE