Microsoft Bucks the Tech Trend
Pessimists expecting signs of a tech slowdown didn't find what they were looking for in Microsoft's strong second-quarter earnings
by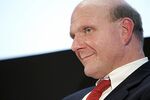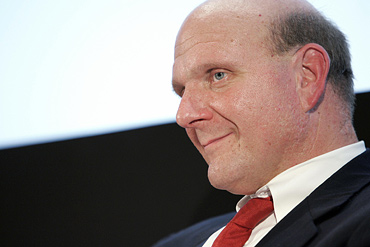 Investors bruised by this year's tech-stock rout found a balm in Microsoft's fiscal second-quarter results released on Jan. 24. It wasn't the blockbuster results that Microsoft (MSFT) reported in October, but sales surpassed analyst expectations nonetheless, and the company raised financial forecasts for the rest of the fiscal year. That was good enough for shareholders who have been scouring results from every bellwether for signs that the economic slowdown is damping tech demand.
They found scant evidence in Microsoft's numbers. In the quarter ended Dec. 31, profit jumped 79%, to $4.71 billion, or 50¢ a share, as sales climbed 30%, to $16.37 billion. Analysts had expected earnings to increase 66%, to $4.35 billion, or 46¢ a share, on a 27% increase in revenue. Results were bolstered by a combination of strong PC sales, upgrades to Microsoft's most popular products, and the relative safety of its international business. Microsoft also benefited from the deferral of $1.6 billion in revenue from its December, 2006, quarter, when it gave customers coupons for new versions of its Windows operating system and Office productivity package, aimed at business users. Not counting that gain, revenue still rose 15%.
The company followed a tough act in the September quarter, when Microsoft blew past revenue expectations (BusinessWeek.com, 10/26/07) by $1.3 billion, causing its stock to reach a five-year high. "You have to look really hard to find any weakness in our results from the first half," Chief Financial Officer Chris Liddell said during a conference call with investors. "We haven't seen any spillover to our business" from the economic slowdown affecting U.S. companies, he added. More than 60% of Microsoft's sales are to customers outside the U.S. "We expect the overall software spending environment to remain healthy," Liddell said.
A Strong Place to Camp Out
Microsoft isn't immune to a further worsening in the economy, but for now its stock could be a safe haven in a sector that's already feeling the fallout from economic slowing. "Everyone's so concerned about the macro condition, and software is typically a lagging indicator," says Brent Thill, director of software research at Citigroup (C), who forecasts shares of Microsoft will reach $41 within a year. "This is the biggest single issue for the stock right now," says Thill, who has a buy rating on the shares, even though he's advising clients to tread lightly in software stocks. He points to Microsoft's slate of upcoming products, low prices, and international diversity as reasons why "Microsoft is a relatively stronger place to camp out."
Some investors concur. Shares of Microsoft rose more than 4% in extended trading, after the results were released. That built on a 4.1% increase, to $33.25, in regular trading. The shares are down 6.6% since the beginning of the year, compared with an 11% drop for the Nasdaq composite index.
Why are analysts bullish? For starters, new products could spur growth. An update to Vista, the latest iteration of Microsoft's operating system, may make the system more palatable for corporations. And the company is slated to launch new versions of its Windows server, database, and development tools software on Feb. 27. Analysts also point to a pristine balance sheet that shows $21 billion in cash, no long-term debt, and $12.2 billion in unearned revenue from long-term licensing deals to be recorded in coming quarters. Microsoft also has been repurchasing shares, buoying its stock price.
Bullish Outlook for the Remainder of 2008
The potential for strong sales growth makes Microsoft's current price of about 19 times its projected 2008 earnings, roughly in line with other big software companies, look inexpensive, says Andy Miedler, a senior technology analyst at Edward Jones. "At this price, we continue to think it's a good entry point" for buying shares, he says. Microsoft isn't immune to economic problems, says Miedler: "Since last year, investors are waking up to the fact that tech is an economically sensitive area." But Microsoft could be well equipped to weather the storm.
During the conference call, CFO Liddell issued a bullish outlook for the rest of the fiscal year, which ends June 30. The company said fiscal 2008 sales will be $59.9 billion to $60.5 billion and per-share earnings will be $1.85 to $1.88. That represents an increase from its earlier forecast for $58.8 billion to $59.7 billion in revenue and $1.78 to $1.81 in per-share earnings. Analysts' consensus estimate for the year was $59.3 billion in sales and $1.81 in earnings per share.
Microsoft also predicted third-quarter revenue of $14.3 billion to $14.6 billion, and earnings of 43¢ to 45¢ a share. Analysts had expected $14.43 billion in revenue and earnings of 44¢ a share. Charles Di Bona, an analyst at Sanford C. Bernstein, wrote in a Jan. 18 note that consensus expectations for coming quarters don't sufficiently value the lift from Vista upgrades. "Microsoft's share price undervalues the true growth potential of the company," he wrote.
Microsoft's upbeat forecast comes during a season of varied outlooks from other tech-industry bellwethers. Apple's (AAPL) shares have tumbled by 13% since the company on Jan. 22 issued a softer-than-expected outlook (BusinessWeek.com, 1/22/08) for earnings in its March quarter. Intel (INTC) also issued a cautious outlook. Yet IBM (IBM) shares have risen by 4% since it announced on Jan. 14 that its fourth-quarter sales and profits beat analysts' estimates by a wide margin (BusinessWeek.com, 1/14/08).
Potential Trouble Spots
To be sure, there are still areas where Microsoft is vulnerable. Its online services business—mostly revenue from placing ads on the Web—widened its loss to $245 million during the second quarter, compared with a loss of $118 million a year earlier. "There are some pretty visible gaps in Microsoft's strategy, and the most visible one is in their online business," says Citigroup's Thill.
And worldwide PC sales, which rose a healthy 13.1% in the fourth quarter of 2007, according to market researcher Gartner (IT), could falter, hurting Microsoft's Windows and Office franchises. If the economy weakens companies may ax large but discretionary technology projects such as desktop software upgrades, which also carry hardware and labor costs, says David Smith, a vice-president at Gartner: "The uncertainty for Microsoft is Vista and Office upgrades could be put on hold."
For now, Microsoft's most important products continue to clean up, and the company can afford to pour money into chasing Google (GOOG) and other rivals in the online software business. That's making its stock look like a sound bet in uncertain times.
Before it's here, it's on the Bloomberg Terminal.
LEARN MORE