Société Générale's Fraud: What Now?
After a rogue trader cost the French bank $7.1 billion, many are left to wonder about the lucrative but risky equity-derivatives business
By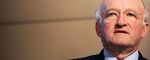 How could this possibly have happened? That was the question being asked in financial circles worldwide Jan. 24, after France's Société Générale (SOGN.PA), one of Europe's biggest banks and a global superstar in the booming derivatives-trading business, disclosed a staggering $7.1 billion loss from rogue trading by a single employee.