Winning the Subprime Bet
BlackRock's Larry Fink just had a very good year. Why did his firm thrive while rivals nosedived? Simple: He saw this mess brewing back in '05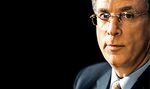 The subprime sob story has played on an endless loop this earnings season. So it was a refreshing change when BlackRock's (BLK) Laurence D. Fink spoke with analysts and investors about his upbeat mood during a Jan. 17 conference call about the fourth-quarter results. Said the founder and chief executive of the $1.4 trillion money manager, once considered a leading contender for the top spots at Merrill Lynch and Citigroup: "It's very nice for me to be sitting here at BlackRock."
Fink's position on Wall Street is an enviable one. Unlike many of his fellow chieftains, he foresaw the subprime market bomb two years ago and got out early. In fact, Fink profited greatly from his rivals' misery. He and his managers were so confident of a coming meltdown in housing that the firm's hedge funds made bets against real estate.
The slick maneuvers have made BlackRock one of the Street's few subprime survivors, with performance that outpaced even that of Goldman Sachs, led by Lloyd Blankfein (GS). In the latest quarter, profits at the firm jumped 90%, to $322 million, making it the only bright spot at Merrill, which owns 49.8% of BlackRock. And shares of BlackRock are up 36% since the start of 2007, compared with an essentially flat showing for Goldman and a 25% loss for the average financial company in the Standard & Poor's 500-stock index. "No one thought risk management was important," Fink told BusinessWeek in late January. "[Throughout] the history of BlackRock, we've said risk management was important."
Relatively unscathed by subprime, BlackRock is now raising billions from big investors to go dumpster-diving among the financial wreckage, a situation that's only getting uglier each day. Fink sees opportunity in distressed securities such as the loans banks made for leveraged buyouts, real estate funds, and mortgage-related investments. And with the markets dangerously slumping into bear territory, Fink also thinks BlackRock may be able to pick up assets on the cheap from troubled hedge funds and other firms desperate to off-load investments in the coming months. "We're experiencing rolling blackouts across the financial system," says Fink. But "the marketplace is finally starting to pay you for taking on some more risk."
Fink grew up far from the marbled corridors of Wall Street, in Van Nuys, Calif., a working-class town in the San Fernando Valley. After earning a BA in political science from the University of California at Los Angeles in 1974 and an MBA there in 1976, he headed to New York for a job as a bond trader at First Boston. The timing was perfect: That business was taking off, and Fink was eager to make his mark. By age 28, Fink made partner.
A few years later, Fink immersed himself in another burgeoning business, mortgage-backed securities. First Boston had a reputation for taking on bold $100 million trades, and Fink was happy to push the limits. But in 1986 he got burned by a bad call on interest rates. After generating profits of $130 million in the first quarter of that year, his group booked similar-size losses by the second quarter.
SEED MONEY
Fink left First Boston a year or so later amid turmoil at the bank. He eventually joined forces with Stephen A. Schwarzman, co-founder of then little-known private equity firm Blackstone Group (BX). The two conceived of the company that eventually became BlackRock as a management shop that would make a slew of small, low-risk bets on bonds. With Schwarzman providing the seed money, Fink quickly wooed six traders and money managers from First Boston and Lehman Brothers (LEH), making them partners in the newly formed firm. The group started with a telephone, a couch, and an indoor basketball hoop for relieving stress.
The firm debuted in 1987 with a few novel mortgage funds, including one of the earliest closed-end bond funds. It later offered advice to banks hurt by the savings and loan crisis of the late-1980s. By 1994 assets under management had surged to $53 billion.
But the relationship between Schwarzman and Fink began to fray. According to people close to the situation, Fink wanted to attract more talent and sought to use the firm's equity as bait. But Schwarzman, who owned 32%, balked at the plan. When the two reached an impasse, Schwarzman declared that he wanted out and encouraged Fink to "go find a buyer." PNC Bank of Pittsburgh paid $240 million for the entire company, which eventually went public. Schwarzman took his cut and left. The split was less than amicable. But Fink and Schwarzman have grown closer in recent years; Fink has attended Schwarzman's extravagant birthday parties, and the two have recently made speeches together. During a Jan. 10 conference call, Schwarzman said: "We sold BlackRock too early."
From its inception, BlackRock cultivated a reputation for risk management. Fink's First Boston blowup was a lesson on how easily Wall Street success can unravel, an experience he has been determined to avoid ever since. To this day, says William R. Berkley, chairman and CEO of insurance firm W.R. Berkley (BER), Fink "spends a lot of time looking over his shoulder and making sure he doesn't make a mistake."
PUTTING CAUTION ON THE PAYROLL
BlackRock soon began selling its sophisticated tools for taming risk to institutional investors. General Electric (GE) hired the firm in 1995 to help manage and sell a $7 billion batch of troubled bonds. All told, BlackRock helps more than 100 clients manage risk for some $6 trillion in assets. In December the state of Florida named BlackRock the emergency manager for $12 billion of its investments after that portfolio got hit by some bad subprime-related stakes.
Caution has served Fink well over the years. In 2005 he passed on the chance to buy Citi's lagging mutual fund business, foreseeing a lengthy and turbulent turnaround. That has turned out to be the case for the eventual buyer, Legg Mason (LM). Late last year, Fink was in the running for the top spot at Merrill but asked to look at the bank's subprime portfolio. The firm didn't give Fink a chance to review the books. A few days after his request, Merrill hired John A. Thain instead.
Fink was early to see the coming storm in subprime. He decided that the mortgage market had turned into a Wild West of poor lending standards back in 2005, a full 18 months before the rest of Wall Street. So BlackRock holds few securities backed by home loans originated in 2006 or 2007, the most toxic vintages with the highest default rates. And just $3.2 billion in money market-like assets, out of $313 billion the firm manages, are made up of securities issued by troubled structured investment vehicles, the off-balance-sheet creations that have caused huge losses for Citi and others.
As a result, BlackRock's mortgage losses have been minimal. It got rid of some of its SIV-related securities for 97 cents to 98.5 cents on the dollar last quarter and injected $30 million into two troubled cash funds. In all, BlackRock's mortgage-related losses totaled only $42 million in the fourth quarter, a fraction of the $18.1 billion at Citi and $14.6 billion at Merrill.
Meanwhile, BlackRock's subprime gains have easily offset its losses. Its flagship hedge fund, Obsidian, bet early in 2007 that the value of real estate investment trusts would fall, racking up a 30% gain, three times the average hedge funds' returns.
Fink, who is married to a photographer, Lori, and has three children, enjoys a lavish lifestyle that includes art collecting, a house in Aspen, Colo., an apartment on Manhattan's Fifth Ave., and a passion for fine wine. "If you want to know which pinot noir is the one to buy, call Larry," says Morgan Stanley (MS) CEO John Mack.
Fink and several Street luminaries—including Lazard (LAZ) Vice-Chairman Donald G. Drapkin and Goldman Sachs banker Thomas E. Tuft—as well as Ann Colgin, who owns Napa's Colgin Cellars, hold regular wine events in which each guest brings a bottle. After a blind tasting, the person with the worst offering has to pay for dinner. Fink also owns, with Drapkin and others, Octone Records (label of the rock band Maroon 5), a jewelry store in Aspen, and a skating rink in Hackensack, N.J.
Fink and his wife have come to figure prominently on the New York board scene as well. He donated $10 million in 2004 to the New York University Medical Center, where he and his wife are trustees. As a director at the New York Stock Exchange (NYX), Fink played the role of peacemaker in the contentious vote to oust then-Chairman Richard A. Grasso in 2003, which may explain why he holds no grudge. "He's one of the most talented people in the financial community," says Grasso. "He's entitled to be called the King of the Prom."
Before it's here, it's on the Bloomberg Terminal.
LEARN MORE