He Works Hard for the Money
In China, Camry salesman Lin Baojia nets $14 for every car he movesif the buyer loads up on extras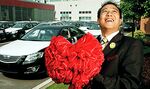 In a country where auto sales have been growing at 20% to 30% annually, moving the metal should be a breeze, right? Before you answer, check in with Lin Baojia. The 41-year-old is among Toyota's (TM) top salesmen in China, unloading about 60 Camry sedans a month, but it's not exactly easy. "If there's anything wrong with the car, customers can call me on my cell phone at any time," says Lin, who sports a Toyota-issue uniform of a dark-brown suit with a yellow smiley-face button on the lapel. "When someone calls in the middle of the night, it's usually a big emergency, so I'll do everything I can to get out to be with him."
It's all part of Toyota's strategy of building sales in status-conscious China by coddling customers. Unlike in the U.S., where the Camry is as middle class as you can get, Toyota positions the car at China's high end. The sedans, cosmetically a bit different from the American Camry but essentially the same vehicle, range from $27,000 to $37,000—big money in a country where you can get a decent car for a bit over $4,000. That means buyers are mostly big shots used to getting what they want, when they want it.
Toyota tailors its operation to make customers feel they're the most important people on earth. When prospective buyers (80% are male) arrive at the dealership where Lin works in the southern city of Guangzhou, they're checked in at the gate. Then they're ushered into the showroom and greeted by name. Contact details are immediately entered into a database so the sales staff can call back in a day or two to encourage them to buy. There's a white baby-grand player piano tapping out gentle melodies. The service area features leather sofas, Internet access, free coffee, and snacks. Windows overlooking the service bay give the place a feeling of transparency in a country that's usually anything but.
"OPEN ARMS"
The operation sells Camrys made at Toyota's joint-venture factory in Guangzhou, plus a handful of other models imported from Japan. The dealership is light and airy, with high ceilings and a design intended to "resemble open arms," says Tetsuya Ezumi, sales chief of Guangzhou Toyota Motor, the manufacturing operation. The Guangzhou venture has roughly 140 dealerships in China today and expects to hit 350 by 2010 (another Toyota joint venture has a separate roster of nearly 300 dealers, and Lexus has 31). All told, Toyota sold roughly 500,000 cars in China last year and expects to move 1 million annually by 2010.
Lin and his colleagues are happy to answer any questions about the cars, but they avoid pouring on the pressure. "If I look desperate to sell today, people will think something is wrong with the car," Lin says. Once a customer has decided to buy—prices are fixed, haggling is prohibited—most pay in cash at what looks like a bank teller's window. When it's time to pick up the new car, it's wrapped in a giant red ribbon and delivered in a small ceremony with family and friends. There's a special room that's enclosed in glass and sports a mirrored wall on one side because "buyers like to see themselves behind the wheel," says Ezumi.
Toyota's sales staffers have learned to cater to customers' whims big-time, and few do it better than Lin. In one case, a recently purchased car developed a short circuit in a downpour late at night and wouldn't start. Lin arranged to have the car towed to the dealership to get it fixed, then sent the owner on his way at about 2:30 a.m.—with two cases of mandarin oranges in case he got hungry. Other times, he has picked up drivers who called him after drinking too much. He says he hops out of bed to give them a lift home in the wee hours. "Behind each customer stands a brother, a father, an uncle, a friend," Lin says, "and he'll recommend that others he knows come to me to buy a car. Good service is an investment."
All this for a commission of $14 per car. And that's if Lin can sell the customer on insurance and extras such as GPS navigation or a radar system that warns the driver when he's about to hit something while backing up. Lin manages the full commission 90% of the time, but when he doesn't, it sinks to $7. After factoring in his base salary of some $140 monthly, Lin earns enough to own a car—but not a Camry. Instead, Lin has a Mitsubishi—and isn't shy about saying so. "The challenge is to be a level below the customer," he says. "Since I'm only a salesman, I shouldn't drive the same car as you."
Before it's here, it's on the Bloomberg Terminal.
LEARN MORE