Economic Uncertainty in Davos
Maria Bartiromo gauges reactions across the business spectrum after fears of a U.S. recession set off a wave of selling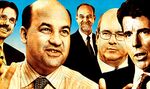 As the snow flew in Davos, the fur was flying on exchanges all around the globe. Fears of a U.S. recession set off a wave of selling that sent the Dow below 12,000, although by press time on Jan. 23 global markets were settling down and recouping losses. To gauge reactions across the business spectrum, I talked with the managers of two massive pension funds in the U.S., Christopher J. Ailman of CalSTRS and Russell Read of CalPERS; General Mills (GIS) CEO Kendall J. Powell; Barclays (BCS) President Robert E. Diamond Jr.; and Glenn Hutchins, co-CEO of private equity firm Silver Lake. Everyone but Ailman and Read were at the World Economic Forum, where the luminaries ranged from Secretary of State Condoleezza Rice to News Corp. Chairman Rupert Murdoch. But most eyes were glued to the news happening far from the frosty Swiss Alps.
MARIA BARTIROMO
What's your reaction to the Fed's rate cut?
CHRIS AILMAN, CalSTRSWe think it's finally a sign that the Fed is going to stop worrying about inflation and start focusing on the economy. Since we're a long-term investor and we've been underweight in U.S. stocks, we think this is a buying opportunity. One concern is that no one can tell us what really started this in Asia other than Asia's concern over the U.S. Yet then [the U.S.] reacts to Asia. Are we a dog chasing our tail? This all raises the stakes for a U.S. and global recession. It would be nice to see non-U.S. stocks react to their home economy rather than America's.
MARIA BARTIROMO
How would you characterize the current business environment?
KEN POWELL, GENERAL MILLS
Well, we are the ultimate noncyclical business. For the first half of the year, sales are ahead of expectations.
What about inflation?Three years ago we started telling people we would be in a period of higher inflation. So we have tried to absorb the costs and innovate. We are expecting 4% to 5% inflation, and that's what we have prepared the company for.
What about pressure on the food business from the increased use of ethanol from corn?No doubt, in the short term diverting some corn for ethanol is inflationary. But we can get as much corn as we need. What is really pushing inflation is demand.
MARIA BARTIROMO
Did the Fed make the right move in cutting rates?
RUSSELL READ, CalPERSMy view is that the cut is appropriate and reflective of real concern about an economic slowdown. The Fed is clearly balancing slowdown conditions with inflation concerns at a particularly tricky time. Namely, significant weakness in the dollar has accentuated inflation in commodities and imports. My sense is the Fed obviously views a slowdown as the greater concern at this moment, but its ability and willingness to engineer further cuts will depend upon what it views as the greater concern, slowdown or inflation, as the year unfolds.
MARIA BARTIROMO
What do you see in the year ahead?
BOB DIAMOND, BARCLAYS
We will have a tough 2008, and it is largely a liquidity issue, not so much a credit issue. As far as the global slowdown, I do not believe in this decoupling idea—that the U.S. can have a sharp slowdown and the rest of the world will not. We haven't seen a real change in Asia yet, but in Europe we are starting to see the effects.
What can you do to offset a difficult 2008?That is the key question: How do you deal with the tough market conditions we anticipate. We are not going to stop investing throughout this period in commodities, in equities, and in global markets like Asia.
Are you looking for more money from abroad?Our balance sheet is strong. We completed injections of capital from Temasek Holdings [the Singapore sovereign-wealth fund] and from China.
MARIA BARTIROMO
What's your read on the financial environment?
GLENN HUTCHINS, SILVER LAKE
A lot of uncertainty is radiating from financial services, beginning in New York and London. But outside of housing, the economy seems pretty good. In the tech community, everyone had a terrific 2007. Most people are giving cautious guidance because of the uncertainty they are hearing. Growth expectations, like liquidity, are a psychological issue, not a technical issue. We can talk ourselves into a credit crunch and a slowdown. But we are still seeing a fair amount of deals. There are distressed assets out there, and we will use less leverage and more equity in our transactions.
Doesn't it concern you when we see the Dow open 400 points down?It's hard to go through turbulent times that generate negative sentiment. But it's healthy to flush excesses out of our system. Japan took a long time to flush the negatives out, and it stagnated for a decade. When we have a disruption, we get back to growth pretty quickly. This is unlike any Davos I've been to. There's a minute-to-minute focus on the markets, whereas in the past we were able to step back.
What's the next Google (GOOG)?It's wireless content. I have my Bloomberg on my BlackBerry. It's fantastic. And that's what people will want. Capability and content will be very significant. Wireless and mobility have a chance to be bigger than the PC.
Before it's here, it's on the Bloomberg Terminal.
LEARN MORE