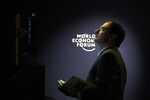 The meltdown in the financial markets has quickly taken over conversations at the annual meeting of the World Economic Forum in Davos, Switzerland. If you want a dose of extreme pessimism, it's easy to find. "It is no longer a question of a soft landing in the U.S," says Nouriel Roubini, chairman of U.S. research group Roubini Global Economics. "It is more a question of how hard the hard landing is going to be."
The pessimism is accompanied by a growing sense that U.S. policymakers, financiers, and consumers have put the world economy in a bad spot. European leaders, especially EU economy commissioner Joaquin Almunia, have openly criticized American profligacy (BusinessWeek.com, 1/23/08). And there doesn't seem to be an easy way out. Stephen Roach, a well-known Wall Street economist who is now chairman of Morgan Stanley Asia (MS), says the turmoil in world markets and the slowdown beginning in the U.S. are the result of the bursting of the subprime and credit bubbles, which will require a substantial work-out period and are unlikely to be cured by Fed rate cuts—even those of the magnitude of the 75 basis point cut announced on Jan. 22 (BusinessWeek.com, 1/22/08).
In fact, Roach argues, U.S. Federal Reserve Chairman Ben Bernanke is in danger of repeating the mistakes of his predecessor—providing easy money after previous bubbles burst—which will lead to new bubbles. "We have had a ton of bubbles in the last eight years," Roach said in an interview with BusinessWeek at Davos. "They are all related—the outgrowth of excess liquidity injected by irresponsible central banks, with the U.S. Fed leading the way."
No Way to Run the Economy
Roach thinks the U.S. and other countries, including Britain, have become accustomed to living on bubbles—that is, the appreciation of assets from houses to stock prices to art—rather than on real income. His prescription: disciplined monetary policy reminiscent of Paul Volker's successful effort to bring down inflation in the years from 1979 to 1982. He says the Fed "should not be goaded" into rate cuts "by a one- or two-day swoon in the markets, as Bernanke was yesterday." In fact, he says the Fed's message of being on hand to clean up bubbles was "a dangerous, reckless, and irresponsible way to run the world economy."
While bear-market-style pessimism is certainly the prevailing mood at Davos, not everyone shares Roach and Roubini's dark view. In fact, how much the slowdown in the U.S. will hurt the rest of the world is the subject of much hot debate. Speakers from sizzling emerging markets, for instance, seem far more sanguine than Americans. Kamal Nath, India's Minister of Commerce, said in a hallway conversation that India just wasn't feeling the sort of pain that's starting to hit the U.S. And Aditya Mittal, chief financial officer of Arcelor Mittal (MT), the world's largest steel company, concurs that countries such as India and China have built up a lot of economic steam, which will be hard to dissipate.
The Persian Gulf region also looks promising. Growth there is so hot, says Khalid Ali Reza, a leader of a large Saudi business family, that access to business opportunities in the Gulf could be the ticket to persuading Israel to conclude a peace deal with the Palestinians. "The attraction of Israel is that after peace, Israeli businessmen can enjoy the prosperity of the Gulf," he says.
Dark Economic Clouds
There are also Western voices warning against succumbing to too much gloom. Robert Diamond, president of Barclays Capital (BCS), predicts in "six months we will feel much better about the U.S. economy and the U.S. consumer." He says the downturn will be "shallower and shorter than the market is predicting now."
But even on a glorious sunny day, Roach's dark economic clouds seem more persuasive. Roach doubts the world economy will decline to just 2.5% gross domestic product growth—the definition of a world recession—but he says it may come a lot closer to that level than current thinking holds. Chinese growth could even fall as low as 6%, he warns, well below current forecasts of more than 10%. The bears were on display in the Swiss Alps and Goldilocks was nowhere to be found.
With reporting from Jennifer L. Schenker
Back to Davos Special Report
Before it's here, it's on the Bloomberg Terminal.
LEARN MORE