Big China Plans for Japan's Big Three
Toyota, Nissan, and Honda are ratcheting up the pressure in the world's fastest-growing auto market
Ian Rowley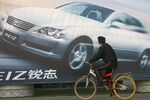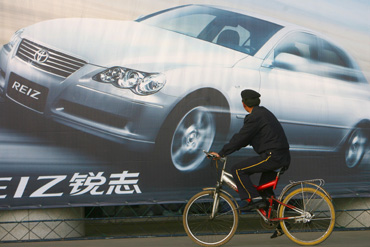 It's been a bad few weeks for shareholders in Japan's big automakers. Hurt by fears over the rising yen, a slowdown in the U.S., and declining business in Japan, Toyota's (TM) stock price is down 18.9% since the start of November. Shares in Nissan (NSANY) and Honda (HM) have performed even worse, losing 24.7% and 26.5%, respectively, during the same period.
Investor concern is understandable, since half or more of the earnings of Japan's Big Three come from North America. Moreover, the Japanese market, the world's third-largest, was at a 25-year low in 2007 (BusinessWeek.com, 11/1/07). One bright spot, though, comes from rapid growth in the world's fast-growing emerging auto markets, especially China. That developing-economy demand, say hopeful auto execs in Japan, will be more than enough to enable Toyota, Nissan, and Honda to meet earnings projections. "This year, Japanese carmakers will enter a new growth phase, with demand from emerging markets offsetting sluggish demand in the U.S. and Japan," says Yasuhiro Matsumoto, an analyst at Shinsei Securities in Tokyo.
Undoubtedly, 2007 was a strong year for the Japanese marques in China, which overtook Japan in 2006 to become the world's second-largest car market behind the U.S. While full-year results are still to be published, CSM Worldwide, an automotive consulting company, estimates that Japanese passenger-car sales in China increased by 24%, to more than 1.5 million vehicles—more than twice the total three years ago.
Toyota's Growth Spurt
Plenty of other automakers are also counting on growth from China, of course. Market leaders Volkswagen and General Motors (GM) also had strong sales. Volkswagen, which has two joint ventures with Chinese manufacturers, announced sales there of 910,000, a rise of 28%, on Jan. 10. A day earlier, GM said its sales in China increased 19%, to 1.03 million (although analysts point out that includes almost 550,000 vehicles built by SAIC-GM-Wuling, in which GM holds only a minority 34% stake). And local Chinese brands such as Geely and Chery are on the rise, too (BusinessWeek.com, 10/24/07).
Still, the Japanese are well-positioned to move toward the front of the pack. Spearheaded by Toyota, Japan's automakers are likely to keep up pressure in the months and years ahead. Ashvin Chotai, an independent automotive consultant and former director of Asian automotive industry research at Global Insight, reckons market share for Japan's automakers will rise to 25% by 2012, from 14% last year. "There's a lot of playing catch-up, but they're really building a head of steam," says Chotai.
Toyota's growth in China is especially ominous for rivals. After a slow start, Toyota's expansion in China has revved up considerably since the opening of a new Camry plant in Guangzhou in May, 2006. For 2007, Toyota is expected to post sales of around 500,000 vehicles in China. That's a rise of more than 50% vs. a year earlier and considerably higher than its 2007 estimate of 420,000. By 2010, it aims to double sales again, to more than 1 million. "Toyota was slow to take off in China, but with this new Guangzhou joint venture ramping up, it's starting to come through very strongly," says Andrew Phillips, an analyst at KBC Securities in Tokyo.
Nissan, Honda Plot Expansion
Nissan and Honda are also hoping to continue to increase production and sales in China. Nissan's passenger-car sales increased more than 30% in 2007, to around 300,000, and have tripled since 2004. Nevertheless, Katsumi Nakamura, CEO of Dongfeng Motor, Nissan's joint venture in China, says it's vital that the company increase its market share above the current 5%. "It is very important for us to show the Chinese customers that we are one of the major brands in China," says Nakamura. "Our focus is growth." Nakamura won't give a sales target yet, but says Nissan's Chinese arm will launch a new midterm business plan later this year. The company will soon begin selling its Qashqai and X-Trail crossover SUVs in China. Koichi Sugimoto, an analyst at Merrill Lynch (MER) in Tokyo, adds that Nissan, which also has a large commercial vehicle business in China, will also benefit from a new version of its Teana sedan, which he expects to be introduced before long. "Nissan is also catching up," says Sugimoto.
Honda, one of the first Japanese automakers to get serious about China, hopes that the new Accord sedan, launched in December in China, will help sales rise 17% this year, to 490,000. Eiji Okawara, president of Guangzhou Honda Automobile, Honda's joint venture in China, said in December the company will introduce a new brand of car specifically for the Chinese market in 2010. Even some of Japan's second-tier players are focusing more on China. Mazda (MZDAF) plans to sell 180,000 vehicles in China this year—up from around 100,000 in 2007. And CSM Worldwide projects Mitsubishi Motors (MMTOF) will increase China sales by around 66%, to just short of 100,000, by 2010.
But why should Japanese automakers' market share grow in China? One factor is that they're starting from a relatively small base. Toyota, for example, had a market share there of just 3.5% in 2005. By last year, Toyota had overtaken Honda to become the third-biggest foreign brand in China, but its share, at about 7%, is still far off the 10% of the market it's aiming for by 2010.
Chinese Buying Habits Could Help
Changes in the habits of Chinese car buyers could also help. One reason for the high profit margins made by automakers in the country is that customers are prepared to pay high prices for expensive models, often paying thousands extra for leather seats and other options. But as the market broadens to more middle-class buyers, the same values—reliability, fuel economy, and quality—that have made Japanese cars popular in the U.S. could boost Chinese sales. "When I first came to China in 2000, car buyers were very few and rich," says Kenichiro Yomura, senior general manager of sales and marketing at Nissan's Guangzhou joint venture. Today, though, as Chinese wealth has spread and car prices fallen, a new generation of value-conscious car buyers is emerging that wants less bling and more value.
Japanese makers also hope to benefit from changing perceptions about vehicle safety. In particular, they hope to increase sales by challenging a view that their generally lighter vehicles aren't as safe as rivals', even though they are regularly among the best performers in China's crash tests, which were introduced in 2006. "We use high-tension, thin steel, and some customers believe that if [carmakers] use thicker steel, it's stronger; yet it's Japanese brands which are often getting five-star ratings," says Yomura.
Then there's the impact of the U.S. and other markets where Japanese brands are already strong. Yuzo Ushiyama, a managing officer for Toyota with responsibility for China, says one reason for the popularity of the Camry in China is its popularity among Americans. "Chinese people, through the Internet, know this," he says. "That very good performance in other markets works to our benefit in China."
Before it's here, it's on the Bloomberg Terminal.
LEARN MORE