Tapped-Out Consumers
Blowback from the mortgage mess has average Americans struggling. And that's spooking The Street
Matthew Goldstein and David Henry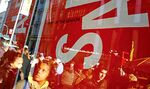 It's official. The subprime flu has finally spread to the U.S. consumer.
Citigroup and JPMorgan Chase, two of the nation's biggest banks, recently announced they are setting aside nearly $6 billion between them to cover potential defaults on consumer loans. The news set markets roiling in what has already been a tumultuous year. And it has rekindled fears that the economy, if not already in recession, is on the verge of one.
For months, Wall Street clung desperately to the belief that the mortgage mayhem—which prompted a wave of home foreclosures and nearly $100billion in write-downs from big banks so far—might remain contained to the financial and home building sectors. But there's a grim new reality: Already troubled consumers are struggling under towering credit-card bills and auto loans.
The connection to real estate appears clear. Rapidly falling home prices in many parts of the country mean consumers can no longer draw upon the equity in their homes for extra cash—something many had done with abandon during the boom. "Their ATMs, their homes, are now spitting out blank slips," says David Easthope, a financial services analyst at Celent.
Fearful bankers are making matters worse by tightening their lending standards, which makes all sorts of consumer loans more expensive and scarce. The banks' caution comes out of sheer necessity. Their balance sheets are devastated after the huge mortgage write-downs of the last two quarters. And the industry's new conservative lending posture will make it difficult to resuscitate consumer spending with another jolt of interest-rate cuts. Banks are likely to keep raising rates on credit cards and other consumer loans no matter what Federal Reserve Chairman Ben Bernanke does.
The growing unease about the health of consumers is behind the stock market's worst start in 30 years, with the Standard & Poor's 500-stock index falling 6% as of Jan. 15. Banking and brokerage stocks, many of which lost more than 20% of their value in 2007, continue to get pummeled. Shares of Citigroup, Bear Stearns, Lehman Brothers, and Charles Schwab are all off 10% or more in '08. Even tech stocks—many of which have good growth prospects and were last year's bright lights—are getting smacked around on the fear that consumers won't spend as much this year on iPhones or plasma TVs. Shares of Apple sank by 5.5% on Jan. 15, even as CEO Steve Jobs unveiled the computer company's latest gizmo, a superthin laptop. The Nasdaq is off 9.7% for the year.
The parade of fourth-quarter earnings announcements by the nation's top banks only bolstered bearish sentiments. Citigroup Chief Financial Officer Gary Crittenden, in a Jan. 15 conference call, said the bank is looking at raising rates on its credit cards to protect itself from a potential surge in late payments. JPMorgan Chief Executive Officer Jamie Dimon, whose bank has managed to skirt much of the damage from the subprime meltdown, sounded a particularly sour note on the housing market the following day. He said prices could fall another 5% to 10% this year and further crimp the home-equity-loan market. Over at Wells Fargo, Chief Executive John Stumpf said: "We expect the environment to remain challenging in 2008, particularly in the consumer sector."
A SCARIER MONSTER
Investors' worries about the U.S. consumer are overshadowing Wall Street's main bogeyman since the summer, those nefarious subprime-linked securities known as collateralized debt obligations. With Citigroup taking a massive $18 billion hit to the value of its CDOs and other subprime mortgage debt in the latest quarter, there's a sense that the worst of the write-downs from these complex investments may now be in the past. Sure, some surprises may lurk. Citigroup still has a jaw-dropping $37billion in exposure to subprime debt on its books. But most observers predicted Citi's big hit weeks ago.
The shock this time around was the large jump in reserves for bad consumer loans at both Citigroup and JPMorgan. Jeff Harte, an analyst with Sandler O'Neill & Partners, says Citigroup's decision to set aside $3.3 billion in the fourth quarter to cover consumer losses is an indication "consumer credit is deteriorating more rapidly" than expected.
Trepidation over consumer weakness has been building for some time. The December jobs number was particularly anemic, and retail sales started to flag in the final weeks of the holiday shopping season. During the ramp-up to election season, a raft of polls has shown that voters believe the economy is far weaker than the statistics would suggest.
But in early January those fears were finally realized. Credit-card giants American Express and Capital One both warned on Jan. 9 about a spike in customer defaults and confirmed a slowdown in December spending. The warning from American Express was particularly ominous, given that the vast majority of its cardholders are affluent and among the nation's biggest spenders. "We are moving away from concerns about CDOs and subprime to broader consumer issues," says Timothy Ghriskey, a co-founder of Solaris Asset Management, a $2 billion investment fund. "The credit issues are working their way deeper into the economy."
So just how much more damage will banks, and Citigroup in particular, have to contend with from the consumer slowdown? They may have to boost reserves again to cover problem loans. And each time a bank is forced to sock away money, it eats into earnings. Already analysts estimate that the billions Citigroup set aside for future consumer loan losses cut its fourth-quarter earnings by 50 cents a share. Overall, Citigroup lost $1.99 a share, or $9.83 billion, in the quarter—the biggest loss in its long and storied history.
And if the consumer continues to retrench, or more problems surface in subprime, things could get a lot worse for the nation's banks and the economy as a whole.
Before it's here, it's on the Bloomberg Terminal.
LEARN MORE