business
Israel's Winemaking Revolution
International consumers used to shun Israeli wines, but Golan Heights Winery managed to create a market for world-class winesand retool an industry
By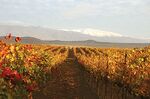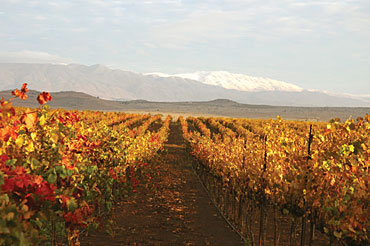 The Golan Heights Winery vineyards climb from the Sea of Galilee to snow-capped Mount Hermon near Israel's border with Lebanon and Syria. A picturesque region of rolling hills, waterfalls, and gorges, the Golan Heights is perhaps best known as the contentious area Israel captured from Syria during the Six-Day War in 1967—territory still claimed by Syria today.
However, the Golan Heights Winery has added an unexpected business significance to this 460-square-mile rocky plateau. Established in 1983, the winery is credited with remaking the Israeli wine industry and slowly transforming Israel's reputation as a maker of unexciting, syrupy kosher brands to a producer of world-class, award-winning wines that appeal to sophisticated international consumers.
The state-of-the-art winery, located in the village of Katzrin, is owned by four kibbutzim (collective farms) and four moshavim (cooperative farms) that also maintain its vineyards. A professional management board of directors runs the winery. Its three labels, Yarden, Gamla, and Golan, produce some 17 different varieties and are the most widely exported Israeli wines in the world. In 2007 the winery's 1,600 acres of vineyards produced 430,000 cases, up from 420,000 in 2006, and generated sales of $30 million. Today, says the head winemaker, California-born Victor Schoenfeld, "We have wine shortages. Our demand outstrips our supply."
The success of Golan Heights Winery helped open the floodgates for what is known in Israel as the "quality revolution" in Israeli wine, creating a new market and brand identity for the country's vintages. That helped spur the creation of new wineries as well as to push existing ones to improve the quality of their products. Michal Neeman, director of the Israel Export & International Cooperation Institute's food and beverage division, says of the Golan Heights operation: "Their role was crucial. Everyone agrees that they were the first winery to produce excellent wine. Then came the boutique wineries, then the medium-sized, and then the large ones. There were a lot of other factors as well, but when you pinpoint the revolution, it started at Golan Heights."
Rising Exports
According to the 2008 edition of Rogov's Guide to Israel Wines, written by Ha'aretz newspaper wine critic Daniel Rogov, the number of wineries in Israel has grown dramatically, particularly since 2001. In a country about the size of New Jersey, there are now about 130 wineries. Sales of Israeli wines reached about $140 million in 2007. According to the Israel Export Institute, wine exports hit $21 million in 2007, up 42% from 2006.
Winemaking in Israel dates back to biblical times. However, following the rise of Islam in the 7th century, it all but ceased when Muslim leaders banned alcohol. Serious winemaking resumed in 1882, when French philanthropist Baron Edmond de Rothschild began underwriting agricultural settlements in the region with an emphasis on wine growing. In 1906, a collective of grape growers set up what would become the wine cooperative Carmel, for decades the country's dominant player. The reputation of Israeli wine continued to be linked to kosher vintages mostly used for religious observances.
The turning point came in 1972 when Cornelius Ough, a renowned oenologist from the University of California at Davis, visited and surveyed Israel. He concluded that the Golan Heights was an obvious place to produce high-quality wine because of its volcanic soil, cool climate, altitudes, and water available through drip irrigation systems. Four years later, the area's first vineyards were planted near El Rom, the site of one of the largest tank battles between Israel and Syria during the 1973 Yom Kippur War.
In 1983 the Golan Heights Winery was established; it released its first vintages soon after. Almost immediately, Israel proved it was capable of producing world-class labels when the winery's 1983 Yarden Cabernet Sauvignon Blanc received the Winarsky Trophy for Best Cabernet Sauvignon Worldwide at the London International Wine & Spirit Competition in 1987. It was the first major prize for an Israeli wine and earned the winery global recognition. A number of awards followed.
High-Tech Vineyards
When Schoenfeld first arrived in 1992, the winery had been employing a rotating crew of experienced winemakers from California. Schoenfeld, a graduate of the viticulture school at UC Davis and a veteran of the Robert Mondavi Winery in Napa and the Chateau St. Jean in France, was offered a three-year contract. "I figured that I would stay as long as it was interesting," he says. "And it never got boring. It was a great stroke of luck to find myself in a situation … to lead a quality revolution, producing good results in a nonproducing area."
At the time, the winery had only about 300 to 400 acres of vineyards and was producing 150,000 cases of wine a year. Although it had received several awards and the attention of a New York Times wine critic, the reputation of Israeli wines was still less then stellar. Schoenfeld saw the future in producing premium, high-quality wine. It was a radical break from the past.
Says Schoenfeld: "To make low-priced wine you have to be in a country with cheap land and labor costs or have a big size to amortize costs. In Israel we didn't have any of these things and there was no advantage in producing low quality. If Israel wines were to exist and flourish we would have to go to the quality side of the market."
Schoenfeld introduced new techniques to Israeli winemaking, such as using pneumatic membrane pressers and computer-controlled cooling of stainless steel tanks. Today, satellite imagery developed by NASA helps determine optimum planting while a network of meteorological stations placed throughout the vineyards along with a system of microsensors attached to the vines collect temperature and humidity readings on a minute-by-minute basis. The winery spends about $3 million to $4 million annually on research and development.
Slow to Sip
Although it was making top-notch wine, the winery still faced a number of challenges before it could improve its reputation and gain market share. Few Israelis were avid consumers of dry, complex wines like those in Italy or France. Initially, "we were producing a product for a market that didn't yet exist. There was no demand for it," Schoenfeld says. Although domestic wine consumption has recently increased to about 4 liters per year, it still lags well behind large wine-consuming countries like France, at 60 liters annually, or even the U.S., at 11.7 liters.
Like many successful Israeli businesses, a significant portion of the winery's sales comes from exports, with North America and Europe accounting for about 20% of sales. But erasing the longtime stigma of poor quality remains a challenge. Israel Export Institute's Neeman explains that not long ago, "when we would have the discussion with wine sellers, [they] would say they put [Israeli wine] on the shelves on the way to the toilet in their shops."
The Golan Heights business began to change that perception. It had already earned a kind of mystique among a small group of connoisseurs who had tasted the wine on visits to Israel. The winery worked to sell itself as a brand of high-quality Mediterranean wine to buyers and critics. As its vintages earned a number of prestigious global wine awards and recognition, it rose in stature.
A major push for Golan Heights Winery and Israeli wines in general arrived in December, 2007, when the world's most influential wine critic, Robert Parker, reviewed Israeli wines for the first time. Of 100 wines, he gave 14 vintages a score of 90 or higher on his 100 point scale (a score of 90 and above is considered world-class). As it happened, six of the best wines and 11 out of the top 14 also happened to be kosher. Golan Heights Winery earned a 93 for its 2005 Yarden Gewürztraminer Heights Wine and a 91 for its 2003 Yarden Katzrin. Mark Squires, who had participated in the tasting with Parker, wrote about it in the Wine Advocate newsletter, declaring, "Israel has a real wine industry that deserves consumer attention."
Upper Galilee Venture
Of course, there is the possibility that one day the Golan Heights will be returned to Syria in exchange for a peace treaty with Israel. While the winery itself can be relocated, the vineyards cannot. Schoenfeld says his strategy is to keep going and making wine. In the mid-1990s, when it appeared that a peace deal was on the radar, the winery forged ahead with a $4.7 million expansion of its vineyards, the winery's warehouse, as well as construction of a visitors' center and tasting room. "The fact is the owners of our company have no mandate for us to look for alternatives. Who knows, it could happen in 100 years or in five—nobody knows. … We are not politicians and they don't ask us our opinions," says Schoenfeld.
In 2000, however, the winery invested in a joint venture with Kibbutz Yiron in the Upper Galilee to launch Galil Mountain Winery. The move was viewed by some as a potential Plan B should Israel hand over the Golan Heights to Syria. Now Galil Mountain produces nine different varieties and also scored high marks from the Wine Advocate. Last year, the young winery generated $5 million in sales.
Micha Vaadia, Galil Mountain's head winemaker, remembers when the winery found itself on the front lines in the summer of 2006 during the war between Israel and Hezbollah in Lebanon. Just 200 yards from the southern Lebanese border, Katushya rockets rained down on Galil's vineyards. Its Syrah crop took a direct hit. Only 12 vines of the 40 hit survived the attack. The area was sealed off by the Israeli Defense Forces and the winery was shut down during the 30 days of fighting that ended just before harvest time. The winery lost about 10% of its production capabilities for the 2006 harvest.
But Vaadia says he found something sadly optimistic about the surviving vines. "It was like they were saying, you do what you want—you fight, you stay, you leave—but I am going to continue living."
Flip through this slide show for a tour of Golan Heights Winery and Galil Mountain Winery.
Before it's here, it's on the Bloomberg Terminal.
LEARN MORE