A New Front in the Console Wars
The downloads gaming market is opening up a new avenue of competition for console makers and giving indie game developers a shot at the spotlight
Matt Vella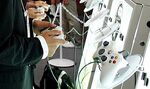 Recent shifts in the gaming landscape have made it easier for small companies to have a big impact. Even as the industry consolidates, creating massive new companies such as the ever-larger (BusinessWeek.com, 10/29/07) Electronic Arts (ERTS) and the newly formed Activision Blizzard (BusinessWeek.com, 12/4/07), smaller independent game developers have gotten a boost from console download services such as Sony's (SNE) PlayStation 3 Network and Microsoft's (MSFT) Xbox Live. Smaller development budgets and the relative simplicity of offering download-only titles is benefiting even the smallest developers.
At the Consumer Electronics Show in Las Vegas earlier this month, Microsoft crowed about the success of Xbox Live, revealing it now has 10 million subscribers, a milestone reached in part thanks to robust holiday sales. During the last quarter of 2007, Microsoft sold some 4.3 million Xbox 360 consoles. It was originally launched in November, 2005. Sony released PlayStation 3 a year later and some of the most talked about games on the system were available for download. Nintendo (NTDOY), meanwhile, offers the "Virtual Console" service for its Wii system, which also provides pay-to-play downloads, though the company has been tight-lipped about sales.
Encourages Publishers to Take Risks
The market for console downloads is booming. According to an October report released by financial analyst IDC (IDC), online console revenue in North America—including downloadable software sales—was expected to total $583 million in 2007, up from $133 million the year before. According to the same survey, about a third of the Web-capable consoles in North America are active online, drawing some 14 million players for the first time—and creating one of the biggest potential growth spots for this generation of consoles. "The trend is just ramping up," says Matt Leone, the previews editor at the popular games site 1Up.com. "And a lot of smaller companies are starting to ride this wave."
Gamers typically pay between $5 and $15 to download titles directly to their Internet-enabled console gaming systems. In comparison with the $60 sticker-shock price of conventional retail games, this price tag gives publishers more leeway to take risks on titles. Hedged from taking big risks by massive development budgets, blockbusters such as this year's mega-hit Halo 3 for the most part stick to tried formulas. But this new, less restrictive forum encourages fresh takes on game design.
And the downloads market is opening up a new avenue of competition for console makers, putting an emphasis on attracting buzz-worthy titles to each service. So far, each service has developed a different style. Microsoft's service emphasizes old-school arcade play. In 2007, according to figures released by the Xbox division, the 1989 arcade hit Teenage Mutant Ninja Turtles was the most played game of the year. Nintendo, meanwhile, has recycled titles from its now defunct Nintendo 64 system. Sony has tried to cultivate a more innovative, arty set of titles.
Going Beyond Teenage Boys
That's where companies like thatgamecompany come in. The fledgling indie developer was co-founded in the spring of 2006 by Jenova Chen and Kellee Santiago, two recent graduates of the University of Southern California's Interactive Media MFA program. Following the success of a series of free titles made while the founders were still at school, the company recently inked an exclusive three-game development deal with Sony.
And though still an independent company, the group of eight young designers and programmers (average age: 24) is currently housed within the gaming giant's glitzy Santa Monica (Calif.) headquarters as part of a deal to allow them to focus on their creative output and ease the pressures of starting a new business.
"No publisher would give two recent students the millions [of dollars] required to make a typical $60 game," says Santiago, the company president, of the hookup with Sony. "But digital distribution is allowing different kinds of games to get out there and attract new audiences." She adds, "Many games on the market right now offer experiences only teen males can really enjoy. We are trying to saturate the spectrum of the video game medium with titles that make you feel, think, meditate, or relax."
In other words, they aim to create games that elicit complex emotional responses from players rather than simply challenging them to rack up points or advance to higher and higher stages. Santiago and Chen call their brand of game design "core gaming," creating titles that overlap in appeal to both hard-core and casual gamers but are also targeted at so-called "dormant" gamers, players who prefer to play less time-consuming but nonetheless compelling interactive games. A 2006 study released by research firm Parks Associates estimates that about 26% of gamers in the U.S. fall into the category, yet it's an area that's still relatively untapped by developers, publishers, or designers.
Praise From Industry Insiders
Thatgamecompany's first title for Sony PlayStation 3, its first commercial release, was published in February, 2007. In flOw, players guide an amoeba-like creature through a soup of gauzy colors as it grows in size and changes shape to pulsing mood music. Eschewing game clichés for a simple premise and artistic framing, flOw soothes the senses rather than electrifying them, and earned numerous best-of-the-year nominations, including a British Academy of Film and Television Arts innovation award. A free, flash-based version of the game has been played some 3 million times online, a whopping audience for an unadvertised piece of freeware. (Thatgamecompany won't reveal the number of PlayStation downloads.)
In attitude at least, flOw follows on from a 2005 title, Cloud, designed by Chen and supported by a $20,000 innovation grant from USC, which became a viral hit, generating some 300,000 downloads in three months and repeatedly crashing the university servers hosting it. Both games scrambled traditional play, and earned effusive praise from industry insiders. "This type of play is very different from the norm," says Chen, now creative director of thatgamecompany. "It has nothing to do with violence or conflict but is purely intended to evoke positive feelings and imagination."
A New Way of Thinking
The approach also echoes broader design trends within the gaming industry that are enabling companies to set themselves apart from competitors while attracting new gamers. Nintendo's Wii console has been hailed for its use of motion sensors to forge new gameplay frontiers (BusinessWeek.com, 11/27/07). Some of 2007's holiday top sellers, such as the Harmonix guitar and drum set-equipped music simulator Rock Band (BusinessWeek.com, 10/10/07) or the literature-influenced BioShock shooter by 2K Games also emphasize more creative elements.
Already, thatgamecompany is sharing the spotlight with a number of other small outfits such as The Behemoth, developers of the Xbox Live hit Alien Hominid, and Queasy Games' Everyday Shooter for PlayStation 3. All seem well placed to take advantage of the growing interest in the market and the new genre. "More and more, people are thinking about how games are made, putting more thought into the design up front," concludes 1Up.com's Leone. "Lots of developers are stopping to ask: Why are we making people progress through levels in the first place?"
View a slide show of thatgamecompany co-founders' favorite titles.
Before it's here, it's on the Bloomberg Terminal.
LEARN MORE