The Hard Case Against Intel
by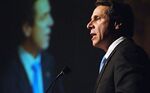 Advanced Micro Devices has enlisted New York State's attorney general to open another front in a longstanding antitrust battle with rival Intel, but the chipmaker may have a hard time getting the charges to stick.
New York Attorney General Andrew Cuomo served Intel (INTC) and AMD (AMD) with demands for information he'll use as he tries to show that Intel stifled competition and hurt consumers by illegally coercing computer makers to use its chips. Intel did that through rebates, punitive pricing, and exclusive contracts that shut out AMD, Cuomo alleged in a statement.
U.S. Law Favors Market Leader
The action adds to Intel's legal headaches; the world's top computer chip supplier also faces antitrust inquiries by the European Union, Japan, and South Korea, and a private lawsuit brought by AMD (BusinessWeek.com, 6/28/05)> in U.S. federal court in 2005. The Federal Trade Commission is also investigating allegations of anticompetitive behavior by Intel, though it has said it won't make the probe formal.
Cuomo is looking for evidence that Intel violated state and federal laws, but industry and legal analysts contend the allegations could be difficult to prove, given the competitive pricing of Intel's chips. "Predatory pricing and exclusive dealing are a tough case under U.S. law," says John Peirce, a partner at law firm Bryan Cave who specializes in antitrust and commercial litigation. While the European Union takes a dim view of exclusive contracts, the arrangements are widespread in U.S. markets, where courts have been loath to intervene except to remedy "egregious" violations, Peirce says. Furthermore, Intel would be susceptible to charges of predatory pricing only if opponents could prove it manipulated prices in such a way as to push AMD out of the market but limit its own losses. "AMD appears to be in the market for the long run," Peirce adds.
AMD captured market share from Intel in 2005 and 2006 by beating its larger competitor to a key breakthrough that affected chip speed, but Intel has since improved its technology and recovered share. Last year, AMD sold $4.1 billion worth of the x86 microprocessors that are the industry standard for PCs and corporate servers, garnering 13.4% of the $30.6 billion market, according to Dean McCarron, president of industry consultant Mercury Research. Intel's estimated $26.5 billion in x86 sales accounted for 86.6%. U.S. antitrust law permits a company to hold an outsize share of the market so long as it doesn't use that power to limit competition.
Suits Worldwide Allege Unfair Pricing
AMD's argument, however, is that it hasn't made more inroads into Intel's share because of the subsidies Intel pays to computer makers (BusinessWeek.com, 7/11/05) to reimburse them for advertising costs—and because of threats to stop the payments if the vendors don't buy enough from Intel. The practice gives Intel's products an unfair advantage, AMD's top lawyer says. "When Intel talks about a rebate, what the industry talks about is a price, coupled with a price increase" unless the computer maker shuns AMD, says Tom McCoy, executive vice-president for legal affairs at AMD. "We're not talking about price discounting or price subsidies; we all agree that's good for consumers." In addition to charges related to the rebates, the European Commission in Brussels has charged that Intel sold chips below cost (BusinessWeek.com, 9/21/07). "Intel's business practices are the same around the world," McCoy says.
Chuck Mulloy, an Intel spokesman, says the New York case "mirrors allegations made by AMD" in a civil suit, which is scheduled to go to trial in April, 2009. And investigations by Europe, South Korea, and Japan "are all the same allegations recycled by AMD in various forms around the world," he says. The microprocessor market "is behaving as one would expect a competitive market to behave," says Mulloy. "We do not sell product below cost—ever." A spokesman in the New York attorney general's office, John Milgrim, declined to say what evidence Cuomo already possesses or whether he has talked to other states about joining the probe.
Yet even making the case that Intel unfairly priced its products could be difficult, according to Mercury Research's McCarron. Intel's cost per processor ranges from $15 to $50, depending on the chip's sophistication, and its average prices are much higher—$90 for many desktop PC chips, and about $400 for server chips. "There's a distinction that needs to be drawn between aggressive pricing and dumping," McCarron says.
Another Drag on Shares
At the very least, New York's widening investigation means more headaches for Intel, whose shares fell 21¢, or 0.9%, to $22.54 on Jan. 10. Shares of AMD rose 43¢, or 7.8%, to $5.96.
Intel on Jan. 7 requested an oral hearing in Brussels after filing a detailed response to antitrust charges there. In Japan, Intel settled with the government for an undisclosed amount, but two private suits there are pending. Meanwhile, Intel shares have lost 9% of their value over the past week after several Wall Street analysts either downgraded its stock or warned about the chip market's health, citing recession fears. The company reports fourth-quarter results Jan. 15.
AMD's charges may not ultimately adhere to Intel, but they'll likely provide a continuing distraction at a time when the chip king can ill afford one.
Before it's here, it's on the Bloomberg Terminal.
LEARN MORE