Reliance's Power Play
Investors eagerly await Reliance Power's IPO, based on projected electricity plants and India's thirst for energy. But how real are those plans?
Manjeet Kripalani and Nandini Lakshman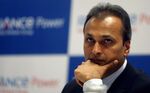 The scene was straight out of the movies. Inside Mumbai's famous Taj Mahal Hotel on Jan. 7, the gracious Crystal Room was packed to capacity. Brokers from all over town were excitedly discussing the big event that was about to occur—the announcement of a $3 billion initial public offering of Reliance Power. When Reliance Power Chairman Anil Ambani introduced the IPO and explained how it would benefit shareholders, an appreciative rumble went through the crowd.