Can Detroit Stop Its Slide in 2008?
For Detroit, 2007 was a bad year, and forecasts indicate 2008 could be even worse. Still, the outlook is not all bleak
Jim Henry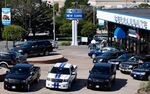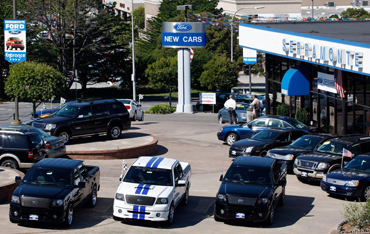 As expected, Detroit ended 2007 on a miserable note, seeing combined light-vehicle sales for domestic automakers slip 7.1%. And, also just as expected, executives from General Motors (GM), Ford (F), and Chrysler are predicting brighter days ahead for 2008. What makes them think that the new year will be any better than the old?
In fact, there is a distinct possibility that 2008 could be even worse. For instance, Edmunds.com forecasts U.S. light-vehicle sales of about 15.9 million in 2008, down from 16.1 million for 2007, said Jesse Toprak, executive director of industry analysis. That would make 2008 Detroit's worst year in a decade.
A Glimmer of Hope
So how bad was 2007? GM reported on Jan. 3 that its sales were off 6% from 2006, to 3,822,612, according to Autodata in Woodcliff Lake, N.J. Ford sales fell 8.9% in December, to 210,872. For 2007, its sales fell 11.8%, to 2,558,553. Chrysler sales were down 3.1% for the year, to 2,076,650, even though its December sales were 0.5% ahead of the year-ago month, at 191,423.
Meanwhile, Toyota (TM) passed Ford for the full year for the first time in 2007, to become the No. 2 volume seller in the U.S. market. Toyota Motor, including its Toyota and Lexus divisions, had record U.S. sales of 2,620,825 vehicles in 2007, up 3.1%.
And yet, while much of their optimism deserves to be taken with a grain of salt, based on the results of the last few years, Detroit's Big Three have some plausible reasons for at least a little genuine hope.
For starters, the Detroit automakers were able to off-load billions of dollars in liabilities to independent retiree health-care trusts, as part of new contracts with the United Auto Workers. The hope is that not only will this help the automakers get their financial houses in order but also, more important, be able to apply many of those billions toward designing more competitive cars and trucks in terms of styling and quality, as well as developing alternative fuel technology.
There are plenty of indicators that Detroit is becoming increasingly capable of going mano a mano with the imports in the critical light-vehicle segments. Several new models—most noticeably, the Buick Enclave, Saturn Aura, Cadillac CTS, Chevrolet Malibu, Ford Edge, Lincoln MKX, and Jeep Wrangler Unlimited—have been both critical and commercial successes.
Trimmer Operations
In addition, Detroit is better prepared for weaker demand than they have been in previous downturns, with lower costs due to fewer factories and fewer jobs. They also have lower inventories of unsold vehicles and fewer unprofitable sales to daily rental fleets.
For instance, Ford said in a review of 2007 that it has cut its U.S. hourly workforce by 23,100 positions and salaried workforce by 7,600 jobs, and reduced its manufacturing capacity by nearly 1 million units since the end of 2005. Jim Farley, group vice-president for marketing and communications, said that Ford Motor's yearend inventory was about 533,000 units, down from 570,000 a year ago, or 733,000 two years ago. "Very few companies would have been as courageous as we have been, but we have stuck to our guns," he said.
Mark LaNeve, North America vice-president in charge of vehicle sales, service, and marketing for General Motors, said GM cut its sales to daily rental fleets by 108,000 vehicles in 2007 to about 596,000. He said not counting fleet sales, GM's retail sales gained 1.5% in December.
If there is one hope shared by Detroit executives and shareholders alike, it is that 2008 will be the bottom of the slide. At this point January, 2009, seems a long way off, but maybe by then their optimism will start sounding a little less like wishful thinking.
Before it's here, it's on the Bloomberg Terminal.
LEARN MORE