Solar Stocks Get Their Day in the Sun
Shares of solar technology outfits LDK and Akeena climbed Wednesday as investors bank on a brighter future for sun-powered electricity
David Bogoslaw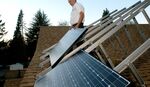 Investors seem to be hopeful that the time has come for solar panels to break out of their niche market and find a wider range of customers. Shares of LDK Solar (LDK) climbed on Jan. 2 after the company released a financial outlook for the next two years and Akeena Solar's (AKNS) stock price soared on news of a licensing deal with a major producer that will launch the company's cost-saving technology in Europe and parts of Asia.
The 5.4% gain in LDK shares to trade at $49.56 was baffling, considering that the company hasn't offered investors anything new to convince them of its ability to source polysilicon at discount prices or to boost its gross margins. The stock got slammed down by almost 27% just a few days before Christmas on the belief that LDK was being overly optimistic in its price estimates for raw materials and its production outlook for the new year.
The 42% jump in Akeena's shares to $11.31 on Jan. 2 made much more sense, given that the new licensing agreement expands the Los Gatos (Calif.) company's relationship with Suntech Power Holdings (STP), a leading producer of solar panels. Suntech expects to sell more than 10 megawatts of the Andalay solar panels to the licensed regions this year.
"Suntech could be number one on a volume basis by next year, so it's a great partnership for Akeena," said Brian Yerger, an equity analyst at Jesup & Lamont, which has a neutral rating on the stock. He said it's not yet clear, however, how much additional revenue the licensing deal will bring Akeena. (Empire Financial, with which Jessup & Lamont recently merged, has done investment banking with Akeena within the past 12 months.)
The licensing agreement authorizes Suntech to distribute Akeena's innovative, lower-cost solar panel technology, Andalay, in Europe, Japan and Australia. In September, Suntech agreed to manufacture and deliver 10 to 14 megawatts of Andalay solar panels to Akeena for distribution in the U.S. during 2008.
Both stocks may well have gotten some extra lift from the fact that crude oil briefly touched $100 per barrel for the first time on Jan. 2. If that's a sign of longer term trend in oil prices, it could fuel the market's psychological readiness for alternative energy technologies across the board.
What's significant about the partnership between Suntech and Akeena is that it should help solar panels compete with low-cost coal-fired electricity that comes off the power grid. The Andalay panels are equipped with built-in wiring, grounding and racking that allow them to be installed on roofs at a much lower cost of labor and also gives the panels a more aesthetic appearance.
The main benefit of Akeena's the new deal will be fatter margins, compared with the thin margins the company earns on its pure installation business, Yerger added.
When a leading solar panel producer like Suntech can lower the cost to the end-user not only by improving the manufacturing process but also "through something as mundane as installations," it's sure to expand its market share, Yerger said.
Analysts are less sanguine about LDK's prospects for securing the polysilicon it needs for its solar panels at a discount to rising spot prices. The company, based in Xinyu City, China, and Sunnyvale, Calif., said on its last earnings conference call that it will buy 75% of its 2008 polysilicon supply at prices below the spot price.
In a press release, LDK estimated revenue of $960 million to $1 billion based on a projected 510 to 530 megawatts of multicrystalline solar wafer shipments in 2008, and predicted gross margins between 26% and 31% based on being able to produce 100 to 350 metric tons of polysilicon at a plant it's building in China.
In 2009, it expects to wafer shipments of 1,050 to 1,150 megawatts but the company reined in its forecast for polysilicon production to between 5,000 and 7,000 metric tons.
On Jan. 2, Jesse Pichel, an equity analyst at Piper Jaffray, upheld his sell rating on the stock, citing its high valuation and the lack of clarity around the cost of LDK's polysilicon supply and the timing of the ramp-up of its internal polysilicon production.
"LDK has not given any incremental transparency on its polysilicon plant startup," Pichel's note said. "We do not know where it will get the TCS feedstock plant design," a significant hurdle in producing its own polysilicon. (Piper Jaffray has provided investment banking services for LDK within the past 12 months and makes a market in its securities.)
Trichlorosilane gas is another major cost component without a closed-loop system that allows the TCS to be recycled.
Based on timetables for plant startups provided by a few domestic polysilicon manufacturers, Pichel questioned whether LDK would be able to produce meaningful volumes of the material until 2010, which would leave a hole in its supply needs for 2009.
If that turns out to be the case, the company's gross margin for 2009 would be less than half of its outlook of 42% to 50%, Pichel's note said. LDK may, however, have polysilicon contracts with reliable sources that haven't been announced, the note said.
Akeena's path to higher profits seems much more straightforward. Including the Andalay products, the company's revenue will nearly double this year to over $58 million from $31 million in 2007, said Yerger at Jesup. The licensing arrangement with Suntech will provide only a small boost in revenue, where the main benefit will be in the wider gross margins, he said.
Yerger estimates that Akeena will install roughly seven megawatts of Andalay panels in 2008, with another two megawatts worth to be sold through strategic distribution channels such as the Suntech deal. But the additional sales could be as much as 10 megawatts according to Suntech's estimate, he said.
While polysilicon prices continue to keep solar panels out of the price range of most consumers, technological advances that require less of the material to be used and cheaper installation options such as the Andalay technology may spur some customers to be more inclined to give solar power a chance.
And if that's not reason enough, rising oil prices may provide an extra incentive.
Before it's here, it's on the Bloomberg Terminal.
LEARN MORE