Measuring Your Digital Footprint
Garlik rates people on popularity and impact online. Its backers include Web inventor Tim Berners-Lee
Jennifer L. Schenker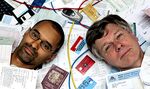 Barack Obama may or may not become the next President of the U.S., but he's a winner on the Internet. His status in cyberspace now surpasses that of Hillary Clinton, former British Prime Minister Tony Blair, celebrity chef Jamie Oliver, and even Paris Hilton, according to Garlik, a British startup that rates people's digital reputations.
Such rating systems aren't new. But Garlik's service, called QDOS, claims to operate on an unprecedented scale. Garlik founder and CEO Tom Ilube says QDOS has taken the digital measure of all 45 million adults in Britain, rating them on how active they are online, their popularity, individuality, and impact on all things digital. Simply by registering at qdos.com, British residents can view colorful charts showing how they stack up in each category. Garlik aims to kick off the service in the U.S. in the first quarter of 2008, and to assign scores to half a billion people by yearend.
Garlik's small staff obviously can't perform millions of ratings—and they don't have to. Working with board member Tim Berners-Lee, credited with creating the World Wide Web, Garlik is testing next-generation "semantic Web" technology that automates the scoring process based on how many different Web sites carry information about each individual, how many other people are interested in that data, and other such measures.
Garlik already has plenty of competitors. Consumer-credit reporting agencies and startups such as LifeLock, ClaimID, TrustedID, and ReputationDefender all help consumers monitor, manage, and control their online reputations. ClaimID bundles all the things its customers want other people to see about them online, then applies software to make sure this information pops up when their names are typed into a search engine. Lifelock, which says it has about half a million U.S. customers, uses a system of alerts to thwart identity theft.
For Garlik, status monitoring is actually a new, free service designed to help promote its for-pay security software, called DataPatrol. The program performs a weekly scan of some 4 billion Web pages to see where personal information on Garlik customers is lodged and which parts increase the risk of identity theft. The software generates a monthly "personal identity statement" giving customers a risk rating and pinpointing any new, sensitive information they should act on. The service costs $6 a month after a 30-day free trial and is sold through banks, insurance companies, and Internet service providers.
Ilube and Garlik Executive Chairman Mike Harris have some experiences with digital ventures. Harris is the founder of Egg, an online bank that was sold to Citigroup (C) in 2007 for $1.1 billion. Ilube served as the chief information officer. "Imagine the impact of a searchable source of tens, or hundreds of millions, of QDOS status scores," says Ilube. People could use such assessments in recruiting, or to find status-appropriate mates. Corporations, Ilube notes, spend millions of dollars analyzing consumer information. Someday, he says, "consumers will demand to be active participants in that personal information economy."
Before it's here, it's on the Bloomberg Terminal.
LEARN MORE