Feeling a Chill in New Hampshire (extended)
Economic anxiety is rising despite recent prosperityand voters' concerns are shifting as the primary nears
Jane Sasseen and Aaron Pressman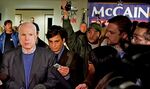 It was a gray day in late December when John McCain headed into the ornate conference room of a Manchester-based ad agency to talk with a gathering of young New Hampshire professionals. The Arizona senator had come to discuss national security, but many in the room seemed more worried about a possible recession and the cost of living. "Domestic issues are of equal if not greater importance to me than international issues," says Manchester's Shelley Mason, who works in the IT department at Phillips Exeter Academy.
As New Hampshire's Jan. 8 primary neared, polling in the state showed McCain was making a race of it against former Massachusetts Governor Mitt Romney. On the Democratic side, Hillary Clinton headed the pack. But the real story may be the shift in New Hampshire voters' priorities just as national confidence in the economy sags. The challenges facing this prosperous state, with its globally oriented services-based economy and rapidly growing exurban communities, are more typical of those faced elsewhere than a rural state like Iowa, where residents gathered in caucuses on Jan. 3 to choose their favorite candidates.
In a countrywide December survey by the Gallup Poll, 31% of voters cited the economy as the biggest problem facing the U.S., vs. the 16% who did so in July. Economic anxiety is rising in the Granite State, too, and the primary will be a big test of how decisive those job and income jitters are at the polls. "The economy has become the mega-issue in the campaign, particularly when you combine it with health care," says independent pollster John Zogby. "There's an enormous amount of economic anxiety among voters."
New Hampshire voters are fretting despite years of prosperity. Thanks to tight links with the technology and financial-service industries in Massachusetts, unemployment, at 3.4%, is below the national rate of 4.7%. With a five-year average growth rate of 2.4%, it boasts New England's strongest local economy. Indeed, the influx of high-end jobs and the college-educated workers to fill them have transformed the state into one of the most prosperous in the nation: Ranked 25th in per capita income three decades ago, New Hampshire now ranks seventh among the 50 states, according to Ross Gittell, a management professor at the University of New Hampshire.
Most of that benefit, however, is concentrated in the two counties that border Massachusetts. In upstate towns like Groveton, the yearend closing of a paper mill, with its loss of 300 jobs, hit hard. "You get something like John Edwards' 'two Americas' in New Hampshire," says Mark Zandi, chief economist of Moody's (MCO) Economy.com.
More Homeowners in Trouble
New Hampshire is bracing for tougher times. "When I'm talking to business owners, a lot of people actually seem to be hurting," says Cailin Lahey, a real estate broker from Bedford. Lahey points out that the mortgage crisis hasn't hit as hard as in other states. Yet housing prices have flattened. The dollar value of mortgages on which homeowners are a month or more behind in payments has doubled in two years, to 3.5% of the state total, ahead of the national average of 3.3%, according to Economy.com. And since 2004, foreclosures on subprime loans in the state have roughly tripled.
New Hampshire voters are expressing their angst in various ways. For those likely to vote in the GOP primary, immigration, in part a proxy for economic fears, is now the No. 1 concern, say recent polls. The state has few illegal immigrants. But as pollster Zogby notes, "there's often one issue that comes to symbolize 'This is what is making my world go to hell.' For Republican voters, immigration has become that issue." GOP voters, particularly in the poorer northern part of the state, also cite worries about globalization and jobs moving offshore.
Economic topics are weighing on New Hampshire's Democratic voters, too, though not enough to unseat Iraq as the key issue. In a December statewide Gallup Poll, some 27% of those likely to vote in the Democratic primary cited health care and 26% cited economic conditions as top concerns.
How will these forces play out? Sean Sullivan, an announcer for the Manchester Monarchs hockey team, blames high gas prices and tight household budgets for a 40% drop in attendance this season. "It's important to hear how we're going to address these challenges, but nobody is saying anything that really resonates," he says.
Before it's here, it's on the Bloomberg Terminal.
LEARN MORE