India's Gaming Market Grows Up
Just 5% of India's 42 million Internet users are active gamers, but the cybercafé craze is catching on, particularly among teenagers
Manjeet Kripalani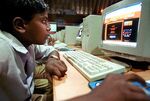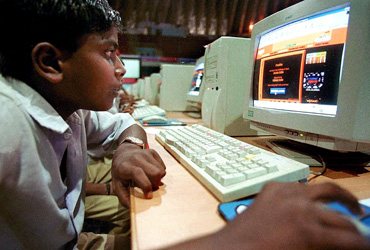 How Indians love to drive in Bombay. But navigating the city's streets isn't for the faint of heart, and takes a mix of patience and lightning-fast reflexes. One moment, you're swerving around the man asleep on the pavement with his dog; the next, you're inching around the block looking for a parking spot. (Parking in Bombay is an even bigger ordeal than it is in New York.)
It's just the kind of thrill and lull that you'd expect in a video game. That explains why Bombay Taxi and Raju Driver are two of the most popular titles on Games2win.com's site. Other games on the site let users have a crush on a teacher in class, get a makeover, and direct Bombay's intrepid police force to stop a band of terrorists.
Indians have been bitten by the video-gaming bug. Go to cybercafés and you will find teenagers huddled before rows of PCs, playing virtual opponents who might be down the road or in another city. "They're transformed into another world," says Alok Kejriwal, the founder of Games2win, one of India's top three gaming sites.
Backing From Conglomerates and VCs
The industry's following is still small: Just 5% of India's 42 million Internet users are active gamers, according to a 2007 report by market researcher ICube. And the shortage of broadband Internet services and cybercafés remains an obstacle. But at $30 million in revenues per year, and doubling annually, it's becoming a sizable business.
Kejriwal sees plenty of opportunities. His company is one of the country's dominant players. So far his main competitors are IndiaGames and Zapak. IndiaGames' story is similar in size to Games2win's, but Zapak has the backing of entertainment conglomerate Ambani Group, which announced an investment of $100 million when the site was first launched in February, 2007.
Kejriwal started Games2win in October, 2006, after he sold his wireless venture, Mobile2win, to Disney (DIS) last year. One sign that he might be on to something big: This year, he reeled in Clearstone Venture Partners, which invested $5 million, and Silicon Valley Bank (SIVB), which put in $500,000.
Play Is Free; Upgrades Cost Rupees
Why now? Kejriwal says the "BPO-ization of the country" puts cash in kids' pockets, and games are a natural outlet. BPO refers to Business Process Outsourcing, for the uninitiated. It describes the administrative support and call centers that employ hundreds of thousands of India's upwardly mobile youth in big cities and small towns. These workers can't afford to strike out on their own, so most live at home with their parents. That leaves $200 to $400 in monthly wages as mainly disposable income, which they funnel back into shopping and recreation like online gaming.
The playing field for young Indians is a PC at the office or an Internet café, or a mobile phone. Games2win's key to success is its business model: Playing games on the site is free. Kejriwal makes money when gamers want an upgrade. They might pay $2 to drive a bigger car in Bombay Taxi or a similar amount to buy a more expensive diamond for a fiancée in another game. Gamers can also trade game cards, which work like debit cards and are used to buy in-game items.
Games heavy on local content drive sales. They can draw on Bollywood movies and professional cricket to local celebrities' gaffes and national news. And here, Games2win excels. Its content is 90% Indian, 10% foreign.
Attracting Global Gamers
Filling Games2win's site with new content is Cyrus Oshidar, the former creative head for MTV India (VIA). When popular Bollywood idol Salman Khan, for instance, was hauled up in court for shooting the protected black buck deer on a hunting holiday, Oshidar's team released Bollywood Buck-was, a game that mocked the incident and whose title in Hindi means "Bollywood nonsense"
He's also overseen the launch of two kissing games; one involves steering a floating kiss from a boy so it lands on a girl's cheek. Then there's the hilarious Arranged Marriage. It simulates the entire ordeal—complete with family members eavesdropping on phone calls, chaperones, and nosy mothers testing the girl's cooking skills—and is designed to help young Indians with a traditional upbringing navigate the pitfalls of contemporary society. "We have to send out subliminal messages," says Kejriwal.
The games are so novel, users are logging on to play from around the world. Viacom site addictinggames.com has featured some Games2win titles, as have Web sites in Poland and Germany. That's got Kejriwal confident he can forge alliances with partners in Europe, Central and South America, and China. The business is barely a year old, and the lack of broadband Internet in much of India doesn't help matters, says Ash Lilani, head of SVB Global. But India's gaming market is showing lots of potential.
Before it's here, it's on the Bloomberg Terminal.
LEARN MORE