Future Unclear After Bhutto Assassination
The killing of the former Prime Minister will hurt the army's reputation, but how Musharraf and others will proceed is still in question
Manjeet Kripalani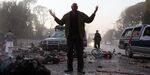 At 5.30 p.m. on Dec. 27, unidentified killers assassinated Benazir Bhutto, leader of Pakistan's People's Party, who was a contender for the post of premier in the upcoming Jan. 8 elections.
As her body was being put into a coffin for burial in Larkana near her father, former Prime Minister Zulfikar Ali Bhutto, riots had already broken out in several Pakistani cities, notably Karachi. Pakistan watchers fear there is worse to come.
It's hard not to compare Bhutto with Rajiv Gandhi, the Prime Minister of India who was assassinated in 1991. Both were scions of political dynasties. They were young leaders—appealing but often misguided (Bhutto was accused of corruption). Both had also become too electable for their enemies' comfort—in Rajiv Gandhi's case, the Sri Lankan terrorist group the Tamil Tigers—and so they had to go.
Rajiv Gandhi had been drawing large crowds while campaigning in Tamil Nadu, the southern Indian state most sympathetic to the Tamil Tigers, and geographically closest to Sri Lanka, when he was killed in May, 1991.
Who's To Blame?
Bhutto, too, in the last few days of campaigning in Pakistan after returning from eight years in exile, had been gathering crowds. Her last rally was today, in Rawalpindi, a prominent town in Punjab. The heart of Pakistan's army lies in Punjab, and the headquarters of the army is the garrison town of Rawalpindi. It should have been the safest place in the country.
Unlike Rajiv Gandhi's assassination, however, nobody knows who Bhutto's assassins were. Bhutto was shot, then a suicide bomber stepped forward and blew himself up. President Pervez Musharraf had warned Bhutto several times of the danger to her life; Bhutto herself was acutely aware of it. She had no security protection in Rawalpindi. Fellow opposition leader Nawaz Sharif blames Musharraf, and Musharraf blames the terrorists and extremists, as does U.S. President George Bush.
The truth may never be known. But the army's reputation has suffered a terrible blow. "The army has mistreated our leaders," said Asma Jehangir, well-known Pakistani lawyer and human rights activist, on TV a few hours after Bhutto's killing. Democratic leaders like Bhutto's father were executed by the army in 1979, while both Sharif and Benazir Bhutto were expelled from Pakistan.
On the Military's Turf
The huge crowds Bhutto had attracted to her rally in Rawalpindi, the heartland of Punjab, threatened the military on its own turf. "For years now, the Punjabi army has been less a symbol of unity than an instrument to ensure the supremacy of the Punjabi element in all reaches of Pakistan society," wrote M.D. Malapat, professor of geopolitics at Manipal University, India, in UPIAsia in November.
Indeed, Punjab dominates Pakistan. About 60% of Pakistan's military is Punjabi. The military dominates business and accounts for over 50% of productive activities. Punjab receives the bounty of Pakistan's development spending. Bhutto's state of Sindh receives a pittance in comparison.
Had Bhutto lived, she and Sharif might have formed a democratic government, or constituted a strong democratic, centrist opposition. Either way, the army would have faded from center stage.
"A Period of Unrest"
What will happen now in Pakistan is anybody's guess. Sharif announced he will boycott the elections, and Musharraf says he will not postpone them, though many expect him to declare a state of emergency and do exactly that. The U.S. influence in the country will diminish. Bush's continued focus on extremists in Pakistan, rather than on reform of the Pakistani military, is likely to create more muddled policy. In India, the military has been put on alert, and fears of regional destabilization and ethnic violence among Punjabis, Sindhis, and Pashtuns in Pakistan are high.
"We're in for a period of unrest," G. Parathasarthy, a former Indian ambassador to Pakistan, said in an interview on the Indian TV channel NDTV. It would be wonderful if Pakistanis show a little defiance and push for a return to democracy come January, he said. "But my head says the army will continue to rule the roost in Pakistan."
Before it's here, it's on the Bloomberg Terminal.
LEARN MORE