A Cold Winter for Kids' Drugs
Recent FDA statements, an impending meeting, and pharmaceutical recalls add up to a chilly forecast for infants and children's cough and cold medicines
Zoe Galland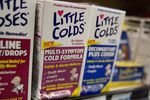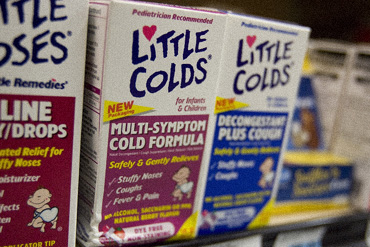 As flu season kicks in with the full force of winter, parents looking for cold medicines for sick infants won't find the usual selection in pharmacies. For children over 2, parents can still find an assortment of cough and cold medicines in stores, but these products may soon be gone as well.
The Food & Drug Administration will soon meet to discuss the safety and effectiveness of cold medicines for children under the age of 6. Children's cough and cold medicines have been sold over-the-counter in the U.S. for more than 40 years, but recent actions by an FDA advisory committee and pharmaceutical manufacturers have raised the issue of whether children's cough and cold medications are not only potentially dangerous because of possible misuse, but also ineffective. Rita Chappelle, a spokeswoman for the FDA, declined to give an exact date when the FDA will meet to discuss the children's medicines, saying only that it would happen in the next "couple of weeks."
Several pharmaceutical manufacturers have voluntarily recalled infant cold, cough, and congestion medicines, citing the dangers of overdosing. For now, the withdrawals apply only to medicines for children under the age of 2.
If the FDA takes an action such as restricting the marketing of children's cough medicines, pharmaceutical companies will be the ones catching cold. They're already facing lawsuits, which are likely to increase should the FDA rule against these medicines, not to mention the substantial revenue at risk. The Consumer Healthcare Products Assn., a group that represents leading manufacturers and distributors of over-the-counter medicines, estimates that 95 million packages of cough and cold medicine, for a total of $311 million, are sold in the U.S. each year. The research firm AC Nielsen reports that sales of cold and cough medicine for children under 6 rose 20% from 2006 to 2007.
Statements and Recalls
The FDA jump-started the debate in August, when it released a public health advisory notice that the Nonprescription Drugs Advisory Committee (NDAC), a panel of government advisers, would meet in October to review cough and cold products' effects on children. When it met on Oct. 17, the committee concluded that parents should not give the products to children under 6.
Five days earlier, Johnson & Johnson (JNJ), Wyeth (WYE), and Novartis (NVS) had voluntarily recalled 14 oral infant cold, cough, and congestion medicines. None of the companies mentioned the FDA in their statements about the recalls. J&J, which pulled seven products, including Concentrated Tylenol Infants' Drops Plus Cold and PediaCare Infant Dropper Decongestant, issued its statement on Tylenol's Web site: "We have become aware of rare instances of misuse leading to accidental overdose, especially in children under the age of two," it read. "Therefore, we are voluntarily withdrawing the following concentrated cough and cold medicines from the market."
FDA spokeswoman Chappelle says the voluntary recalls were not at the FDA's request: "They did that on their own, going into our advisory committee meeting."
After its meeting, the NDAC stated that children's cough and cold medications are not only potentially dangerous because of possible misuse, but are also ineffective. One member of the committee, Sean Hennessey, of the University of Pennsylvania School of Medicine, said there was "no evidence of efficacy of the drugs."
The Possibility of Death
What makes the medicines risky enough to spur voluntary recalls and an FDA committee meeting? One of the key ingredients in cough and cold medicines for infants and children under 6 is dextromethorphan, a cough suppressant. When incorrectly measured, it has a number of side effects, especially in children.
Pediatrician Giuseppe Dellorusso, who has practiced medicine in East Rockaway, N.Y., for 16 years, says he never recommends children's cold and cough medicines. "They speed up the heart rate and cause excessive irritatibility," he says. "There are all kinds of side effects that are well documented. And parents do overuse them; they go above the recommended dosage."
Doling out too much cough medicine can be fatal: From 1969 through 2006, the FDA received 54 reports of deaths with decongestants and 69 reports of deaths with antihistamines.
One such death occurred in October, 2001, in Illinois, when Dimitria Alvarez found her infant son dead in his crib. She has filed a lawsuit against Walgreens (WAG) and J&J. According to the lawsuit, her son had a cold and Alvarez had given him two now-recalled medicines containing dextromethorphan—Infant Tylenol Cold Decongestant Plus Cough and a generic Walgreen's brand, Pediatric Drops-Cough Plus Cold. In her lawsuit, Alvarez claims the companies had known about the hazards of dextromethorphan for years but never warned consumers.
Raising Awareness
Pharmaceutical companies may be the targets of more lawsuits like Alvarez's if the FDA accepts the NDAC's recommendations. But right now, they are probably more worried about the financial implications of any FDA actions and the potential loss of a $300 million business in the U.S. And Big Pharma won't be alone. While the manufacturers make a great deal of money from children's medicine sales, they spend a good portion of it on marketing. The Prescription Project, a private nonprofit research group, reports that drug companies spend more than $50 million a year marketing the medicines. Dr. Joshua Sharfstein, the health commissioner of Baltimore, puts the amount at $60 million a year.
Dr. Sharfstein is critical of the industry and its ads: "The marketing is really misleading." He notes that "some of [the children's meds] say 'pediatrician recommended,'" when in fact, most pediatricians advise against using them. "Pediatricians are going to be helpful" to parents when they can, he continues, but there is only so much they can do against the marketers.
Dr. Sharfstein was one of the authors of an editorial in the December, 2007, issue of the New England Journal of Medicine, which urged the FDA to ban the medicines. He believes the dominance of children's meds on the market, and the fact that many parents have used them for years, will make it difficult to change the way people treat kids' colds. "I think right now there is a fair amount of confusion on the part of the parents," he says.
Angry and Confused Parents
Indeed, after the voluntary recalls in October, many parents went online to express their anger and bewilderment about infant meds being pulled off shelves, posting comments on message boards and blogs. About.com posted information about the recall the day it was announced, and received more than 60 comments in response.
"Where do you return this? Or are you just supposed to throw it out? This medicine is not cheap," one commenter posted. Another asked, "What are the consequences of this recall? My daughter…just went through 2 bottles of [a recalled medicine] after getting hit with a tough cold. What do I do with the extra bottle I bought? Should I be detoxing my daughter?"
To add to the confusion, some pharmacies were still selling recalled medications well into November. Although the recalls were voluntary, the pharmaceutical companies are responsible for pulling the medicines from store shelves. In some cases that proves difficult, in part, because some companies use third-party distributors.
In San Francisco, the Safeway located at 2020 Market St. displayed one box of the recalled medicine Triaminic Thin Strips, available for sale in late November. The pharmacist was not available for comment. At Sutcliffe Pharmacy in Chicago, one recalled medicine, Dimetapp Decongestant Plus Cough Toddler/Infant Drops, was still on the shelves in late November. And in October, New York State Senator John Sabini (D), who represents the neighborhoods of Jackson Heights, Elmhurst, and Corona in the New York City borough of Queens, released a survey that found 14 of 26 pharmacies in those three neighborhoods carried the recalled medicines. All of the pharmacies have since removed the products from their shelves.
Getting the Message
What's more, parents don't always know what the alternatives are or what to do with the products already in their medicine cabinets. After the October recalls, Dr. Dellorusso says a mother with a sick infant came in to see him with a container of one of the recalled medicines, and asked him what she should do with it. Dr. Dellorusso told her to throw it away.
"In our practice, we've always discouraged [cold and cough medicines]," Dr. Dellorusso says. "There's not much you can do for a cold. Usually it will go away on its own." But the tendency to overprescribe medication is worrisome. "In most cases they're probably safe, but there have been some deaths and some unacceptable side effects."
Eventually, he says, "I think people will get the message."
Before it's here, it's on the Bloomberg Terminal.
LEARN MORE