The Joy of Cyber-Cooking
Catherine Holahan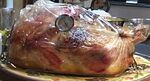 Bonnie Bucqueroux is the Internet's own iron chef. Doubt it? Just watch the woman cook a Christmas turducken.
Ms. Bucqueroux, (pronounced "buck-a-roo" she says), wrestles with the meaty monstrosity in a homemade video on Epicurious.com, Condé Nast's online site for foodies. In the seven-and-a-half minute short video, Bucqueroux talks viewers through the proper preparation techniques to cook a deboned turkey filled with a deboned duck crammed, in turn, with a large-breasted chicken (deboned, of course). "It's enough to make the PETA people cringe," says Bucqueroux, a vegetarian who often cooks for her carnivorous extended family during the holidays.
As unusual as it is for a non-meateater to fix a multi-bird roast, it may seem even stranger that a home cook would bother to post a how-to film about it. But such user-participation is common for cooking sites. In fact, food sites are fast becoming the model for how content owners can integrate social Web tools to attract users and keep them on their sites.
The Social Chef
Online food destinations are some of the most popular on the Web. More than 58 million people signed on to food and cooking sites in November, says Nielsen Online, making it one of the largest categories on the Web aside from the social networking category itself. Helping fuel the popularity are tools enabling users to share their own content, such as recipes. Site visitors also can comment and rate contributions by others.
"I used to joke that recipe swapping was the first legal file-share that ever existed," says Deanna Brown, president of Scripps Networks Interactive Group (SSP), the parent company of cable's Food Network channel and its leading online food site. "We are all very social and taking advantage of what is now known as the social Web."
This year, many food sites further expanded their use of social tools, adding the capability to develop social-network-like profiles, upload homemade cooking videos, enter video cooking contests, and share recipe widgets on social networks such as Facebook. In July, Scripps significantly added to its user-submitted content features, acquiring user-generated recipe site Recipezaar for an undisclosed amount, reportedly near $25 million. Less than a month later, it purchased Pickle.com, a company that enables users to upload videos to Web sites.
Fifteen Minutes of Food Fame
Other food sites are building more user-generated capabilities. Yahoo (YHOO), which launched its food site in November, 2006 (BusinessWeek.com, 11/3/06), recently developed a widget for Facebook enabling users to share recipes. It plans to release similar applications next year. "The engagement is up, and a lot of that does have to do with the users and their loyalty to each other," says Maggie Nemser, senior editor of Yahoo Food.
In November, Epicurious.com launched a user-generated video contest. The contest ends on Jan. 2 with the winner receiving a $600 cookware set. Epicurious plans to unveil additional tools this spring that enable users to create home pages where they can write bios with their interests and upload recipes, photos, and videos. "What is so wonderful about people who love food is they really are generous of spirit and they really want to share," says Tanya Steel, Epicurious' editor-in-chief, adding that 95% of recipes on the site are commented on, rated, or reviewed by users. "We want to give them their 15 minutes of foodie fame."
Other sites have plans for similar tools. Allrecipes.com, a user-generated recipe site acquired by ~~the Reader's Digest Association last year for $66 million, began letting users add photos to their profiles about a year ago. In January it intends to add features that alert users when someone comments on their culinary creations or when other members add content. Such features are reminiscent of those social news site Digg (BusinessWeek.com, 9/19/07), a Web 2.0 favorite, introduced in September.
Advertisers Taking Notice
The new social capabilities are spurring additional growth. Sites such as Allrecipes.com and Epicurious.com saw 20%-plus increases in unique users this November over the prior year, despite their having been around for more than a decade. "Every year we have these really huge traffic numbers…and it doesn't slow down," says Esmee Williams, Allrecipes' vice-president for marketing. "It has just been incredible."
Advertisers are taking notice. In addition to the grocery-story brands one might expect to see on food sites, such as Kraft Foods (KFT), marketers in other sectors are aggressively buying ads on food sites. In November the top four advertisers across the food category were General Motors (GM), Delta Air Lines (DAL), PNC Bank, and T-Mobile, according to a November survey by the Media Trust Co.
Rather than just buy ads that run in fixed places on Web pages, such as those all-too-common interactive banner ads, many advertisers are latching on to the social Web bandwagon, sponsoring contests and creating user-generated tools such as widgets to grab the attention of customers. Allrecipes recently held a food photo contest, sponsored by Kellogg's (K) Rice Krispies. Next year, food network stars and advertising sponsors could team up to offer users new ways to interact with the celebrity chefs, says Steel. "What you will start to see is much more interactivity around some of our advertisers, associated with the social Web," says Scripps' Brown.
Its Own Reward
It's difficult to ascertain just how much money such social ad campaigns generated. The leading food sites are all owned by private companies that do not disclose financials or are part of much larger companies that don't break out just how much of their advertising dollars come from food sites. But the online advertising pie is expected to reach nearly $27.5 billion next year, according to research firm eMarketer, and executives say their food sites are already grabbing a significant slice. "The brands started out a bit nervous, and many have been pleasantly surprised…so they have come to see social media in a really favorable light," says Allrecipe's Williams. "This year has been huge."
One may wonder whether all those home cooks helping fuel these sites' success will ever reap some of the financial benefits. Aside from contest prizes, there are no plans to spread the wealth. But users aren't in it for the money—at least not yet.
What many want is a little recognition from fellow gourmands. Others simply want the food sharing to continue. This year, Bonnie Bucqueroux is looking for a few good vegetarian, gluten-free holiday recipes—though she may not videotape herself cooking them. "It's kind of hard to outdo a turducken," says Bucqueroux, adding that she might make a tofu-turkey lookalike this year. "I don't think a tofurkey will cut it."
Before it's here, it's on the Bloomberg Terminal.
LEARN MORE