Oracle Serves Up Another Big Quarter
The tech software giant is on a roll, with a stronger quarter than expected. Can it maintain its mojo in a slowing economy?
by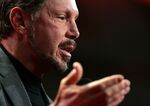 Technology investors got some bright news Dec. 19 as software industry mainstay Oracle shucked off concerns that slowing economic growth would cause key customers to throttle tech spending. An expansion into specialty software markets and a tight rein on expenses helped Oracle turn in a strong second quarter and issue an upbeat outlook for the third.
Oracle (ORCL)'s net income rose 35%, to $1.3 billion, or 25¢ a share, in the quarter that ended Nov. 30. Revenue increased 28%, to $5.3 billion, surpassing the $5.04 billion expected by analysts surveyed by Thomson Financial (TOC). Excluding the cost of issuing stock options to employees, profit was 31¢ a share, compared with the 27¢ expected by analysts. Sales of new software licenses, a closely watched indicator of future revenue, climbed 38%, exceeding Oracle's forecast that the bookings would increase between 15% and 25%.
Troubles Trickling Down on Tech?
"We're selling more products to more customers in more industries," Oracle CFO Safra Catz said during a conference call with Wall Street analysts after the results were released Dec. 19. "Each deal is a little bigger than in the past." Oracle has been buying makers of specialty software for industries including retailing, utilities, and telecom, and Chief Executive Larry Ellison said during the call that Oracle plans to expand into additional industry areas. "That's our strategy for growth," he said.
Oracle also said revenue would increase between 21% and 24% in the current quarter, which ends in February, and that it would earn 29¢ or 30¢ per share, excluding option expenses. Analysts expected Oracle to earn 29¢ and revenues to increase by 18% in the third quarter.
The results could start to reassure investors concerned that the slower growth forecast for the U.S. economy will trickle down to hurt technology companies, and that banks and other financial-services companies will curtail new technology projects as they weather losses tied to subprime mortgage lending. Cisco Systems (CSCO) and other technology vendors have pointed to signs of weaker IT spending (BusinessWeek.com, 10/15/07) that could extend into 2008.
"Larry's Correct Again"
Oracle, the top supplier of database software and an emerging power in business applications, which companies use to forecast sales, plan production schedules, and manage budgets, has reeled off a series of strong quarters in 2007 (BusinessWeek.com, 9/21/07 ) as it bulks up through a string of acquisitions. Oracle has spent more than $24 billion to buy more than 40 companies since the beginning of 2005 to gain ground in the applications market from leader SAP (SAP).
"When they first started doing this, people wanted to vomit" amid concern Oracle wouldn't be able to integrate so many purchases, says Mark Murphy, a research analyst at Broadpoint Capital (BPSG). "But they're just obliterating revenue and earnings expectations [acquiring companies]. Larry's correct again, and you kind of have to tip your hat to him." Oracle stock gained 6.6%, to $22.12, in extended trading. As of the close, Oracle shares had risen 21% in 2007, while shares of SAP have slumped more than 4%.
For now, Oracle's formula of pushing upgrades of its popular database software, collecting hefty annual support fees on those contracts, and expanding into applications and middleware (the sort of glue that helps disparate applications work together) is producing blockbuster results. New license sales for applications rose 63%, to $553 million, and new database and middleware license sales grew 28%, to $1.1 billion.
Analysts say Oracle also clamped down on expenses (BusinessWeek.com, 11/15/07) by shutting branch offices, eliminating positions duplicated by acquisitions, and cutting reimbursements for sales reps' home Internet access and phone calls. Oracle posted an operating margin of 41% during the second quarter, slightly exceeding analysts' expectations.
Credit crunch effect
Jim Shepherd, an analyst at technology industry consultant AMR Research, says the overall market for enterprise applications will grow by 11%, to $35.8 billion worldwide in 2008, as companies in service sectors like banking, health care, and retailing supplement the growth that typically comes from the manufacturing sector. Oracle, SAP, and others are also tapping new customers in China, Latin America, and Eastern Europe. Oracle's share of the applications market is still roughly half of SAP's, however. "They have the healthiest applications business they've ever had," says Shepherd. "But there's no danger of them passing SAP."
So far, Oracle's buyout strategy has paid dividends, and analysts say many attractive targets remain. (Middleware vendor BEA Systems (BEAS) may not be one of them though: Catz said Oracle determined it can't reach a friendly deal with BEA management, which has been holding out for more than the $6.7 billion buyout offer that Oracle withdrew on Oct. 28).
Yet Oracle's positive performance won't preclude investors from gazing even further into the future for signs of trouble. "Their concern isn't that the business is doing poorly today," says Broadpoint's Murphy. "Their concern is how it will be doing in three or six months if the credit crunch spreads." As banks write down losses from mortgage-related investments, "it's not a stretch to think that spending might be down."
Before it's here, it's on the Bloomberg Terminal.
LEARN MORE