The ECB's Christmas Gift to Banks
Half a trillion dollars in loans by Europe's central bank may stabilize markets, but many think averting recession will require a rate cut
Kerry Capell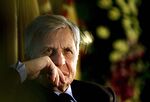 Christmas came early for commercial banks when the European Central Bank injected an unprecedented half-trillion dollars into the market on Dec. 18. The size of the two-week loans, the ECB's largest-ever infusion, took the market by surprise. "The ECB has tried a shock-and-awe approach to stabilizing the money markets," says Gabriel Stein, director of Lombard Street Research.
Why such an enormous sum? The ECB says it is simply responding to demands from banks, who want to be able to show investors and borrowers that they have plenty of funding in place when they close their books Dec. 31. "The new-year period is traditionally a period of scarce liquidity, as market activity is subdued and banks are preparing their yearend balance sheets," ECB President Jean-Claude Trichet told a European Parliament committee on Dec. 19. The ECB, he said, will "do whatever is necessary" to avoid inflation while maintaining financial stability (BusinessWeek, 8/10/07).
But many believe that flooding the markets with cheap money isn't enough. "The real issue is not the lack of liquidity," says David Brown, chief European economist for Bear Stearns International (BSC) in London. Instead, it is "the deep-embedded psychology of fear that has spread like a contagion." Many banks are flush with cash, he notes. The problem is that they don't want to lend it to each other.
Dark Outlook for Banks
No wonder. There are still a number of banks who have yet to report their results for the year, and analysts reckon some nasty surprises may be in store. The outlook for European banks in 2008 "is quite dark, as there are still many securities on banks' balance sheets, which could generate substantial losses," Credit Suisse (CS) warned in a recent note to investors. "We are witnessing writedowns at an alarming rate," says Danny Gabay, director of Fathom Financial Consulting in London.
While the ECB can't help the banks prevent losses, many industry insiders say it could do more to ensure that the credit crisis won't trigger a serious economic slowdown in 2008. Until this summer the main preoccupation of central banks worldwide was curbing inflation. But the U.S. Federal Reserve realized this fall it needed to do more than simply prime the pump with liquidity. On Dec. 12, Fed Chairman Ben Bernanke cut the federal funds rate, an overnight bank lending rate that affects how much interest consumers pay on credit cards and loans, for the third consecutive time.
Now some economists are calling on Trichet to do the same as concerns over an economic slowdown in Europe mount. Consensus economist forecasts for euro zone growth next year have fallen to 1.9% from 2.3% a few months ago. "Unfortunately, the ECB is still sitting on the fence, they think plying the markets with liquidity is the cure-all solution," says Bear Stearns' Brown. He and many other economists say lower rates are needed—and fast.
ECB Not Ready to Cut
So far there is little indication that the ECB is willing to follow the example of its counterparts in the U.S. In his address to the European Parliament, Trichet said the European economy faces a "more protracted" period of elevated inflation than previously expected—indicating no imminent plan to reduce interest rates. (BusinessWeek, 12/19/07).
It's a dilemma common to central banks around the world: how to curb inflation without hurting growth. And many economists believe it is only a matter of time before Trichet changes his tune. The real risk, however, is that the ECB could delay too long. "The longer they wait, the greater the chance of recession," says Bear Stearns' Brown.
With Mark Scott in London
Before it's here, it's on the Bloomberg Terminal.
LEARN MORE