Four Wise Men on What's in Store for 2008
Four Wise Men on What's in Store for 2008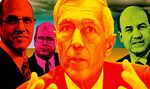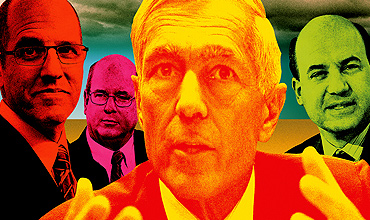 America is approaching 2008 with trepidation. The health of the economy is a top concern, and that uncertainty will color the outcome of the Presidential election. To find out what some smart financial minds see ahead, I talked with former General and Presidential candidate Wesley K. Clark, now chairman of New York investment bank Rodman & Renshaw (RODM); Christopher J. Ailman, chief investment officer of CalSTRS, the California teachers' pension fund that manages about $175 billion; Russell Read, the chief investment officer of CalPERS, the California Public Employees' Retirement System, which has more than $250 billion in assets; and Richard Bernstein, chief investment strategist for Merrill Lynch (MER). No one predicted a disaster in the offing, but no one said it would be pretty, either.
MARIA BARTIROMO
What will be the most important issues for America in 2008? What will people be talking about?
GENERAL CLARK
I think they're going to be talking about the economy because it seems pretty clear we haven't yet reached a resolution of the subprime mortgage issues. We're limping along right now as bankers and others try to understand the dimensions of the crisis in their own institutions and what its second and third order of effects are. Of course, we want to help moderate and low-income families who've been caught up in adjustable-rate mortgages and may not be able to handle upward adjustment in the rates. But we also want to help the financial community work through the issues associated with assessing the risks, finding the bottom, and then making the right adjustments to get the credit markets moving again. That's the number one order of business.
Can you handicap the election?
I think that Iraq as a prominent issue is going to decline. There is a chance always that there'll be some kind of national security challenge, and if there is, that would obviously activate the Republican base. I'm supporting Hillary Clinton. I believe she'll be the Democratic candidate. [Among Republicans, Mike] Huckabee is leading, but John McCain is coming on strong, and I've always felt that Senator McCain was likely to emerge as the Republican candidate. If it's a Clinton/McCain match-up, it'll be a very tough election.
MARIA BARTIROMO
How are you feeling about the year ahead?
CHRIS AILMAN
Not as pessimistic as the general news media, though I think we're probably now at the darkest point of the tunnel. From here on out we actually start to digest the bad news and at least see a little light. I'd almost divide the year into thirds. The first third is going to be pretty slow. Not a recession, but slow. Second third should be nice and robust, and we can make some money. Then we get into the heated part of the Presidential election cycle, and I think the Street will have to digest a lot of information given the change in leadership.
How will that change in leadership affect the market?
The market will look ahead and try and figure out which industries will do better, which won't, depending on the leadership in the White House. That makes for more of a muddled market in the end of '08 than a raging bull market.
So if the Dems win, how does that affect your strategy?
We probably wouldn't tilt the portfolio, but it would help me make decisions about whether to overweight international stocks vs. the U.S. I'm hearing a lot of people debate whether to overweight the U.S.—CalPERS just decided to equally balance U.S. and international stocks in its portfolio for the first time. I'm not going to base my decision on whether Democrats or Republicans win the White House. What I am going to base it on is which Administration has prospects for improving some of the infrastructure in our country. Not only physical but also intellectual infrastructure. What are we doing about education? Things like that. Because that will tell you how competitive the U.S.
is going to be long-term. As you know, I'm looking out 10 to 20 years, and some people think the U.S. right now looks a lot like England in the 1970s. [If that's really the case,] then you'd want to bet on international securities rather than U.S.
We've talked a lot this year about China, and all the demand coming from there, which has fueled a huge rally in raw materials. Is that still a theme?
Still the same story. I want to be short in everything that China and India are long in, but I want to be long in everything that China and India are short of. And that partially plays into our other theme: climate change. India and China are short on clean water and clean air, so there's going to be demand for innovative products in a lot of those areas.
MARIA BARTIROMO
What are you expecting from the markets in 2008?
RUSSELL READ
We are expecting not a bad year, but in terms of the U.S. equity markets, the push and pull will likely continue for at least six months. The better part of $1 trillion in subprime mortgages will be resetting throughout 2008. On the other hand, corporate profits remain strong and so do p-e ratios. Earnings ratios for stocks are compelling in the U.S. and especially outside the U.S. That said, there are weaknesses, such as the specter of modest but increasing inflation...which will offset some benefits of strong corporate profits.
What would you avoid in 2008?
Strains on housing can also cause real strains for municipalities. And for municipal bonds, [those strains] will likely be more material than they've been for over a decade.
MARIA BARTIROMO
What kind of a 2008 are you expecting for the market?
RICH BERNSTEIN
We're looking at sort of a flattish market. Our models are predicting about a 3% price return for the S&P 500 in the next 12 months. For most of the past year, year and a half, they've been forecasting 8% to 12%, so 3% is a little disappointing. Still, we're not looking at a big down market.
So how would you invest in that environment?
Number one is we think volatility is going to continue rising because of tightness in the credit markets. Probably the most controversial thing we've recommended is that people should be looking at developed markets over emerging markets. And there's a couple reasons: Number one, developed markets tend to outperform when volatility rises. Number two, I think the economic story for 2008 isn't global growth; it's a global slowdown. Our economics group thinks growth in 82% of global economies will decelerate in 2008.
Are you expecting a recession?
Our economics group thinks exports will do reasonably well and keep the GDP numbers technically in positive territory. But it may feel like a recession to many people.
Before it's here, it's on the Bloomberg Terminal.
LEARN MORE