The Return of Korea's Old Guard
As reform sputters, conservative icon Lee Myung Bak is ready to make a comeback in South Korea's Dec. 19 presidential election
Moon Ihlwan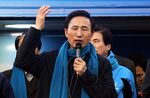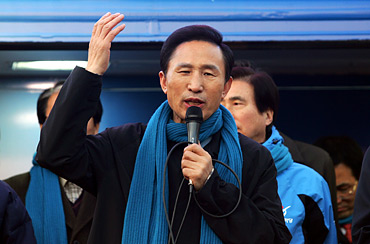 At a final-day campaign rally in Seoul before the Dec. 19 Korean presidential election, conservative front-runner Lee Myung Bak seems to be readying his victory speech. Campaign cheerleaders dressed in blue jumpers and sweaters with the number 747 in yellow pump up the crowd with chants and dances. The 747 number has become a symbol for Lee's campaign, representing his pledge to deliver 7% economic growth per year, to achieve annual per capita income of $40,000, and to make Korea the seventh-largest economy in the world. (Currently, growth is about 5%, per capita income is $20,000, and Korea is the world's 13th-largest economy.)
"What Korea needs is a President who implements promises," says Lee, who turns 66 on Election Day. Calling himself "the economy President," the former chief of one of Korea's most powerful business groups flashes a victory sign to the cheering crowd. "I'll rejuvenate the economy by all means possible," he says.
It's a far cry from South Korea's previous recent presidential election. Five years ago, waves of young voters in their 20s and 30s gave liberal candidate Roh Moo Hyun an amazing come-from-behind victory. Many exuberant young voters called the outcome the repudiation of the old order and old system, in which pro-business politicians had worked with Korea's largest conglomerates to promote economic growth at the expense of most everything else, including consumers, workers, and human rights.
Capitalizing on Star CEO Status
Five years later, though, that old order is starting to appear vindicated and its hero is staged to make a big comeback. A business icon of Korea's growth-at-all-costs era in the 1970s and '80s, Lee appears to be the nation's President-in-waiting. Lee, from the conservative opposition Grand National Party, has consolidated his lead by highlighting the differences between him and the unpopular Roh and making the economy the central issue of this year's ballot.
He's capitalized on the perception that Roh has not been properly addressing the dangers of Korea being squeezed between the up-and-coming giant of China and the high-tech power of Japan. Lee has highlighted his experience as a 16-year star CEO at Hyundai Group (HYEHF), an industrial power that has long epitomized Korea's breakneck industrialization. He's also promoted his four-year stint as Seoul mayor, from 2002 to 2006, when he earned his "Bulldozer" nickname for his hard-charging style.
On foreign policy, Lee's priority is to mend ties with the U.S. that sometimes caused strain under Roh. And on North Korea, a Lee administration would make a thorough review of Roh's policy, which offered help without requiring reform in the communist country.
Public's Focus on Bread-and-Butter Issues
Political analysts say the electorate has been disillusioned with the left-leaning Roh's divisive disputes with his political rivals over issues such as how to coax North Korea into breaking out of its self-imposed isolation. Roh has also sparred with former allies over whether to rewrite South Korea's constitution to replace the single five-year presidential term with an American-style, four-year renewable one.
Many middle-class Koreans, however, would prefer their leaders to concentrate on bread-and-butter concerns. "With some half of university graduates unable to get jobs they think are decent, young voters want to focus more on such issues as how to improve their living standards," says Hahm Sung Deuk, a political science professor at Korea University in Seoul.
Although the benchmark index on the Seoul bourse has tripled during Roh's presidency and exports have doubled, the middle class isn't feeling so prosperous. The soaring cost of owning a home and educating children has made the vast majority of Koreans feel that they've missed out on the economic advances. (Home prices in Seoul have jumped by an average of 53% during Roh's term, and in prime areas prices have tripled or even quadrupled. At the same time, education costs have doubled.) "Our expectations for a new, better system have been completely shattered in the past five years," says Choi Hee, a 30-year-old office worker in Seoul. "I don't think Lee Myung Bak is completely free of dubious practices, but many of my friends now want a tested leader capable of handling practical issues."
Lee Is Leading in the Polls
Certainly, Lee's campaign has been dogged by charges of past financial misdeeds, all of which he denies. Government prosecutors earlier this month cleared him of any involvement in a stock price manipulation case, but Lee has agreed to a special investigation by an independent counsel as demanded by his political rivals.
Opinion polls published on Dec. 13, the last allowed in the campaign, show Lee is leading his nearest rival, Chung Dong Young of the liberal United New Democratic Party and political heir to the outgoing President, by nearly 30 percentage points. Surveys also suggest voters believe Roh has fallen well short of expectations and that Korea could have been more competitive had the economy been better managed.
Liberals accuse Roh of pushing Korea far to the right by failing to deliver promised reforms, particularly on the economic front. "The failure goes way beyond disappointment," says Kim Sang Jo, head of Solidarity for Economic Reform, one of a handful of activist groups that rallied behind Roh and engineered last-minute support from young voters in 2002. "We feel betrayed."
Roh's Unfulfilled Promises
During his 2002 campaign, Roh pledged to be the first leader to end corruption and abuses by the chaebol, Korea's sprawling industrial combines. Yet, no corporate bosses drawn from founding families at the country's top chaebol were forced to step down even after being convicted for embezzlement or accounting fraud. During Roh's term, for example, the heads of Hyundai Motor and SK Corp. (SKCXF) were jailed for several months for their convictions, but then they returned to their corner offices to call the shots at their companies.
In the first year of his five-year-term, Roh did take some steps to improve accounting practices. In 2003, he enacted the Korean equivalent of the Sarbanes-Oxley Act to require stringent auditing standards for listed companies and auditing firms and to hold top executives responsible for irregular bookkeeping. His administration also demanded that all publicly traded companies come clean with their past bookkeeping manipulations by 2005. But as the deadline approached, Roh let his top regulator give a three-year moratorium to all companies with a sweeping promise not to probe them for accounting violations in the past. "The move by a watchdog body amounts to negligence of duty," says Kim.
The Roh administration has also eased restrictions to allow chaebol founding families to control affiliated companies with relatively small stakes. In the past two years, it has lowered holding companies' minimum ownership requirement for controlling subsidiaries to 20% from 30% and granted chaebol financial arms to exercise voting rights for stakes they bought in their affiliates by using funds entrusted by their customers.
Conservatives Could Roll Back Reforms
In a strong reminder that the chaebol have yet to clean up their act, government prosecutors this month banned several top executives of Samsung Group, Korea's largest and best-known conglomerate, from traveling overseas, in connection with an investigation into a wide-reaching bribery scandal alleged by Samsung's former chief attorney Kim Yong Chul. Samsung has denied all corruption and bribery allegations and issued a detailed rebuttal of the claims by the attorney who left the company in 2004 and waited three years before blowing the whistle on corruption (BusinessWeek.com, 11/14/07).
"The election of Roh five years ago prompted the entrenched establishment to start embracing changes, but his about-face in policies revived dead conservatives by releasing them from their coffins," says Jang Ha Sung, business school dean at Korea University. "Now the potential danger is that a conservative government could roll back on chaebol reforms" introduced in the last decade.
There's no doubt Lee will be much more sympathetic to the chaebol. His platform to inject fresh vigor into the economy includes such measures as a corporate tax rate cut, removing red tape on business, attracting foreign investment, and tougher action against often raucous labor activities.
One of his ambitions is to spend as much as $18 billion to build a massive canal by tunneling through a mountain to connect two rivers and form a new shipping route from Seoul to the southeastern port city of Busan. Economists worry the grandiose canal project signals a return to Korea's centrally planned economy of the past. His suggestion during his campaign to ease restrictions on companies to allow them greater control over banks has also sounded alarms among liberal economists. "If the chaebol were to use banks to expand their reach in the economy, the whole economy will become much more vulnerable to the rise and fall of the chaebol," said Lee Dong Gull, head of the Korea Institute of Finance, a think tank for commercial banks.
Before it's here, it's on the Bloomberg Terminal.
LEARN MORE