A French Twist in Silicon Valley
With backing from high-profile investors, Loïc Le Meur is giving new meaning to the idea of "building a company online"
Jennifer L. Schenker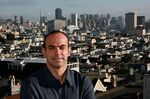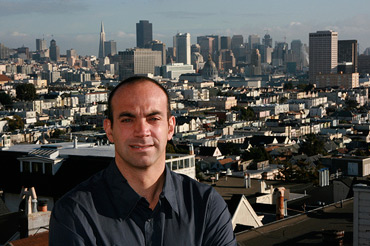 It sounds more like a gimmick than a way to start a company: set up a Web site and let visitors vote on everything from your business strategy to your management hires to the company logo. But Loïc Le Meur is doing it—and some of the biggest names in technology are backing him.
Le Meur, a successful French tech entrepreneur and one of Europe's most widely read bloggers, moved to Silicon Valley in August to set up a video social networking site called Seesmic. In the next few weeks he expects to seal agreements for more than $5 million in financing from investors including AOL (TWX) founder Steve Case, Skype (EBAY) founders Niklas Zennström and Janus Friis, LinkedIn founder Reid Hoffman, and leading Internet business angels such as Ron Conway of Angel Investors.
Users Vet New Hires
Seesmic, set for commercial launch next March, is something like a cross between Facebook and YouTube (GOOG). Users can post videos of themselves talking, then other users can pick up the conversational thread by posting videos of themselves responding. Since October, Le Meur has been testing the site on a limited basis with 1,000 people in 15 countries who post an average 1,000 clips a day. "It's going to be big," predicts Martin Varsavky, the founder of Wi-Fi sharing company FON (FON), who is another of Seesmic's financial backers.
But what really sets Seesmic apart is its business model, which gives a whole new meaning to "building a company online." Every day since setting the company up in October, Le Meur has filmed himself talking about what he needs to do next. He posts the videos on a site, www.loic.tv, whose 5,000 viewers serve as an ad hoc advisory board. "It really is the first time an entrepreneur is using a daily video show to build a company with community on the Web," says Seesmic investor Conway, who also was an early bankroller of Google (GOOG).
In his first video, the affable 35-year-old Le Meur gives viewers a tour of his empty San Francisco office building and asks, "Do you think anyone will accept to work with a French guy?" That question was answered soon enough. Le Meur filmed a job interview with a video editor and then asked his audience whether he should hire her. The answer was yes, and he did. When Seesmic needed a logo, Le Meur asked for help, and viewers organized an online contest that generated 400 entries from around the world. Le Meur paid the winning entrant, a Canadian, $2,000 for his work.
Total Transparency
He has since hired nine other people, including an engineer in Singapore and another in Britain, without ever meeting them, conducting job interviews online via Seesmic videos. He also asked his online audience what features Seesmic should offer. Some 500 were suggested, so he instituted an online voting system to choose the priorities. And when audience members said they worried about intrusive advertising on Seesmic, Le Meur promised he would either find non-annoying ads or switch to a paid-membership system.
Indeed, he says, "I am taking everything I learned at business school and am doing exactly the opposite." The conventional wisdom in business is to keep your ideas secret, develop new products in stealth mode, and make employees sign nondisclosure agreements, he says. But he contends the Internet has made that approach obsolete. "Sharing is power. The more you share, the more opportunity and help you get," he says.
France's Leading Internet Mogul
It's unconventional, all right—but Le Meur has been living his life online for a long time. Since 2003, he has shared his thoughts and much of what he does on his blog www.loiclemeur.com, which now attracts some 200,000 people a month. During last year's French presidential election he secured a groundbreaking podcast interview with Nicolas Sarkozy (BusinessWeek.com, 12/27/05), who later named him an adviser for Internet strategy. After winning the election, Sarkozy invited Le Meur to a White House meeting with President Bush on Nov. 7.
Indeed, Le Meur is a consummate networker, both online and off. An annual conference on blogging that he started in 2003, now known as LeWeb3, has become one of the premier Internet events in Europe. This year's conference, held on Dec. 11 and 12 in the Paris suburb of La Plaine St. Denis, attracted a raft of Silicon Valley luminaries including Digg founder Kevin Rose, Evan Williams of Twitter, and Robert Scoble, a former Microsoft (MSFT) executive who's now a high-profile blogger. Another attendee was Michael Arrington, the founder of TechCrunch, a Silicon Valley blog site, who's also an investor in Seesmic. Le Meur organizes the conferences with help from his wife, Geraldine, who has joined him in relocating to Silicon Valley, where the couple now lives with their three young sons.
Like his Silicon Valley counterparts, Le Meur is a seasoned entrepreneur. He launched his first company, an interactive ad agency, when he was still in business school and later sold it to advertising group BBDO (OMC). He later bought and sold two other Web-based companies. In 2003, he purchased a French blog hosting company, Ublog, from its founder, then grew that business and merged it with Six Apart, a San Francisco-based company that specializes in creating blogging platforms. He served as Six Apart's executive vice-president in charge of European operations before leaving last January to campaign full-time for Sarkozy.
Relocation to Silicon Valley
Le Meur says he moved to the U.S. because it's easier to raise money and build a global company there. "I want to be at the center of the engine," he says. "I want to build a company that will change the world."
That's pretty ambitious—but the technorati seem convinced he's onto something. "Loïc has a great personality both online and in the real world, and he moves fast between the two," says Israeli tech entrepreneur and investor Yossi Vardi, a regular at Le Meur's conferences. But Vardi warns that anyone who talks to Le Meur should not be publicity-shy. "He will always video you and then puts it on the blog."
Before it's here, it's on the Bloomberg Terminal.
LEARN MORE