Will Steroids Finally Hurt Baseball?
George Mitchell's investigation into steroid use in baseball is sobering, but it's unlikely to affect the sport's strong business
Mark Hyman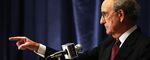 Even though it's a foot thick, former Senator George Mitchell's report on Major League Baseball's rampant steroid culture is a real page-turner. A few highlights: On page 172, we're at Roger Clemens' apartment where, in August, 2001, the great pitcher allegedly is being injected with steroids. On page 204, we're privy to an e-mail exchange in which Texas Rangers owner Tom Hicks is advised by Rangers General Manager Jon Daniels that trading for all-star infielder Miguel Tejada might be a bad idea because of "steroids concerns."
By the time you're finished reading the report—plan on a day—you may be convinced there hasn't been a steroid-free big-league game played in a decade. That could be a problem for most businesses that rely on the trust and confidence of tens of millions of customers. It hasn't laid a glove on MLB.
In fact, as the steroids scandal has swirled around home-run king Barry Bonds and many other stars during Mitchell's 20-month investigation ordered by baseball commissioner Bud Selig, MLB has been on a remarkable roll. In 2007 more than 79 million fans turned out at big-league ballparks, the fourth consecutive year of record attendance. And one of the biggest attractions of all was Bonds, the most notorious of the alleged steroid users. Last season, Bonds' employer, the San Francisco Giants, sold 95% of tickets for the season, a mark surpassed by only three of the 29 other big-league franchises.
"Negative Fallout" at Last?
The years when Selig lamented that owning a baseball franchise was a money-losing investment also are long gone. In October the commissioner announced that MLB revenues in 2007 would top $6 billion for the first time, a far cry from the $1.2 billion generated by big-league franchises when he took over in 1992.
Whether, in the wake of the Mitchell Report, that prosperity finally is at risk is an open question. Andrew Zimbalist, a Smith College professor who has written several books on the economics of sports, says most fans have been willing to put aside the steroid scandal, including the federal indictment of Bonds, and concentrate on the games. The new revelations, including names of more players and details of how and where they got illegal drugs, will further test the patience of fans.
"There's a realm of acceptability, and so far baseball has operated within it," Zimbalist says. "If they pass over that threshold, there can be negative fallout."
A Question of Public Perception
Others, including former baseball commissioner Fay Vincent, expect the Mitchell Report will have little effect on MLB's bottom line. "Baseball needs to clean out its stable because the stable is full of you know what," he says. "But I think baseball will go right through this crisis."
Vincent, who was replaced by Selig in 1992 and has been a critic of his successor, says one critical task facing Selig, and perhaps Mitchell, will be educating fans about the dangers of the drugs they are working to root out of major-league clubhouses. Mitchell started that process Dec. 13, lecturing at his press conference on the dangers that steroids pose to younger athletes, who are taking them because they have seen the pros using them with impunity.
"The public innately knows that you can't have major cheating," Vincent says. "They know an extra shortstop on one team would totally subvert the game. But because we've let [pitchers throw spitballs] and we've laughed at them, the fans think some kinds of cheating are all right. They may view [steroid use] as smoking a cigarette before a game or having a Coca-Cola; it's a stimulant, but who cares?"
Congressional Scrutiny
It's not only the reaction of fans that Selig must be wary of. Congress continues to look over the baseball commissioner's shoulder. After the release of the Mitchell Report on Dec. 13, Representative Henry Waxman (D-Calif.), chairman of the House Oversight & Government Reform Committee, and Representative Tom Davis (R-Va.), the ranking minority member of the committee, released a joint statement calling the report's findings "sobering."
"This is a sad day for Major League Baseball but a good day for integrity in sports," the statement said. The lawmakers asked Selig, Mitchell, and baseball players union chief Don Fehr to a hearing on Capitol Hill on Dec. 18.
They all have a lot of reading to do before then.
Before it's here, it's on the Bloomberg Terminal.
LEARN MORE