business
India's Pivotal Election
The BJP's Hindu nationalist and pro-business policies face a test in the western state of Gujarat, where Narendra Modi is up for reelection as chief minister
Manjeet Kripalani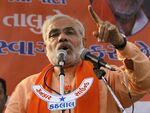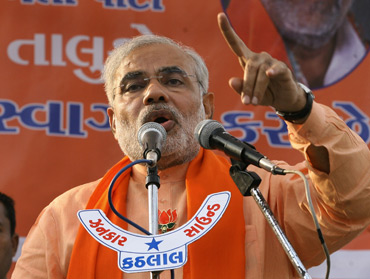 At a rally in Rajkot, a city in the western Indian state of Gujarat, a crowd of 70,000 is gathered in a floodlit field. It's a few days before state elections and the people are waiting for Gujarat's key political figure, Chief Minister Narendra Modi. Local leaders have already warmed up the audience with speeches extolling their triumphs in the state, especially Modi's successes in development. Modi then emerges from a cavalcade of cars, wearing traditional Indian pants and shirt, his beard neatly trimmed, and the overflow crowd cheers wildly. "There may not be too much space on this field, but there is plenty of space in my heart for you, my friends," the Hindu nationalist politician tells them. "I salute this land, my friends."
He then proceeds to list his achievements in the past five years as chief minister. Electricity in every home, water for the state, good roads, increased amenities for farmers, and better crops due to the introduction of genetically modified cotton. "We are becoming prosperous," he says. And, in case the point hasn't gotten across, he adds that in five years he has worked ceaselessly for his state without taking a day's vacation.
Modi is involved in a battle for the soul of India in Gujarat, where Dec. 11 was the first day of voting in local elections. (Like many places in India, Gujarat spreads its election over several days.) Modi gained notoriety in 2002 when anti-Muslim riots across Gujarat resulted in the deaths of at least 700 Muslims and the rapes of many Muslim women and girls. Human-rights groups say that Modi not only took no action to stop the carnage but actually abetted it. The violence led to a backlash against Hindu nationalism that indirectly resulted in the ruling Bharatiya Janata Party (BJP) losing power to the Congress Party in 2004.
Congress Party Could Gain from Modi's Defeat
Now, Gujarat will once again be the focus of the nation's attention. If Modi is reelected, he will have won a vote for the Hindu majority's dominance and his pro-business economic policies. A Modi defeat could signal a resurgence of the Congress Party, led by Sonia Gandhi. While Congress heads the coalition government in New Delhi, it has lost several state elections recently. Victory in Gujarat not only would provide Congress with a mandate for its slower-growth policies in the state but also embolden party leaders to call national elections ahead of the 2009 deadline.
There's no denying that Gujarat's economy is doing well. According to the local chamber of commerce, gross domestic product growth in the state is 13%, compared with 9% for India as whole. Industrial growth in India is 11%, while Gujarat has galloped ahead to 15%. About $150 billion in new investments are expected to pour into the state over the next four years into new ports, airports, and malls.
Of the 59 Special Economic Zones that are planned across India, 31 are in Gujarat. Local companies such as Adani Ports, drugmaker Zyrus Cadila, detergent maker Nirma, and electricity supplier Torrent Power have major expansion plans in Gujarat. "Modi has put everything on the fast track in the state," says Paru Jaykrishna, president of the Gujarat Chamber of Commerce. "We have not reached heaven, but we will get there."
Healing the Wounds of the Past
For many, though, Gujarat is anything but heavenly. Local Gujaratis agree that Moti's government has neglected the Muslim community, 9% of the population, and justice has still not been brought to those who suffered in the 2002 violence. Gujarat's Muslims, who lived in mixed communities for centuries, now live in ghettos. The riots left Gujarat's reputation (within and without the country) in tatters. Foreign investment stopped coming into the state and is still largely absent. Even some of Modi's Hindu allies have organized against the chief minister and his dominating leadership.
The results of the elections in Gujarat will be announced on Dec. 23. At this point, Modi looks like the likely winner, but with a narrower margin than last time.
Many people in the state hope that the wounds of the past may have found a way to heal. With their basic needs of roads, power, and water met, Gujaratis of all backgrounds are looking for jobs. In a dusty village called Dhandhuka, Mehmood Ajmeri, 20, who has a 10th-grade education, is traveling to Jasdan, 100 kilometers away, to earn a living making cotton mattresses. Most of his friends drive trucks or rickshaws, and while they don't think much of Modi, they are impressed with the economic growth around them. "We want industry in our neighborhood," Ajmeri says.
In Ahmedabad, economic prosperity is pulling some Muslims out of their ghettos. From the west of the Sabarmati River, which divides the old city of Ahmedabad from the new, Muslims are moving to the new, east side. Their children are going to mixed, secular schools, the way they used to. Sunil Parikh, a consultant to economic ratings company Crisil and pharma maker Zydus Group, is cheered by this move. He doesn't expect the politics of Gujarat to change, but, he says, "business may end up uniting the state after all."
Before it's here, it's on the Bloomberg Terminal.
LEARN MORE