A Chat with Citi's New CEO
Vikram Pandit has taken the helm at the troubled financial-services giant. He talks with Maria Bartiromo about the road back
By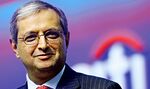 The Wall Street drama over who would replace ousted Citigroup (C) boss Chuck Prince­ ended on Dec. 11 with the appointment of Vikram Pandit as CEO and Sir Win Bischoff as chairman. The Street had been itching for a replacement since former NYSE Euronext (NYX) boss John Thain reportedly turned down the Citi job and signed on as head of Merrill Lynch (MER).
Pandit, an affable 50-year-old who was born in India, spent much of his career at Morgan Stanley (MS) before shifting to Citi about six months ago and quickly taking charge of investment banking. His rise to the top of the sprawling, troubled, and, some say, unmanageable behemoth Sandy Weill built has been nothing short of meteoric.
I talked with Pandit on the morning of Dec. 12 in between phone calls from well-wishers, at the start of a busy day during which he was to meet with his direct reports. Following are the edited excerpts from our conversation.
Critics of former CEO Prince complained that he had no deep operational experience. Now some on Wall Street seem to have a similar gripe with you. How do you respond?
You know my background. You know what I've done in the past. And to me, operating experience is about a lot of different things. It's about understanding risk. It's about understanding businesses. It's about motivating people. It's about creating and collecting the right team of people. And you know a lot of that is in my background. But Citi is almost unique around the world.
And you don't necessarily look at people who have done the job, but you look at people with the right attributes. I draw comfort from the fact that the board went through a very rigorous process, and they believe I am the right person to do the job.
How much due diligence did you do in terms of looking at the balance sheet, looking at how much more pain might be out there? Are you expecting to take more losses beyond the $11 billion already announced?
I cannot really comment on that, and you know that, Maria. Gary [Chief Financial Officer Gary Crittenden] is really the person who's looking at all the books for us, and he has been very forthright in his views.
Would you consider splitting up the company?
I don't want to get down to any options today, nor do I want to take any options off the table. What I'm saying is that this company has a lot of great businesses and is in a lot of the right areas to capture future trends. I really just need time to assess what those trends are…and I have to take an objective, dispassionate look [at the business], which will encompass all possibilities.
Have you spent time with the investors in Abu Dhabi? [In November, an Abu Dhabi sovereign wealth fund invested some $7.5 billion in Citi (BusinessWeek.com, 11/27/07).]
I have spent time with a lot of investors, and I continue to do that.
Did you talk to Prince Alwaleed [the Saudi investor who owns 3.6% of Citi] before the board gave you the nod?
As I said, I have made a lot of investor calls, but I talked to nobody other than the board.
What do you think about your old firm, Morgan Stanley, making Citi their No.1 short for 2008 today? Was that a jab at you?
I haven't looked at that and don't really have any comment.
Was the Abu Dhabi injection of capital enough?
We have a capital plan, and the Abu Dhabi piece, while it was large and a good part of the solution, was just one part of the broader aim of making sure we not only have the right capital today but have capital to go after some of the opportunities we see going forward.
Retail banking and credit cards have been a weak spot at Citi. Since these are not your areas of expertise, will you bring in outsiders or are you looking to do anything different in terms of running this very important part of the business?
The consumer operation is not a monolith. It's not one business. It's a collection of great businesses. They're targeted to different clienteles because of their different needs, and I'm committed to making sure every one of those areas has the best people running them. And I'm not saying we already don't. I'm just saying that I'm committed to making sure that's the case.
What's the most important problem to fix at Citi?
There are three things I'm focusing on. One, we've got to make sure we have the right productivity levels. And that runs the gamut of putting capital to work correctly in the right places; making sure our cost structure is right; making sure our people are focused on the revenue opportunities. And really we've got a lot of resources here, and it's not about needing more. It's about making sure we allocate them to the right place to create more profitability and good returns for shareholders. That's really Job One.
Job Two is to look at every one of our businesses…individually and collectively, to make sure they're the right businesses and they are positioned for the future we see in financial services. And the third thing I am focused on is what we all are focused on. Ours is a people business, and it's about making sure [our people] feel excited about the future.
The big news of the week is the Fed working with global banks (BusinessWeek.com, 12/12/07) to help ease the liquidity crunch using tools other than just interest rate cuts. How significant is this?
While financial markets in general equilibrate fast, the real estate markets take a long time to clear. And so we are in a long game.
Before it's here, it's on the Bloomberg Terminal.
LEARN MORE