Does the Housing Plan Go Far Enough?
Even as Paulson unveils his long-awaited plan to help homeowners, there are many questions
Jane Sasseen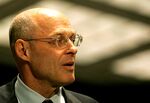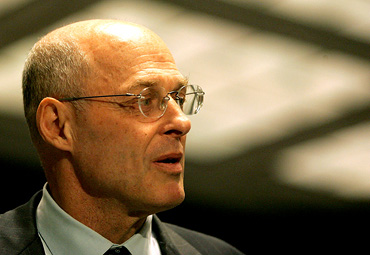 With the growing mortgage crisis threatening to send the economy into a tailspin, help is on the way. On Dec. 6, Treasury Secretary Henry Paulson announced a much anticipated plan aimed at preventing a wave of foreclosures among homeowners facing sharply higher monthly payments on adjustable-rate mortgages that will soon reset.
The plan, unveiled with Housing & Urban Development Secretary Alphonso Jackson and with the blessing of President George W. Bush, comes after weeks of tough bargaining with lenders, investors in mortgage-backed securities, and loan servicers—the folks who collect mortgage payments for investors.
The centerpiece of the initiative is an agreement by lenders to freeze interest rates for up to five years for at least some portion of the 1.8 million subprime borrowers in danger of losing their homes as their mortgage payments spike up by the end of 2009. Borrowers who qualify for assistance will have their interest rate frozen at the initial starter rates, which generally run between 7% and 9%. "We have worked through an evolving process to help minimize the impact of the housing downturn on homeowners, neighborhoods, and the U.S. economy," said Paulson. "The infrastructure to reach struggling borrowers is now in place."
Standard Criteria to Speed Process
Reaction to the plan was mixed. While Democrats on Capitol Hill and on the campaign trail argued it didn't go far enough, some conservatives decried what they see as overstepping by the government in pushing the private sector into agreement. Still, many in the mortgage industry were relieved to see movement. Although plenty of questions remain, Rod Dubitsky, managing director of fixed income research for structured products at Credit Suisse Securities (CS), says, "This is a good start."
Critical to the plan's success is how quickly it will speed the workout process for homeowners—and for how many. Until now, loan modifications have been painfully slow. Because many lenders have been overwhelmed by the number of borrowers already running into trouble—and they've been dealing with those borrowers on a case-by-case basis—only a minuscule number of homeowners facing default have been able to renegotiate their loans. The idea of the workout plan is to speed up the process by laying out standard criteria under which homeowners will be eligible for aid. "We hope that these guidelines will be adopted as reasonable and customary standard practice across the entire servicing industry," said Paulson.
Not every troubled homeowner (BusinessWeek.com, 12/6/07) need apply. For starters, the rescue plan will only apply to homeowners who took out adjustable-rate subprime loans between January, 2005, and July, 2007, and which are resetting between January, 2008, and July, 2010.
A Small Group Will Benefit
Within that group, those who will be able to continue to pay their mortgages even after resets won't qualify for relief. Neither will those already struggling to pay their mortgages even before resets; they, too, are out of luck.
Instead, the plan will concentrate on two groups. Those with enough equity in their homes, or enough income, to be able to refinance will be fast-tracked in new loans.
But the core of the relief effort will be targeted at those who are currently paying their mortgages but will be unlikely to be able to continue doing so after the reset. To screen for those who potentially qualify, servicers will focus on those who are no more than 30 days delinquent on their current loans, and had equity of just 3% or less in their homes at the time the loan was made. Lenders will then look at financial criteria—primarily a homeowner's FICO score—to determine whether they are eligible for the rate freeze. "This will allow us to move through the cases much faster," says Michael Heid, co-president of Wells Fargo Home Mortgage (WFC).
The plan's details raised as many questions as they answered. Chief among them: Given those restrictions, just how many homeowners will be helped? "The plan seems like it will help reduce foreclosures, but the question is how much," says Alec Phillips, a Washington policy analyst for Goldman Sachs (GS). According to Heid, holders of roughly 1.2 million of the hybrid ARMs scheduled to reset could get some form of assistance. He says roughly 600,000 will likely have their loans refinanced, while a "significant portion" of the remaining 600,000 will benefit from an interest rate freeze. Informal industry estimates place the number somewhere between 240,000 and 500,000.
How Well Will It Work?
Heid, who played a key role in helping negotiate the deal, believes it will go a long way toward helping struggling homeowners. But many bankers and those in mortgage services continue to question how well a systematic approach will work. Even with broad criteria in place that help identify those potentially eligible for a workout, many say actually going through the details of renegotiating a mortgage will remain an intensive, loan-by-loan process. They argue they will still have to look at such things as whether the value of the house has fallen, along with the disposable income and debt level of the borrower, to complete a workout.
"There's only so much that can be done from Washington," says James Montgomery, who was chairman of Great Western Financial when it was sold to Washington Mutual (WM) in 1997, and who has since founded two community banks in California and Utah. "You've got to look at deals individually, and at local market conditions."
Some housing advocates also decried what they see as the plan's narrow focus, arguing that far too many people will be excluded from help.
Satisfying Investors, Not Homeowners
"This crisis is likely to be the worst we've seen since the Depression, but [the plan] is only dealing with the easiest slice of borrowers," says Michael Shea, executive director of Acorn Housing, a national housing advocate group based in Chicago. "What they are proposing won't help a single soul who is currently delinquent on their mortgage or facing foreclosure. We need bold proposals like the ones set by FDR during the Depression. What we are getting is Calvin Coolidge."
Shea argues that too much of the focus has been on satisfying investors, rather than saving communities and homeowners. But there are also big questions about how happy investors in mortgage-backed securities will be with the plan.
Indeed, a big stumbling block to workouts so far has been the fear by loan servicers—who manage the pools of mortgage-backed securities—that they could be sued by investors in those securities who might be worse off if a loan is modified. "You will see class-action lawyers salivating over this," says Bert Ely, a longtime consultant to financial institutions.
Manageable Risk of Litigation
Regulators have argued that everyone—lenders, homeowners, and investors—are better off if homes are kept out of foreclosure, even if the mortgage-backed securities pools have to take some loss. And regulators have tried to convince servicers that they generally have the contractual right to modify loans without fear of lawsuits.
Paulson said such fears should not inhibit the plan. "These industry standards announced today are the product of discussions among investors and servicers," he said. "With the investor community on board and as a clear beneficiary of this approach, the risk of litigation should be manageable."
Not all servicers have been convinced, however, that they won't face a wave of lawsuits from investors who will lose income or see the value of their investment drop when rates are frozen. Ratings agency Standard & Poor's, which like BusinessWeek is a unit of The McGraw-Hill Companies (MHP), also points out that freezing rates could have a negative effect on the ratings of some mortgage-backed securities.
Varied Interests Among Investors
Representative Michael Castle (R-Del.) has pushed for legislation to protect the companies that make or service mortgage loans from being sued. "Foreclosure benefits almost nobody—from the homeowner, to the neighborhood, to the lender. And, frankly, I don't think it benefits whoever bought the security," Castle tells BusinessWeek.
There are varied interests among investors, however. Even if an overall pool of mortgage-backed securities is better off under the bailout plan, holders of some slices of the debt within a pool may lose more than they would in the case of foreclosure.
"Everyone wants to say this will be a win-win, that doing workouts will be better for investors in the mortgage loans, and better for the homeowners," says Mark Adelson, a longtime specialist in structured finance at Nomura (NMR) who recently started his own consulting firm, Adelson & Jacob. "Sometimes that's true, and sometimes it's not. What everyone seems to be ignoring is that plenty of times, it's not advantageous to the holder of the loan to do a modification."
"Not a Silver Bullet"
There are also worries that investors burned by losses from such workouts, and angered that the rules of the game changed midway, will shy away from the MBS market in the future. That could hurt liquidity and lead to higher rates. Ely points out that enormous flows of foreign capital have come into the U.S. housing market in recent years, bolstering prices. But it's far from clear why a bond investor investor in Germany should suffer losses to help out some guy in California who bought a house with barely any equity.
Despite those risks, the rising political pressure to head off a massive wave of foreclosures likely to hit in the middle of campaign season meant the mortgage industry had little choice but to sign on to the high-profile plan. If foreclosures continue to soar, Jaret Seiberg, a policy analyst with the Stanford Washington Research Group, points out, the industry faces the possibility of much harsher regulatory measures from Congress. A bill currently before Congress that would allow the modification of home loans in bankruptcy, including the writedown of principal, could gain momentum if the situation worsens.
Paulson was clear that the plan won't solve some of the most difficult problems in the housing market, including the declines in home values in certain parts of the country. "This plan is not a silver bullet," he said. "What five years does is give this country a chance to work through a housing cycle."
Before it's here, it's on the Bloomberg Terminal.
LEARN MORE