Turning Business Education on its Head
How Anne Kirah and the 180°academy are promoting creative thinking in business leadersto ensure that Denmark's economy stays competitive
Jay Greene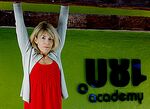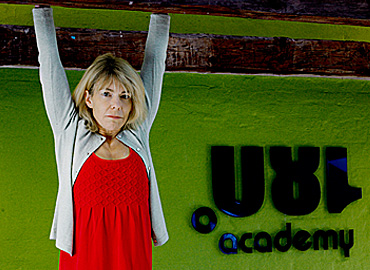 In September about 20 executives, mostly from Scandinavia, hopped on a plane for a trip designed to shatter their notions of how to do business. The group, comprised of the first batch of students at a new Danish school called 180°academy, jetted off to South Africa. There they worked with a group called the Business Place to help would-be entrepreneurs realize such dreams as opening a hair salon or starting a toy business, though they had no relevant experience or skills.
The program isn't anything like business school, where students focus largely on areas of their expertise. And that's the point. Conventional business education leads executives to build on their strengths—improving profit margins, boosting efficiency, and benchmarking the best practices of rivals. This school aims to teach midcareer executives something many think is unteachable: how to be innovative. "We've got to break them from what they know best," says Anne Kirah, the academy's kinetic, gum-chewing, American dean. "When you're only focused on your competition and what you know best, you don't innovate."
Innovation Lessons from an Anthropologist
Kirah, 46, spent seven years as a design anthropologist at Microsoft (MSFT), leaving at the end of 2006 to help launch the school. At Microsoft she studied how Web surfers used its various MSN Web sites. She then reported back to the designers about the obstacles Web surfers stumbled over trying to find information. Her job was to help the company shift from being a PC-centric company to becoming an online operation by educating its managers about their new consumers. At Boeing (BA), before her Microsoft stint, Kirah helped the airplane maker design a better cabin experience by studying how passengers acted on long-haul flights. With undergrad and graduate degrees in social and cultural anthropology and psychology, Kirah is now teaching similar lessons to a larger audience of executives. She's shaking managers out of their traditional ways of doing things and forcing them, perhaps for the first time, to understand their customers' cultures and to discern their needs.
In Soweto, for example, some students recommended that the South African entrepreneurs hire experts to gin up business plans. It's a ludicrous suggestion for entrepreneurs whose needs are far more basic than the latest McKinsey & Co. type of strategy. "These are supersmart guys, but when the pressure is on, they revert to the behavior that made them successful," Kirah says. In this instance, the most successful students listened to the experts in the Business Place to guide the entrepreneurs toward the best solutions.
Too few executives understand how to come up with breakthrough ideas—and bring them to market. Some Scandinavian companies have it nailed. Their names are familiar—Nokia (NOK), Bang & Olufsen, Ikea, Ericsson (ERIC), Electrolux (ELUX). But dozens of others remain clueless. And even at successful companies, the actual number of people who know how to connect with consumers and how to innovate is small. "We have a few people who have really mastered this," says Mads Nipper, executive vice-president for markets and products at LEGO, which enrolled two employees in 180°'s first class in the fall. "If those people left the company, we'd be in trouble."
Denmark Leads in Innovation Policy
That's why LEGO, Bang & Olufsen, Nokia, and others have joined with the Danish government to launch the school.
The government is worried that if local companies aren't innovative, jobs will be swept away by the forces of globalization and the country's high standard of living will decline. The academy is the latest in a series of initiatives from the country cited by a World Economic Forum report in March as the top nation for innovation leadership and government policy. It's an unusual national strategy that shows how seriously national officials are taking the power of innovation and creative thinking. (Britain also has a national program, Designing Demand (BusinessWeek.com, 10/3/2007), intended to foster innovation within small business.)
180°academy has none of the trappings of academia. The school holds classes in a renovated 18th century building that it shares with several small startups. The building—called Mad House Denmark, because it used to be a psychiatric facility—is located in Middelfart, about two hours by train from Copenhagen.
Foreign Immersion Breaks Habits
The courses, broken into nine modules, or sessions that range from three to six days, are designed to push students to consider business challenges from new perspectives. In South Africa, they were dropped into an utterly foreign world. The idea was to help them figure out the importance of rejecting cookie-cutter business theory, instead grasping a deep understanding of customers and clients to come up with successful strategies. In October, 2008, the global modules will be held in Dubai, where traditional and modern Arabic cultures collide. Students will have five full days there to focus on branding issues in another vastly different culture from their own.
The other seven modules will take place in Denmark and focus on the process of innovation—ethnography, generating new concepts for products and services, and prototyping. Learning the discipline of innovation won't come cheap. Cost of tuition at the school: 289,000 Danish Krone, or nearly $57,000, for all nine sessions. To get into the academy executives must agree to work on a new project for their employer, running it through the gauntlet of the academy's courses on innovation.
For instance, Jeppe Schyth Olsen, marketing director for Middelfart Sparekasse, a bank in central Denmark, plans to create a subsidiary focusing on bank services that use technology to cater to urbanites. "We don't want to compete on price," Olsen says. "We need to differentiate."
Diversity in Students and Professors
Kirah is also mixing up the student body. The school wants to draw a cross-section of corporate staffers, from top and middle managers to engineers, designers, and sales staff. And while the first class is primarily made up of Danish executives, 180°academy hopes to recruit from well beyond the country's borders.
With its unusual curriculum, the school has already attracted a host of well-regarded educators. Top among them, perhaps, is Richard Pascale, author of Surfing the Edge of Chaos, who has taught at Stanford University's Graduate School of Business, is an associate fellow at Britain's Oxford University and will be promoting a theory of "positive deviancy&—analyzing success stories that have deviated from the norm. Teng-Kee Tan, a professor and director of the Nanyang Technological University in Singapore and a former executive at Electrolux, will help students understand how to bridge the gap between observation and anthropology and real world applications thereof. And Simona Maschi, a senior researcher at Milano Polytechnic University in Italy, will also be teaching there. "I've spent 15 years trying to convince companies that they needed to start schools to do this," Maschi says.
Before it's here, it's on the Bloomberg Terminal.
LEARN MORE