In Japan, Bloggers Get to Pick Ads
Online ad service AdButterfly treats advertisers and bloggers as equals, letting marketers pick blogsand bloggers choose what gets posted
Kenji Hall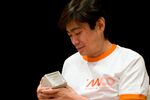 Online advertising is clearly a work in progress. Consider the pounding that social-networking Web site Facebook has taken recently for its plan—later revised—to share users' personal data with marketers before asking permission. The brouhaha showed how much consumers dislike online tracking, an advertising practice that they often don't notice and rarely can control.
So if control is what consumers want, why not give it to them? That notion led Joichi Ito, a 41-year-old Japanese venture capitalist and a visionary who has invested in Net startups in Silicon Valley and Tokyo, to come up with AdButterfly, a new online advertising service. Ito's Internet firm Digital Garage provided part of the seed money to CGM Marketing, which rolled out AdButterfly in Japan in November after a three-month pilot.
The service aims to put marketers directly in touch with bloggers. Like Google's (GOOG) AdSense and other similar services, AdButterfly relies on complex algorithms that automatically place ads on relevant Web sites run by bloggers who sign up. Marketers can also manually search for blogs whose subject matter is a good fit with the brand or products they're advertising.
Treating Advertisers and Bloggers As Equals
But AdButterfly differs from rival offerings: It gives bloggers the final say over which ads run on their Web sites. It also gives them the option of posting their own comments next to the ad. And in the coming months, CGM plans to add a viral element that lets anyone with an AdButterfly-registered site request ads from other sites. "Since it treats them as equals—the advertiser and the blogger—neither is more powerful," says Ito.
CGM's strategy of targeting user-generated online content underscores the influence that blogs, wikis, and social networking sites wield in the Digital Age. There's a lot at stake as big brands spend a growing chunk of their ad budgets online. Market researcher eMarketer, based in New York, predicts that global ad revenues for user-generated online content will grow to $8.2 billion in 2011, from $1 billion this year. Though Japan's major ad firms have a chokehold on mass-media advertising in Japan, they fret that they won't keep Net behemoths Google and Yahoo! (YHOO) at bay for long.
So far, only 2,000 bloggers in Japan have signed up for AdButterfly. That's only a fraction of the country's millions of bloggers, but CGM's powerful backers give it a shot at success. Along with Ito's Digital Garage, Japan's top ad agency Dentsu and Asatsu-DK have invested in CGM. Already, major brands such as Toshiba (TSBF), All Nippon Airways, BMW, and Nike (NKE) have participated in test runs, raising CGM's hopes of expanding its network to 10,000 blogs by next spring.
A Test of Authenticity
For now, most of the AdButterfly-supported blogs are run by anonymous diarists or armchair aficionados of online marketing, and none of the blogs in a cursory search had comments next to their ads. CGM officials admit that bloggers might accept an ad only to bash the company that produced the ad, but there don't appear to have been any such cases. And none of the bloggers who have participated in trials have rejected companies' requests to advertise.
For Ito, it's more about testing what he calls "authenticity." That's a term the digerati use when talking about grassroots word of mouth that's spread among consumers, not made through sly behind-the-scenes marketing techniques. Coming from Ito, it carries weight because of his record as a cyberspace pioneer. An early dabbler in blogging and e-commerce, Ito has stumped for greater collaboration and transparency on the Net. Since last year he has been chairman of the Creative Commons project, a nonprofit organization that promotes more flexible copyright rules for the Internet.
To start AdButterfly, Ito made use of his contacts in different parts of the world. He recruited the San Francisco-based blog search engine Technorati as well as Foster City (Calif.)-based online marketplace developer Etology.com (he's an investor in both). And he tapped Dentsu and Asatsu-DK for their connections to big-name consumer brands.
Not All Bloggers Come Clean About Conflicts
Bloggers seem to like the service. They can pick whether to have text or banner ads and can specify where the ad shows up on a site. Not long after Tadayuki Sugahara registered for AdButterfly he accepted an ad for a Toshiba laptop, which he'd used before, on his Nibaihan blog. "It made a lot more sense to have that ad than a lot of the others that appear on my site," says the 27-year-old Tokyo resident. Last month, Sugahara made more than $20 from AdButterfly, vs. about $5 from Google's AdSense and less than $1 from Amazon.com's (AMZN) book referral.
There are, of course, drawbacks to advertising on blogs, which don't have the long reach of mass media. And analysts worry that AdButterfly muddies the divide between paid-for endorsements and grassroots buzz. Not all bloggers are likely to come clean when there's a conflict of interest. "This model is both unique and murky," says Pete Blackshaw, executive vice-president of market researcher Nielsen Online Strategic Services. "My guess is that a set of informal rules will emerge."
Some experts think companies could win points by reaching out directly to consumers for feedback on product improvements and innovations, instead of spending so much on advertising. "I fear many companies will miss out on other, and potentially richer, ways to engage with their various communities," says Walter Carl, a professor at Northeastern University in Boston and a member of the Word-of-Mouth Marketing Assn. advisory board.
Before it's here, it's on the Bloomberg Terminal.
LEARN MORE