Capitol Battle over Credit Cards
While legislators like Carl Levin want to crack down on the credit-card industry's practices, company execs warn of unforeseen consequences
Jessica Silver-Greenberg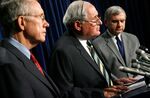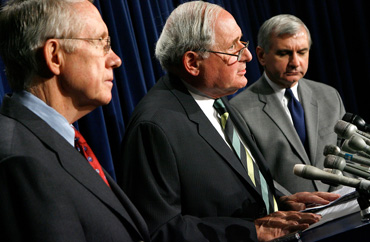 Last February, Janet Hard got an unpleasant surprise when she opened her credit-card statement from Discover (DFS): The interest rate on her card had been hiked to 24% from 18%. Hard was perplexed since she'd been making regular payments to the card company for more than two years. The Discover representative couldn't offer much clarity. "When I pointed out that we were not late in making a payment, she agreed that our account was in very good standing," says Hard. "But they could still raise our rates."
The reason for the change was a deterioration in Hard's credit score. Discover, which monitors such scores for its customers, hiked Hard's interest rate because she was perceived to be a bigger risk, even though she'd been a dependable customer for the company. The 42-year-old nurse and mother of two, who lives with her husband in Freeland, Mich., has been struggling with the additional financial burden. She's paid a total of $2,400 to Discover since the change, but almost all of that has gone to pay interest and only $350 has been used to pay down her debt. "My husband and I feel as though we have been robbed," she says.
Round Two of Hearings
Hard was one of the central protagonists in a Dec. 4 congressional hearing spearheaded by Senator Carl Levin (D-Mich.). The hearing, the second such event by Levin, examined the credit-card industry practice of hiking interest rates for certain consumers even if they pay at least their minimum balance on time. Levin has advocated reforms for the industry, including a ban on such increases. "To me, if a person meets their credit-card obligations to a credit-card issuer and pays their bills on time, it is simply unfair for that credit-card issuer to raise their interest rates," says Levin.
Credit-card companies, which have come under heavy fire in recent months, have shown a willingness to change certain practices. After Levin's first round of hearings last year, JPMorgan Chase (JPM) eliminated a practice known as "double-cycle" billing (BusinessWeek.com, 9/4/07), which often led to higher finance charges. Citigroup (C) pledged to end its practice of "universal default," in which the interest rate charged to a customer could be increased because of late payments to another creditor. And in advance of Levin's hearings, a number of companies including Citigroup and JPMorgan Chase have said they will end the practice of hiking customers' interest rates solely because of their credit scores.
Lenders Cling to Ability to Reset Rates
But many credit-card companies are holding firm against Levin and other critics on a broader point: They say they need to have flexibility in how they set interest rates and other terms. Discover, for example, says it's essential to be able to change interest rates depending on fluctuations in people's credit scores. "It's important criteria for how to manage risk and pricing," said Roger Hochschild, president and chief operating officer at Discover, during his testimony at Levin's hearings.
Credit-card company executives warned that strict legislation could have unforeseen, negative consequences for consumers. "The ability to modify the terms of a credit-card agreement to accommodate changes over time to the economy or the creditworthiness of consumers must be preserved as a matter of fiduciary responsibility," said Ryan Schneider, Capital One Financial's (COF) president, in his testimony.
"The consequences of imposing severe restrictions on the ability to reprice such loans in response to these changes could include significant reductions in the availability of credit to many and higher pricing for all, particularly to those historically underserved customers who pose a higher level of risk."
How Credit Scores Work
One key issue in the debate is the transparency of credit scores. For many consumers, the formula for determining such figures is largely opaque. Hard confessed that she still has no idea why her credit score changed, and even the subcommittee couldn't determine the precise reason. "When we examined Ms. Hard's credit report, we were also at a loss to explain," says Levin. At one point during the hearing, Levin asked each consumer whose interest rate had shot up whether they understood the reason behind the hike. Each responded no, in a chorus of confusion.
Creditworthiness is typically represented by a FICO score, a system developed by Fair Isaac (FIC) that is designed to predict the likelihood of default in the near future. FICO scores are generated by credit bureaus such as Equifax (EFX) based on a mathematical formula from Fair Isaac.
While the system seems like a black box to many consumers, the companies involved say the factors involved are fairly straightforward. People with heavy debt loads and low demonstrable income score poorly. So do people who regularly make late payments on their debts.
Other factors aren't quite so clear. "The most common misperception is that if consumers just pay their bills on time, they will have a high credit score," says Craig Watts, public affairs manager for FICO at Fair Isaac. "If you have high balances on credit cards, it could hold back your credit score."
Applying for credit cards can also hurt your score, even if you don't end up using the card. "If someone were to apply for eight different cards, all those different inquiries will show up on credit scores," says Watts. "Even if you don't accept a credit card; if you apply for a credit card, that alone can be indicative of risk."
Legislations Would Impose Restrictions
More transparency is one of several changes that Levin is pushing for in his proposed legislation. His proposal would also prevent credit-card companies from applying rate increases to debt incurred prior to the increase and require that consumers such as Hard clearly consent to rate increases before they're implemented.
For Hard, the hearings brought some relief. Discover lowered her rate to the previous level of 18%, a change that Hard announced before the hearing. But she worries for consumers who don't have the stage of the U.S. Senate to air their grievances and demand change. "I hope that my voice can speak for every family who is going through the same thing as mine," she said.
Before it's here, it's on the Bloomberg Terminal.
LEARN MORE