Activision-Vivendi's Game-Changing Deal
The new Activision Blizzard will give EA a heavyweight to contend with in the increasingly important market of massive multiplayer online games
Reena Jana and Matt Vella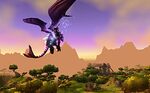 The $18.9 billion tieup between Activision (ATVI) and Vivendi (VIV.PA) is numbingly complex in its structure, but the motivations behind it are simple: Video game publishers want to bulk up to cover the rising costs of developing games, which can easily soar to tens of millions of dollars. And increasingly, game companies are tying their fortunes to trendy online, multiplayer games such as the popular fantasy title World of Warcraft—developed by Vivendi's Blizzard Entertainment—which has 9.3 million subscribers and will be owned and operated by the new venture.
If approved, the deal could effectively realign the industry landscape, creating two massive gaming heavyweights with similarly matched creative clout and global distribution. During a Dec. 3 conference call, executives said the new company, called Activision Blizzard, would start with 15% of the worldwide games market, including PC and console games. In 2006, the total video game market was worth some $28 billion, according to research firm NPD Group. Activision Blizzard's revenues for 2007 are expected to be about $3.8 billion.
All Sights Are on the MMO Market
But rival Electronic Arts (ERTS), with expected 2007 revenues of $3.2 billion, has been on its own spending spree. It is retooling its portfolio of games to include more online multiplayer games and original content. In October EA announced the $860 million acquisition (BusinessWeek.com, 10/29/07) of two independent games studios, in part because one is developing a massively multiplayer online game, or MMO, which analysts and industry insiders say could challenge World of Warcraft. In 2006, EA spent $76 million to acquire Mythic Entertainment, an independent developer of online games.
"Both companies are formidable and, now, going in the same direction," says David Cole, president of DFC Intelligence, a research firm specializing in the video game market. According to Cole, the newly created Activision Blizzard and EA, bolstered by recent acquisitions, are positioned to achieve greater economies of scale for increasingly costly development budgets for all types of games. Analysts think that Blizzard's expertise in providing support services critical to maintaining subscriptions to online games can help Activision develop online offerings—perhaps even sequels to its popular console titles, such as Guitar Hero and the Tony Hawk skateboarding games. These could be turned into lucrative multiplayer online franchises, for instance. Blizzard's titles are undoubtedly the most successful Western-developed online games in booming Asian markets such as China and Korea, and the company's expertise in marketing to these audiences could help open new revenue streams for Activision titles, too.
Recent venture capital activity confirms the increasing investor interest in socially oriented multiplayer online titles. "The atmosphere is very positive, very excited over these types of products right now," says Cole. In October, for example, VC firm Mayfield Fund, which previously focused on biotech and tech companies like Amgen (AMGN), announced its first multimillion-dollar investment in online multiplayer games. The firm is investing in Beverly Hills-based Acclaim Games, a privately held maker of MMO titles such as Bots, a robot-fighting game released last year; Acclaim's CEO is Howard Marks, a co-founder of Activision. "The social aspect of these games is addictive," says Raj Kapoor, a managing director at Mayfield. "Your friends are playing, and you want to keep playing with them. The space is wide open for new revenue models."
World of Warcraft's Revenues Revealed
The Vivendi-Activsion deal provides some rare insight into just how profitable a successful MMO can be. The world's most lucrative online game, World of Warcraft, debuted in late 2004 and has consistently been the best-selling PC game in the U.S. over the past two years. Tightly held details of the game's financials were revealed during the announcement, including estimates that in 2007 the title will generate revenues of $1.1 billion with operating margins of more than 40%, creating some $520 million of operating profit.
What's so enticing about MMOs is their potential to deliver much higher revenues per user than even the most popular console video games, such as Madden NFL or Halo 3, with minimal costs of delivery. MMO players generally pay $50 at retail for the game software and $10 to $15 a month for online access. Yearly expansion packs required to progress characters to higher and higher levels of game play cost $30 to $50 more.
"The power of [these] games lies not in the boxed retail sales…but in the recurring revenue stream from the monthly subscription fees players pay ongoing," says Anita Frazier, an industry analyst at NPD, in an e-mail. Lord of the Rings Online, for instance, has sold 200,000 copies and saw players create 4 million characters in the six months since its launch in April. Lego plans to launch an MMO sometime in the next year.
Getting In on the Game Can Be Risky
This model of profitability is sending developers such as Midway (MWY), NCsoft (NCSCF), Nintendo (NTDOF), Sony Entertainment (SNE) and dozens more scrambling to get a piece of the $11.8 billion in MMO sales that DFC Intelligence expects to be up for grabs worldwide by 2011, when the genre will represent about a third of the entire game software market. Established entertainment companies are also looking to become players. Warner Bros., for instance, first entered the gaming industry in 2004 when it acquired a stake in Monolith Productions, which creates such online games as The Matrix Online. And MTV Networks (VIA) began a partnership with South Korean MMO maker Nexon last year to market its titles in the U.S. via MTV.com. Nexon's popular MMO Kart Rider, a racing game, has more than 80 million players worldwide.
But like the strategy games themselves, MMOs can offer nasty surprises. They cost 10 to 15 times more to develop and maintain than traditional shrink-wrapped titles. Development budgets can soar like bloated Hollywood blockbusters, up to $100 million per title. And for each game that succeeds there are a dozen that fail. A wave of costly flops—including the Sims Online and a much-hyped follow-up to the seminal MMO Ultima Online—has proven that the MMO market, though potentially lucrative, also can have more dead ends than an old-school Pac-Man maze.
See BusinessWeek's slide show for a look at the best-selling video games of all time.
Before it's here, it's on the Bloomberg Terminal.
LEARN MORE