Russia Election Raises New Questions
Putin will have to step down soon, in spite of his party's win, but he still can pass the mantle and choose how much power he'll wield once he's out
Jason Bush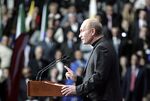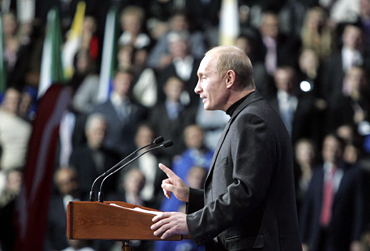 A surprise it certainly wasn't. Russian parliamentary elections on Dec. 2 delivered a landslide victory for United Russia, the party that backs President Vladimir Putin. United Russia is on course to pick up around 63% of the vote, well ahead of the next most popular party, the Communists (BusinessWeek.com, 11/30/07), with just 11.5%.
International observers from the Organization for Security & Cooperation in Europe (OSCE) and the Council of Europe have criticized the poll as "unfair," citing media bias and lack of genuine competition—charges that Russia's authorities reject. Such comments carry little weight inside Russia, and no one can deny the election results broadly reflect the public's wishes. Given Putin's tremendous personal popularity and the impressive economic renaissance of recent years, Russians' support for their President and his party were never in doubt.
Indeed, almost everything about the vote was predictable, including the criticisms. In many ways the elections were an exact rerun of Russia's last parliamentary elections four years ago, when United Russia also won a landslide victory, with three other left-wing or nationalist parties picking up the remainder of the seats.
Unanswered Questions
This time, though, there is one crucial difference. Four years ago, the meaning of the result was crystal clear: United Russia's victory ensured Putin had solid support in the Duma for the remaining four years of his presidency. That meant continuity and stability, symbolized by Putin's occupation of the Kremlin and his supporters' domination of Parliament. This time around, though, the consequences of the vote raise as many questions as they answer.
To start with, there's the paradox that the man Russians effectively voted for, Vladimir Putin, soon will be leaving the presidency. After serving two four-year terms, Putin is constitutionally bound to give up office within months. In reality, the Duma election represents not so much the end of an election campaign but the start of the countdown to Russia's forthcoming political transition. "This is obviously something of a prologue," says Chris Weafer, chief strategist at UralSib Bank in Moscow. "It now means [Putin] has a public mandate to choose what role he wants going forward, and in effect to nominate his successor."
Waiting for an Endorsement
Indeed, Russia's presidential election campaign is technically under way already. Russia's election commission formally announced the start of the campaign on Nov. 28, setting the date of the election for Mar. 2. Eleven candidates already have officially declared their intention to run, among them the Communist leader Gennady Zyuganov, opposition activist and former chess champion Garry Kasparov, and former Prime Minister Mikhail Kasyanov (now a staunch critic of Putin). To date, though, neither United Russia nor Putin himself has declared which candidate they will back, and none of the serious contenders has revealed his hand.
The waiting should be over very soon. Under Russia's election rules, would-be candidates have just three more weeks, until Dec. 23, to register with Russia's election commission. Even more significantly, United Russia announced on Dec. 2 that it will reveal its choice of presidential candidate at a party convention on Dec. 17. That candidate will almost certainly be the next President of Russia. It's unthinkable that United Russia would back a candidate not endorsed by Putin, and equally improbable that a majority of Russians would not vote for Putin's choice.
Who will it be? Just three major contenders have emerged. Russia's two First Deputy Prime Ministers, Dmitry Medvedev and Sergei Ivanov, have long been rumored as the most likely successors. With his appointment of Viktor Zubkov as Prime Minister in September (BusinessWeek.com, 9/12/07), Putin also introduced a third possible candidate to the list. Another intriguing possibility is that Putin could give his backing to two or more preferred candidates, in effect leaving it to the voters to make the final decision. "I seriously doubt he'll point at one man," says Dmitry Peskov, the Kremlin's spokesman.
Reading the Tea Leaves
The Duma elections also failed to resolve another key issue, in many ways as significant as the question of Putin's successor: What will Putin himself do after stepping down? The election result, more of a personal endorsement than a vote for a political program, merely confirms that Putin is set to continue playing a key role in Russian politics. "Understandably, he'll retain influence," says Peskov. "We'll have a unique situation where the person who is leaving the post will be more popular than the person who will fill the President's chair."
Just what that means in practice, though, is still very uncertain. Although Putin has hinted that he may become Prime Minister under the next President, that's just one possible option. In fact, it would be tough to combine the premiership—responsible for obediently carrying out the President's instructions—and at the same time fulfill the role of power behind the throne, or ultimate arbiter, which may in fact be closer to Putin's actual intent. A further possibility, clearly desired by many Russians, is that Putin will return to the presidential office before long, perhaps as a result of his successor's premature resignation. That possibility seems particularly likely if Putin's mantle falls on Zubkov, 66, an obscure bureaucrat until his surprise appointment as Prime Minister.
But the really big question is just how such an unprecedented situation would work. "This is a very controversial situation," admits Peskov. "Will this threaten the status of Russia? Putin is politically wise and experienced enough not to let that happen," he argues. Many investors in Russia draw comfort from the fact that, with Putin still playing a significant role, either in government or behind the scenes, policy is likely to continue more or less the same.
Others are concerned at the puzzling contradictions implied by such a strange dichotomy of power. "That type of structure, where the 'moral leader' is outside of government, could be very destabilizing further down the road," warns UralSib's Weafer. "The only way around that would presumably be for Putin to find some way to return to the presidency within a relatively short period."
Before it's here, it's on the Bloomberg Terminal.
LEARN MORE