How to Write a Winning Business Plan
The founder of 18-employee Seahorse Power details the process behind the company's award-winning business planand uses an annotated version of it to offer advice
Kerry Miller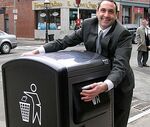 Venture capitalist Josh Kopelman of First Round Capital (BusinessWeek, 10/17/07) prefaces his comments about what he looks for in business plans with a caveat: "They're always wrong."
Entrepreneur James Poss says that his award-winning business plan for Seahorse Power (BusinessWeek, 4/13/07), now an 18-employee Needham (Mass.) business selling solar-powered trash compactors, is no exception. But if he had it to do over again, Poss says he would have done more planning (BusinessWeek, 10/20/04), not less.
The winning iteration of Seahorse's business plan was written an entire year after the first draft, when Seahorse had already sold its first "BigBelly" compactor to a ski mountain in Vail, Colo. The plan then took top honors—and $20,000 —in a 2004 business plan contest (BusinessWeek, 5/30/07) at Babson's MBA program, plus another $5,000 for a third-place finish in a national competition (BusinessWeek, 11/13/07).
Poss, the company's founder, says his original plan did get a lot of things right. The product has resonated with customers, and Seahorse expects revenues of $3 million in 2007. But on certain matters—like who those customers would be—the plan was off "by a long shot," he says.
Adjusted Expectations
Originally, Poss projected that the company's major clients would be other resorts and amusement parks. He only later discovered that most private-sector customers found the machines aesthetically unacceptable. Instead, the vast majority of Seahorse's sales have been to municipalities such as New York and Chicago.
"We were out there selling a boxy-looking, ugly machine for close to two years," Poss laments. "I could have shown them a picture of the thing and said: 'Hey, would you buy this?' and saved myself a lot of time and money." Seahorse expects to be in the black by 2008 —about two years off from original projections.
In the end, Poss's advice for aspiring entrepreneurs sounds remarkably similar to that of business-plan naysayers (BusinessWeek, 9/26/07): Get out of the library. "Accurate data only come from two places," Poss says. "An extremely lucky guess, or actually getting out in the field and talking to people." Or in the case of Seahorse Power, a little of both.
Looking for a sample business plan? Check out this annotated version of Seahorse Power's winning plan with advice from Poss.
Before it's here, it's on the Bloomberg Terminal.
LEARN MORE