Girls Dominate the Siemens Competition
For the first time in the prestigious national math and science contest's nine-year history, girls were awarded both grand prizes
Catherine Arnst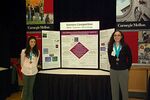 In a first for the prestigious Siemens Competition in Math, Science & Technology for U.S. high school students, girls walked away with top honors in both the individual and team categories.
The individual grand prize of a $100,000 scholarship went to Isha Jain, a senior at Freedom High School in Bethlehem, Pa., for research into bone growth. Results of the nine-year-old competition were announced on Dec. 3. As winners of the team grand prize, Janelle Schlossberger and Amanda Marinoff, seniors at Plainview-Old Bethpage John F. Kennedy High School in Plainview, N.Y., will split a $100,000 scholarship awarded for their research on tuberculosis. (For a slide show of the 20 finalists, see "America's Smartest Students.")
Jain admits to being surprised by her win. "I came in here thinking I had no chance at all," she says. "The caliber of the projects is absolutely phenomenal." She and her fellow champs beat out 1,641 students and 1,361 projects, persevering through grueling local and regional competitions. In the final stage, over the first weekend in December, finalists made oral project presentations before an audience and judges at New York University in Manhattan. Sponsored by the Siemens Foundation, the contest was started in 1998 after Siemens (SI) lost its bid to take over the original Westinghouse Science Competition, which was first held in 1942 and is now known as the Intel Science Talent Search (INTC).
Closing the Gender Gap
Women lag far behind men in professional math, science, and computer fields, an issue that became the subject of renewed debate in 2005 when then Harvard President Lawrence Summers suggested the lack of top female scientists may stem in part from biological differences between men and women. Jain vehemently disagrees, but acknowledges with some annoyance that "the guy-to-girl ratio in math and science competitions is absolutely ridiculous. It's usually seven or eight guys to one girl." The results of this year's Siemens Competition may signify that more girls are "finally stepping up to the plate and are more than capable," Jain says. "And I'm proud to be a part of that."
Siemens Foundation President James Whaley says the percentage of girls entering the competition has increased each year; this year, 48% of the contestants were female. Eighty percent of this year's competitors were from public schools, and one team of finalists consisted of home-schooled girls. Many of the schools whose students were represented also have close ties to nearby universities or research labs. "There are very few [high] schools that have the resources or labs to support this high level of research," Whaley notes.
The competition is open to any U.S. student who is a citizen or has a green card, and a vast range of ethnicities and nationalities is represented. Those who make it to the finals have two things in common, says Caroline Lang, a member of the home-schooled team from Yardley, Pa. "They were all willing to keep going even after a setback, and they all are very good public speakers."
Interest in Science Began at Home
Poise and speaking ability were on full display as finalists gave oral presentations during the final round of competition. Few betrayed signs of nervousness as they stood on stage before judges and gave detailed descriptions of complex projects, which ranged from a study of ocean movement to a search for the cause of Lou Gehrig's disease. The latter was presented by Alicia Darnell, a senior from Pelham, N.Y., who took second prize in the individual competition and was awarded a $50,000 scholarship. She is the daughter of two scientists, Robert and Jennifer Darnell, both researchers at Rockefeller Institute in Manhattan.
Darnell's parents say they never pushed their daughter, the oldest of four children, into science. "But she was aware of the excitement of scientific discovery that we felt and discussed at home," Jennifer Darnell says.
Individual winner Jain also was exposed to science at home: Her mother is a doctor, and her father is a scientist. In fifth grade Jain entered her first science competition, using candy to understand the basics of commercial glass production. Working with a professor at Lehigh University, she spent three years working on her Siemens Competition project, Bone Growth in Zebra Fish Fins Occurs via Multiple Pulses of Cell Proliferation. She "is the first to identify that bone grows in mini-spurts," according to the judges, who found her work to be at graduate student level. Her research has been published in the scientific journal Developmental Dynamics.
Results Could Lead to a Cure for TB
The team winners, Schlossberger and Marinoff, are part of an independent study group at their Long Island high school that requires every member to enter the Siemens Competition. They chose their project, FtsZ Inhibitors as Novel Chemotherapeutic Agents for Drug-Resistant Tuberculosis, because TB is one of the world's leading killers and new treatments are desperately needed. Their research may lead to one, the judges say: "These students synthesized new compounds to kill tuberculosis by targeting a specific protein that could lead to a new treatment for drug-resistant TB."
Schlossberger says she was drawn to science at a young age as an avenue for exploring critical thinking and problem-solving, while Marinoff says she has always found science very empowering. Both say they got tremendous encouragement from older women scientists to pursue their research.
In addition to Jain and Darnell, the individual winners include Jacob Steinhardt of Vienna, Va., who was awarded a $40,000 scholarship; Ayon Sen of Austin, Tex., granted a $30,000 scholarship; and Nandini Sarma of Overland Park, Kans., winner of a scholarship worth $20,000. In the group category, $50,000 was awarded to Vivek Bhattacharya of Cary, N.C., and Hao Lian and Daniel Vitek of Raleigh, N.C. A $40,000 scholarship went to Camden Miller of Fairview, Tex., and John Chen of Richardson, Tex.
Before it's here, it's on the Bloomberg Terminal.
LEARN MORE