Stagflation Lite?
Growth is set to slow as oil and food prices continue their climban unwelcome, familiar combination. But there are reasons to expect a gentler version this time around
There's a whiff of stagflation in the air. Not the 1970s disease, when a stagnant economy generated 9% unemployment and 12% inflation. What's shaping up now is a much milder case, with more danger of "stag-" than "-flation." Over the next few months, economic growth is set to grind down, perhaps abruptly, as the jobless rate rises. At the same time, overall inflation will be rising rapidly, thanks to the latest surge in oil prices and a speedup in already rising food costs. It's a nasty mix that could complicate Federal Reserve policymaking and leave investors wondering which way to turn.
Economists continue to downgrade their growth forecasts. Most expect little, if any, improvement this quarter and next, and many are seeing a higher probability of an outright recession. Inflation projections are headed in the opposite direction. The consumer price index, which rose at a yearly pace of 2.8% in September, is expected to increase at a 4% to 5% clip in the coming months, depending on how far gasoline and heating oil prices climb in response to the 35% jump in oil prices since August. An inflation rate above 4.7% would be the fastest in 16 years.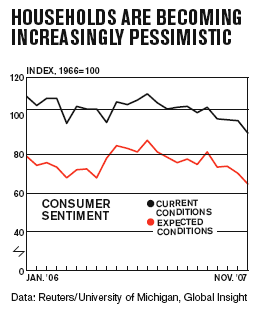 While third-quarter growth looks stronger, prospects for the fourth quarter are getting bleaker. Big September gains in business construction, foreign trade, and inventories will lift last quarter's growth close to 5%, from 3.9% first reported. By November, though, a litany of troubles, from tighter credit to rising fuel costs and slowing job growth, began to hit consumers and businesses. The Reuters/University of Michigan index of consumer sentiment dropped to its lowest point in 15 years, not counting the brief plunge after Hurricane Katrina.
One of the third quarter's pluses is becoming an ominous minus for the current period: Giving a boost to GDP, business inventories rose at an unexpectedly rapid clip, at an annual rate of some $40 billion, adjusted for inflation, as estimated by JPMorgan Chase (JPM ). Over the previous year, stockpiles grew at only half that pace. The surge comes at a time when companies are growiing cautious about demand and profits, suggesting they may cut output and hiring as they pare excess inventories.
Those cutbacks could hit fourth-quarter economic growth hard, even as overall demand, especially by consumers, is set to slow. The quarter began on a soft note, with October retail sales up only 0.2% from September. And with crude oil at $95 a barrel, pump prices could average $3.45 a gallon. At those prices, U.S. households would have to spend an additional $90 billion on costlier gasoline, leaving less income for other purchases. In the second quarter, a similar crunch caused the growth of real consumer outlays to slow sharply, to only 1.4%, from a 3.7% first-quarter rise—and that was before today's worries of slower job growth, tighter credit, and waning confidence.
The other consequence of higher gas prices is inflation, which will become clear in the November price indexes. The yearly rate will be magnified by the drop in gasoline prices this time last year. Higher costs of petroleum products pushed October import prices up by 1.8% from September, the largest monthly gain in nearly a year and a half.
But it takes more than costly energy to lift prices of other items. That's why the inflation outlook may not be as bad as the overall price indexes will suggest. Inflation in the costs of services (outside of energy) has been falling. As for goods (excluding energy and food), there's no growth in prices—they've fallen over the past year. Also, despite price jumps in oil and other commodities, the inflation rate for imported goods (excluding fuels) is below where it was a year ago.
Inflation hasn't spread mainly because businesses and consumers don't expect it to worsen. If they did, they'd build that worry into their behavior by charging and paying more for goods. So the Fed will be watching gauges of expected inflation closely. With policymakers already concerned about price trends, new worries could tie the Fed's hands at a crucial time when the economy might need its help.
By James C. Cooper
Before it's here, it's on the Bloomberg Terminal.
LEARN MORE