business
How Failure Molded Spanx's Founder
As a kid, Sara Blakely was advised to fail. The founder of Spanx, a $150 million hosiery company, says it was the best advice she ever received
By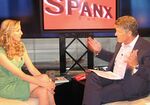 Sara Blakely had been selling fax machines and office copiers door-to-door for seven years when she had an idea for a clothing line that would transform her from an employee into a successful entrepreneur. In a moment of inspiration, Blakely, frustrated with her "unsightly panty lines," cut the feet off a pair of panty hose that she could wear under her white pants with a pair of open-toed sandals—and voilà, a primitive version of Spanx was born.
Blakely, who had originally hoped to be a trial attorney before failing the LSAT, knew she was onto something. After that, Blakely says, her biggest decision was to simply follow her gut instincts. During the next two years she plowed $5,000 of her own money into getting a prototype made. In 2000 she began selling Spanx in major department stores such as Neiman Marcus and Saks Fifth Avenue. Not long after, she got the call of a lifetime— Oprah Winfrey (BusinessWeek.com, 8/24/06) had fallen for the body slimming, toeless panty hose and wanted to feature Spanx on her annual favorite things show.
Today, Spanx, based in Atlanta, Ga., is a $150 million company with 55 employees and 100 different styles. In January, Blakely will unveil a new product line: the Bra-llelujah, billed as a comfortable all-hosiery bra.
Blakely spoke recently with BusinessWeek.com's Stacy Perman about confronting failure and starting a company from scratch. Edited excerpts of their conversation follow:
How did you originally come up with the idea for Spanx?
I did not like the way I looked in a pair of white pants. I was 27 at time and spent a lot of money on them but you could see panty lines, you could see the thong. Nothing worked. I shopped for body shapers for the first time in my life and I was horrified. They were thick—it was like wearing workout clothes and they all had a leg band on one side that showed through the pants. So I cut the feet off of a pair of panty hose and it allowed me to wear a pair of great strappy sandals. I didn't see lines but the hose rolled up at my feet—and that's how Spanx born.
I spent the next two years working nights and weekends out of my apartment to get a prototype made, design packaging, and name the product. Once I did that, I knew that other people were going to want it, and I set out to sell it. The company was built around the reaction to the demand for the product.
Originally, you were a salesperson, how did that play into being an entrepreneur?
It was a huge part of it. Everything about my journey to get Spanx off the ground entailed me having to be a salesperson—from going to the hosiery mills to get a prototype made to calling Saks Fifth Avenue and Neiman Marcus. I had to position myself to get five minutes in the door with buyers. My first account was Neiman Marcus. I cold-called them just like I had cold-called businesses when I was selling fax machines for seven years.
When did you know that you could really make a go of this?
I knew right away when I wore the prototype and I saw the difference it made in my wardrobe. I knew right away that this was going to be big. But the real blessing was twofold. Neiman Marcus said they would try it and put it in their stores right away. About four weeks later I got a call from the Oprah Winfrey Show. Oprah had chosen Spanx as one of her favorite products in 2000. I had boxes of product in my apartment and I had two weeks notice that she was going to say she loved it on TV and I had no shipping department. It was pretty intense and a fabulous call to get as an entrepreneur and it got the ball in motion quickly.
How did you know how to create a business from your idea?
At heart I am a salesperson, and I wanted to sell the product and let the rest work itself out. Once I started to get accounts, the business plan and infrastructure setup happened. That's why Spanx was profitable from the first month.
I think that there is a fine line between ignorance and confidence. I didn't know how to run a business and I had never taken a business course in my life. From the beginning, I had no board of advisers (BusinessWeek.com, 2/1/07) and nobody to consult on this journey except for my own gut. I am a case study of 'if you didn't know how this is done, this is how you do it.' It's interesting. Now I give speeches and I always ask: If no one showed you how to do your job, how would you be doing it? Take a moment and ask that question. Often your way is better. Maybe it's a fresh new approach. If you are doing something the way that everyone is doing it, you are not really creating change by doing it that way.
You've said that failure was a huge part of your success—how so?
Because I failed the LSAT. Basically, if I had not failed, I'd have been a lawyer and there would be no Spanx. I think failure is nothing more than life's way of nudging you that you are off course. My attitude to failure is not attached to outcome, but in not trying. It is liberating. Most people attach failure to something not working out or how people perceive you. This way, it is about answering to yourself.
What's the best piece of business advice you ever received?
It probably came down to my father. When I was growing up, he encouraged us to fail. We'd come home from school and at dinner he'd say: 'What did you fail at today?' And if there was nothing, he'd be disappointed. It was a really interesting kind of reverse psychology. I would come home and say that I tried out for something and I was just horrible and he high-fived me.
If you had it to do over again, what, if anything, would you do differently?
Nothing. I believed in and I trusted my gut and honored it through the whole process. Our gut is a real guide and when we regret something it is usually when we are not acting in accordance with our gut feelings.
How did you maintain your confidence when doors were closed in your face, when people didn't get it and said "no" frequently?
I was my own focus group. I had already tried the product and I saw what it did for me. I knew if they said "no," I just said they didn't get it. I never second-guessed the product. Before it was actually made I did hear "no" a lot. It was very discouraging. At times I stopped out of discouragement, but I never lost confidence in the fact that it was a good idea.
Business Exchange related topics:EntrepreneurshipRetailStarting a Business
Before it's here, it's on the Bloomberg Terminal.
LEARN MORE