HP: A Steady Ship in Troubled Waters
Hewlett-Packard appears unscathed by a slowdown in tech spending: On Nov. 19 it reported solid growth and increased forecasts for next quarter
Spencer E. Ante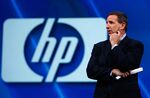 Tech investors breathed a sigh of relief when Hewlett-Packard (HPQ) released its earnings report on Nov. 19. The world's largest technology supplier escaped the credit crunch that has hit a number of tech companies and boosted its revenues 15% from the year earlier, to $28.3 billion, beating consensus estimates by $1 billion. What's more, the company raised its forecast for the coming quarter, providing another dose of optimism that HP could weather the gathering financial storm.
The company's bottom line displayed impressive growth. HP's net income rose 28% in the three months ended Oct. 31, rising from $1.69 billion to $2.16 billion, or 81¢ per share. While that number missed the consensus estimate of 82¢ per share, HP's profit was 86¢ per share excluding one-time charges, 4¢ higher than the average estimate of analysts polled by Thomson Financial (TOC).
"It was very strong execution in a tough environment," says Shaw Wu, analyst with American Technology Research. "It's impressive how HP continues to execute. They are one of the few companies that guided up earnings."
Safety Net
Many analysts had feared that HP's operations could take a hit this quarter. There are indications the U.S. economy may be headed for a downturn (BusinessWeek, 11/26/07) as well as signs of weakness among other technology giants (BusinessWeek.com, 11/8/07), such as IBM (IBM) and Cisco Systems (CSCO).
But HP's large global footprint and relatively low exposure to the financial-services market provided a safety net. "There is obviously no evidence of a derogatory subprime impact," wrote Bob Djurdjevic, president of Annex Research. "HP sailed unscathed through the troubled waters in the last three months."
Investors cheered the rosy report. While HP's stock declined $1.31, or 2.6%, during a tough day on Wall Street, the stock bounced back in after-hours trading, up almost 2%, to more than $50 a share.
Mostly Strong Growth
HP saw strong double-digit growth from its groups that sell personal computers, storage and computer servers, and software. PC sales boomed 30%, as the company took market share despite tough competition from rivals including Dell (DELL) and Lenovo. Storage and server sales also jumped 10%. Most surprising, revenues from software, a perennial money-losing group in the past, actually doubled over the year-ago period, with $177 million in operating profit on $698 million in sales. "We saw solid growth across all business units," said HP Chairman and Chief Executive Mark Hurd during a conference call on Nov. 19 after HP's results were released.
There were a few areas of relative weakness, however: Sales from its mainstay printing group only rose 4%, while its services group grew revenues 7%. Even so, HP's printer group remains a cash cow, accounting for 39% of its operating profit in the fourth quarter.
While many tech companies derive about half their sales from outside the U.S., HP generates a whopping 67% of its sales from overseas markets—far beyond any other large tech company. "That's one of the key reasons that HP is so successful," says Wu, of American Technology Research.
Beating Forecasts
Business in emerging markets was particularly robust. Revenue from the so-called BRIC—Brazil, Russia, India, and China—grew 37%, and now accounts for 9% of the company's $104.3 billion in sales. Another highlight: China, now HP's third-largest market, saw growth in personal computers skyrocket 100%. "We like our position in many of the markets we are in," said Hurd.
Perhaps the most surprising part of the conference call came during Hurd's comments about the troubled financial-services industry, which has seen tens of billions of dollars in write-offs thanks to rising mortgage foreclosures. HP has low exposure to the market; analysts estimate only 3% to 5% of HP's revenues come from financial-services companies. Whereas other tech giants reported slowing sales orders among financial firms, Hurd said that HP "saw no material weakness" in the industry, with revenues growing 21%. In fact, Hurd said HP wants to invest more money in the industry: "We're actually trying to get more exposed to financial services. It's not as big as we'd like it to be."
Analysts were particularly happy the company raised its forecast for the first quarter of fiscal 2008. HP expects profits—excluding one-time charges—of 80¢ per share in the first quarter, 3¢ higher than Wall Street's forecasts. And it predicts sales of $27.4 billion to $27.5 billion, also higher than the $27 billion analysts were expecting. "That is pretty phenomenal," says Wu.
Before it's here, it's on the Bloomberg Terminal.
LEARN MORE