Are the upside risks of inflation and the downside risks of slower economic growth roughly in balance? Federal Reserve policymakers said they were when they trimmed a quarter-point from their target interest rate on Oct. 31. Only time—and more economic reports over the next few weeks—will tell, but right now, despite the Fed's considered judgment, labor-market trends make a strong argument that the scales are still tipped toward recession worries and away from concerns about inflation.
The Fed's shift to a neutral policy stance (not leaning one way or the other toward future action) means policymakers are disinclined to cut rates further. At first blush, that makes sense. The economy just finished two consecutive quarters of nearly 4% growth, and financial-market strains have eased. As for inflation, oil near $100 per barrel means the price indexes will be rising faster. Plus, there has been concern that slower productivity growth could make it easier for inflation to bubble up.
But the job markets tell a different story. October's solid 166,000 gain in business payrolls doesn't change the fact that the trend in job growth remains down, that job markets continue to loosen, and that growth in labor costs—the most important factor in sustaining faster inflation—is slowing.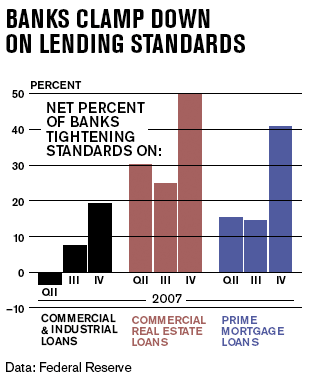 So far in the second half of 2007, payroll gains have cooled to an average of 112,000 per month, from 134,000 in the first half and 190,000 in the second half of 2006. Job growth is now too slow to prevent unemployment from rising. The jobless rate held at 4.7% in October, up from a low of 4.4% in March, and it will probably continue to drift higher.
By the end of October, the four-week average of new unemployment claims reached a six-month high, signaling that softness is likely in the coming months. The claims data are further evidence that, despite a strong 3.9% rise in real gross domestic product in the third quarter, the economy is in transition to a period of much slower growth.
Less available credit to a wide swath of borrowers is one reason. Studies have shown that tighter loan standards tend to precede economic slowdowns. Between July and October, banks tightened their lending criteria significantly for a variety of business and consumer loans, according to the Fed's latest survey of senior loan officers. Bankers cited a less favorable, more uncertain economic outlook, and many pointed to less liquid secondary markets and greater risk aversion.
Sharply tighter standards for prime mortgages and loans to households (excluding credit cards) will put an added drag on the housing market and consumer spending. And more stringent rules for commercial real estate loans will dampen business outlays for new construction, which has been a key driver of capital spending this year.
A mix of slower growth and labor-market slack would make it difficult, if not impossible, for inflation to become a problem. In this economic climate, the negative effect of $100 oil on purchasing power and economic growth will overwhelm its impact on inflation. Energy will push up the price indexes, but inflation broadly will stay down as long as expectations of price rises remain tame. That's what all the expectations measures now show—and have shown since oil was half its current price.
Indeed, without labor-market pressures, the wage-price spiral cannot kick into gear. The Labor Dept.'s employment cost index for wages and benefits shows the yearly growth in compensation costs edging lower this year, to 3%, from 3.2% at the end of 2006. More important, growth in unit labor costs (pay and benefits adjusted for productivity), which are influential in pricing decisions, has slowed notably in recent quarters. Helped by the productivity surge in the third quarter, a gain of 4.9% annually, unit labor costs fell 0.2% last quarter after a 2.2% increase in the second quarter, which was down from 5.2% in the first quarter.
Regardless of how the risks seemed to balance out on Oct. 31, the key question for Fed watchers is: What will the scales look like at the Fed's meeting on Dec. 11? Already they seem to be tipping toward another rate cut.
By James C Cooper
Before it's here, it's on the Bloomberg Terminal.
LEARN MORE