Will Wall Street Weakness Whack Sotheby's?
The auction house could be in for some rough times if wealthy art buyers fret about the market fallout from the credit crunch
David Bogoslaw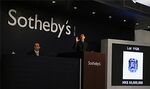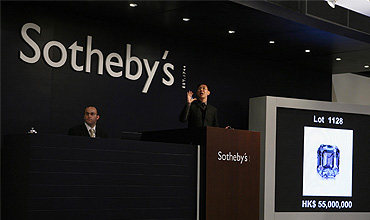 Modern paintings such as Wheat Fields, painted by Vincent Van Gogh at the end of his life, can often have an disquieting effect on art lovers. But the well-heeled buyers at Sotheby's (BID) auction Wednesday night were likely spooked more by the rout on Wall Street just hours earlier.
The take at the New York auction house's Impressionist & Modern Art Evening Sale on Nov. 7 came to $238.8 million, 33% below estimated proceeds. That prompted Banc of America analyst Dana Cohen to downgrade Sotheby's stock to neutral from a buy rating and to slash her target price by nearly 31% to $45 from $65 a share.
The disappointing revenue suggests some slowing in art sales, while the fact that nearly one-quarter of the lots went unsold may reflect fears related to subprime, credit, and housing issues in the U.S., Cohen said in a Nov. 8 research note. (Banc of America has provided investment banking services for Sotheby's, its subsidiaries and/or its affiliates within the past 12 months and the firm and/or its affiliates owns 1% or more of Sotheby stock.)
Sotheby shares plummeted 33.7% on Nov. 8, after trading just one dollar above the bottom of its 52-week range earlier in the session.
The bidding for Van Gogh's painting, which had been expected to sell for between $28 million and $35 million, stopped at $25 million, said Krsitine Koerber, an equities analyst at JMP Securities in San Francisco. A greater surprise to her was the $35 million hammer price for Paul Gauguin's Tahitian scene titled Te Poipoi (The Morning), which had been expected to sell for between $40 million and $60 million.
"They were struggling to get art work sold," said Koerber. On Nov. 8, she cut her rating on the stock to market perform from outperform.
The atmosphere and sales results at Sotheby's were the opposite of Christie's auction just one day earlier, said Koerber, who attended both events. Given that 48% of Christie's buyers were American, the sharp selloff in U.S. equities markets on Wednesday "may have spooked Americans going into Sotheby's auction last night," she said.
On Nov. 7, the Dow Jones industrial average dropped 2.6%, while the broader S&P 500 index fell 2.9%, in reaction to further asset writedown reports and news that New York State Attorney General Andrew Cuomo was opening an investigation into mortgage banks that may have inflated home appraisal prices.
If the credit crunch is having any negative impact on sellers and buyers in the art market, it's most likely psychological, said Koerber, noting that the sellers of works of art valued around $50 million tend to be billionaires.
"The reason we're seeing the level of guarantees at the auctions we saw last night and are going to see next week is sellers are concerned about the credit crunch and what's going on in the U.S. markets, and the impact it will have on the art market," she said.
Of the 76 lots that Sotheby's auctioned on Wednesday night, 26 were guaranteed, meaning that the sellers receive a promised amount from the auction house whether or not a piece of art is sold. Five of the guaranteed lots on Nov. 7 didn't sell, while another 10 lots sold at below the estimated hammer-price ranges, Koerber said.
Sotheby's could turn around and sell the unsold lots in a private sale, but it's hard to put them back on the auction block when the market knows what the pieces were going for on Wednesday night, she said.
The guaranteed minimum prices that Sotheby's provides on select items isn't a problem in a rising price environment, but the Wednesday night sale highlighted the downside risk if sales trends drop off, Banc of America said. It still expects Sotheby's third-quarter earnings to be strong but said investors will probably focus more on the direction in which auction results are heading.
Sotheby's is scheduled to report its third-quarter results after the market closes on Nov. 8, and analysts are anticipating a net loss of 30 cents a share on revenue of $79.2 million.
The third-quarter represents only 9% of Sotheby's annual revenue, the company typically loses money in the that quarter, Koerber said. Analysts and investors will probably look at the results and plug into the conference call on Friday to get some color on how the art market is faring, after what happened on Wednesday night, she added.
The results of the contemporary art auctions that Sotheby's and Christie will hold next week – Nov. 14 and 13, respectively – will be much more meaningful, considering that fourth-quarter revenue accounts for roughly one-third of annual revenue, she said.
Before it's here, it's on the Bloomberg Terminal.
LEARN MORE