Cisco Deflates the Tech Rally
Weakness in the networking giant sent the Nasdaq sharply lower Thursday. The Dow and S&P 500 also fell as Bernanke warned of sluggish growth
by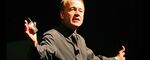 Though a late-day rally minimized the damage, stocks fell again on Thursday as tech companies, Wall Street's success story in recent months, showed big losses after bad news from Cisco Systems (CSCO).
It was another volatile session on Wall Street with lots of headlines: Major financial institutions reported more big losses. Federal Reserve Chairman Ben Bernanke testified before Congress. Ford (F) offered some good news. And retailers and restaurants reported mixed sales figures from October.
By the end of trading on Thursday, the Dow Jones industrial average was down 33.73 points, or 0.25%, to 13,266.29. The broader S&P 500 edged down 0.85 points, or 0.06%, to 1,474.77.
But the tech-heavy Nasdaq composite index showed the most weakness, dropping 52.76 points, or 1.92%, to 2,696. For much of Thursday, the Nasdaq was off more than 3%.
Investors were obviously still jittery from Wednesday's session, when the Dow fell 361 points, and the S&P 500 fell almost 3%. High oil prices, a weak dollar and news of a major investigation of the mortgage industry hurt stocks.
Thursday's news headlines offered investors little relief. Cisco Systems' mediocre earnings disappointed, but its outlook for the next year really scared tech investors. That put in doubt the recent rally in technology stocks.
Tech was the "only saving grace recently" as investors punished other sectors on worries about housing, credit and economic growth, says Dan Genter, chief executive and chief investment officer at RNC Genter Capital Management. Cisco's earnings report and executives' comments put in doubt high expectations for tech earnings growth. "You need to have the earnings support," Genter says, but earnings predictions are falling across the stock market.
The credit crisis claimed more victims as AIG (AIG) and Morgan Stanley (MS) reported multi-billion-dollar write-offs -- though some investors seemed relieved that those losses are now out in the open.
Ford (F), however, reported stronger-than-expected business results. Also Thursday, retailers and fast-food restaurants reported mixed October sales figures.
Traders watched Bernanke for hints on interest rate moves or insight into the banking system's problems with risky credit. He told Congress the Fed would "act as needed" in reaction to financial turmoil. Policymakers see growth slowing in the fourth quarter, and then "remaining sluggish during the first part of next year, then strengthening as the effects of tighter credit and the housing correction began to wane," Bernanke said in his prepared testimony.
Bernanke said inflation is "subject to important upside risks." "In particular, prices of crude oil and other commodities had increased sharply in recent weeks, and the foreign exchange value of the dollar had weakened," he said. "These factors were likely to increase overall inflation in the short run and, should inflation expectations become unmoored, had the potential to boost inflation in the longer run as well."
"Bernanke's testimony today certainly does not rule out the possibility of an easing next month," wrote Ken Kim of Stone & McCarthy Research Associates. The Fed chief spent far more time talking about risks to growth than the risk of inflation, Kim said.
But Action Economics interpreted Bernanke to imply the Fed will likely not cut rates at its December meeting, "even though the markets' first take is a more dovish reading." Treasury bond yields and the U.S. dollar fell on Bernanke's comments, reflecting higher expectations for a rate cut.
William Rutherford, president of Rutherford Investment Management, says investors may be losing confidence as the economy deals with a wide range of serious problems. "That's the one thing the Fed needs to worry about," he says. "
When confidence gets shattered and broken, it's very hard to restore." Thursday's tech sell-off is a sign that many investors are taking profits and deciding to sit out the market for a while, he says.
The key issue for the economy is the jobs market, says Carol Miller, senior portfolio manager at Federated Investors. "Everything hinges on employment," she says. So far the data look good. U.S. initial jobless claims, announced Thursday, were better than expected, showing a drop of 13,000 to 317,000 for the week ending Nov. 3. But, if Americans start losing their jobs, they'll find it that much harder to make mortgage payments and stay in their homes. If jobs figures go south, "this will be a very rough recession," Miller says.
Oil prices took a breather Thursday, with December NYMEX crude down 91 cents to $95.46 per barrel. The U.S. dollar continued to fall against the euro, which was valued at $1.4671, up 0.24%.
Among stocks in the news Thursday, giant insurer American International Group, or AIG, said it will take a $2.68 billion hit to its assets, with losses coming from credit instruments. The firm reported earnings of $1.35 per share, vs. $1.53 a year ago. The stock was off about 3.3%.
Morgan Stanley said it took a $3.7 billion hit from subprime exposures in the last couple months. The news actually reassured investors, who sent the stock 4.9% higher, because analysts had been predicting a hit of up to $6 billion. The losses are still a troubling sign because Morgan Stanley, unlike rival Merrill Lynch (MER), was not a big player in mortgage-backed securities.
Ford Motor reported a loss of just 1 cent per share, vs. a 45 cent loss a year ago as revenue rose 11%. The company says it is ahead on its 2007 plan, and expects substantial improvements in the next quarter's results. Ford also says it's still considering the sale of Jaguar and Land Rover, with an agreement by early next year. Shares rose 2.9%.
Cisco Systems, however, whose investors are used to earnings that beat analysts' estimates by a wide mile, saw earnings of 37 cents per share, just one penny ahead of expectations, vs. 31 cents a year ago. Sales rose 17%, and Cisco says it expects sales growth of 16% next quarter. But the stock dropped almost 10% on worries about future earnings growth.
Other leading tech names also took a beating. Apple (AAPL) fell 5.8%, Google (GOOG) lost 5.3%, Research in Motion (RIMM) fell 6.4%, IBM (IBM) was down 4.5%, Amazon (AMZN) fell 4% and Hewlett-Packard (HPQ) lost 3.7%.
Among a wide variety of stores reporting October sales figures, Target (TGT) saw same-store sales up 4.1% and total sales jumped 9.7%.
Wal-Mart Stores (WMT), however, saw U.S. same-store sales rise 0.4%, not including fuel sales. Total sales were up 8.4%. The huge retailer expects November same-store sales to be flat to up 2%.
McDonald's Corp. (MCD) continues to sizzle, posting 5.4% higher same-restaurant sales in October and 6.9% higher same-store sales worldwide, with total global sales up 14%.
Marsh & McLennan Companies (MMC) reported earnings of $3.60 per share, vs. 31 cents a year ago, reflecting the sale of Putnam Investments in August. The firm's revenue rose 10%.
Toll Brothers (TOL) preliminarily reported home-building revenues fell 36% and backlog fell by the same amount.
European equity indexes were mixed on Thursday. In London, the FTSE 100 index edged down 0.05% to 6,381.90. Germany's DAX index rose 0.25% to 7,819.47. In Paris, the CAC 40 index declined 0.91% to 5,631.63.
Asian markets moved lower. In Japan, the Nikkei 225 index dropped 2.02% to 15,771.57. In Hong Kong, the Hang Seng index lost 3.19% to 28,706.22. The Shanghai composite index fell 4.85% to 5,330.02.
Treasury Market
Treasury prices mixed as traders mulled over Bernanke's testimony, which seemed to raise their expectations for another rate cut. The 2-year notes were up 05/32 to 100-08/32 for a yield of 3.48%; 10-year note rose 07/32 to 99-21/32 for a yield of 4.29%; but the 30-year bond lost 15/32 to 105-07/32 for a yield of 4.67%.
European bonds moved higher after the Bank of England and European Central Bank decided not to raise interest rates.
Before it's here, it's on the Bloomberg Terminal.
LEARN MORE