Can Wagoner Outlast GM's Loss?
GM seems to be so used to bad news that not even a $39 billion hit can loosen CEO Rick Wagoner's grip on the company. Here's why
Jim Henry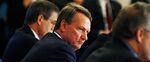 Over the past few weeks, two major Wall Street firms announced huge losses and in a matter of days, their CEOs were shown the door.