Next Target for Alibaba: Consumers
The Chinese B-to-B Internet company's public offering raises $1.5 billion, which will allow a buildup of its online auction and payment sites
By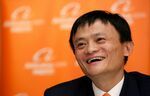 One day after the debut of oil giant PetroChina's (PTR) shares in Shanghai, it was time for another record-setting Chinese IPO. On Nov. 6, business-to-business e-commerce site Alibaba.com started trading on the Hong Kong stock exchange in an IPO that raised $1.5 billion, the most ever for a Chinese Internet company. Investors couldn't get enough of Alibaba, and by the end of Tuesday they had driven its shares up 192%.
Now all eyes will be on Alibaba founder and Chief Executive Jack Ma. The 43-year-old former teacher has teamed up with some high-powered partners. Yahoo! (YHOO) took a small stake in the listed company, which focuses on helping small and midsize businesses in China conduct trade with counterparts worldwide. In addition, Yahoo is a 40% shareholder in the parent company, which owns the Yahoo! China portal.
And Yahoo isn't the only big name to buy a piece of Alibaba. Cisco (CSCO) and the giant Taiwanese electronics manufacturer Hon Hai Precision have also invested in the Hong Kong-listed company, providing Ma with valuable allies as he tries to expand Alibaba's reach even deeper into China.
Building the Consumer Divisions
After such a smashing stock market debut, Ma and his Alibaba team will have no shortage of resources to build other parts of the Alibaba family. Tops on the list probably is the consumer-focused divisions Taobao, an online auction site similar to eBay (EBAY), and Alipay, an online payment service similar to PayPal. Neither makes money now, with both relying on generous subsidies from Alibaba's B-to-B operation.
There's no doubt that both are extremely popular among Chinese consumers. Half of all online payments in China are through Alipay, which boasts some 50 million users. Those Alipay users make 780,000 transactions a day free of charge, with daily turnover (according to Alipay figures from August) of about $20 million a day.
Customers no doubt like Alipay because it's free. But they also praise the way the service takes much of the uncertainty out of e-commerce in China, where few people have credit cards and many people worry about getting ripped off online. For instance, Beijing resident Xu Caixing is the co-founder of Toys365, an online toy store that launched in 2004, but did very modest business until Alipay came into being the following year. "Our problem was that customers didn't trust us," he says. "Customers asked if they gave us money, would we deliver the goods?" Alipay helped decrease that anxiety since a third party (Alipay) holds the cash and doesn't release it to the seller until the buyer accepts delivery. (Xu sold his share in Toys365 early this year and now works for an Alibaba rival, the online search company Baidu (BIDU).)
Pressure to Generate Profits
Like Alipay, the online marketplace Taobao also owes a good deal of its popularity to the fact that consumers can use it free of charge. Taobao matters not just because of its online transactions but also because of its online discussion boards, where Chinese and multinational companies can gain insight into what's hot among local consumers. "Taobao has some of the most active, informed, passionate consumers" in China, says Sam Flemming, CEO of Shanghai-based CIC Data, a research and consulting firm that works with clients such as PepsiCo (PEP) and Nike (NKE). "In terms of influencing [consumer] decisions, these communities are pretty important."
Taobao today is the dominant consumer-to-consumer company in China, having driven its main competitor, eBay, to restructure its business by teaming up with Hong Kong billionaire Li Ka-shing's Tom Online. That new alliance has yet to make an impact on Taobao's position. But more competition is on the way. Both Baidu and Tencent, the Hong Kong-listed company that has a near-monopoly on the instant-messaging business in China, are taking aim at Taobao. There are also plenty of new rivals looking to challenge Alipay as the preferred online payment provider.
After the Hong Kong IPO of Alibaba.com, Taobao and Alipay now have a very rich older sibling in the Alibaba family of companies that can help them fend off the competition. But Song Xin, a researcher with Beijing-based Analysys International, warns that the news is not all good for the two consumer divisions. In the past, they could rely on generous subsidies from the B-to-B operation. That allowed both Taobao and Alipay to build their customer base quickly by offering free services. With Alibaba.com now a publicly traded company, maintaining that generosity might be more difficult, he says. "They will have more pressure to make profits," says Song. "Investments should get benefits or they'll be a failure. So they'll have to make money."
Before it's here, it's on the Bloomberg Terminal.
LEARN MORE