A Helping Hand from Foreign Demand
Solid growth around the world, in developed and emerging markets, means trading partners provide extra oomph just when the U.S. needs it
The U.S. economy faces its toughest challenge since the 2001 recession, but it might just get by—with a little help from its friends. Foreign trade has provided a huge lift to growth this year. When the government reports on third-quarter growth on Oct. 31, it's a good bet the plunge in home construction will have subtracted about a percentage point from overall growth. At the same time, a narrower trade deficit appears to have offset all of that weakness.
The turnaround in the trade gap, adjusted for the changing prices of exports and imports, actually began in late 2005. Since then, the deficit has shrunk an estimated 15% through the third quarter, the largest decline since the mid-1980s, and the pace of the improvement has picked up thanks to strong exports. The question now is, will trade continue to support the economy in 2008?
The fear, as the old saying goes, is that when the U.S. sneezes, the rest of the world catches a cold. That is, if a U.S. slowdown chills growth overseas, the trade gap may benefit from a temporary lull in imports, but recent export gains would be at risk. Although the dollar is sure to remain at very competitive levels, foreign demand has always been the bigger influence on exports.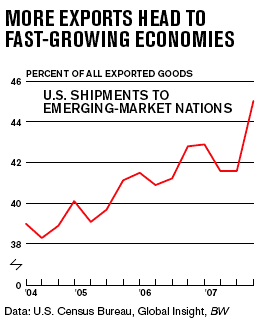 However, the world has become less sensitive to America's ups and downs. Over the past decade, U.S. growth ebbed to 2.6% annually from 3% over the previous 10 years, but the global economy sped up, to 4.4% from 3.2%. Between the same two periods, the U.S. contribution to world growth has declined from 19% to only 12%.
Stateside exporters should enjoy strong overseas demand next year, based on the International Monetary Funds' World Economic Outlook. The IMF expects global growth to slow in 2008, to 4.8%, from 5.2% in 2007, with the U.S. expanding 1.9% each year. That implies growth outside the U.S. of about 5.5%—a rate about triple that in the U.S. for the second year in a row.
Also, a large share of U.S. exports has shifted to fast-growing emerging markets and away from major economies. In only the past two years, the proportion of U.S. goods shipped to these areas—which are expected to grow 7.4% next year—has risen to 45% from 38%. That's impressive, since many of these nations peg their currencies to the dollar, resulting in smaller competitive benefits for U.S. exports compared with major currencies, against which the greenback has fallen more. China, where U.S. exports are up 25% annually over the past five years, is now the No. 4 buyer of U.S. goods.
What's more, many economies overseas are internally stronger compared with a few years ago: Their growth is driven more by homegrown demand and less by exports. That's especially true recently for Canada and Mexico, the U.S.'s two biggest trading partners, accounting for 34% of U.S. exports. Meanwhile, as developing nations in Asia, South America, and the Middle East enjoy solid growth, global producers are finding more places other than U.S. markets to sell their goods.
The benefits from trade gains are already showing up in profits and jobs, key drivers of business and consumer demand. Through the second quarter, U.S. corporate earnings from abroad rose 21.3% from a year ago, while domestic profits were up only 0.9%. Over the past year, net foreign receipts have accounted for more than 80% of the increase in overall profits.
As for job growth, look beyond manufacturing. Price-adjusted exports of services, up some 10% from a year ago, are growing faster than shipments of goods. Economists at Barclays Capital (BCS ) note that the service industries most integrated with global demand, such as business services, education, and medical treatment, accounted for about 75% of the past year's job gains, many of which were created by exports.
Of course, while world growth is less sensitive to U.S. activity, it is not completely detached. If the housing slump and the credit crunch knock the U.S. into a recession, overseas economies—and U.S. exporters—would feel the downdraft. However, the U.S.'s trading partners will provide a cushion to help prevent that.
By James C Cooper
Before it's here, it's on the Bloomberg Terminal.
LEARN MORE