The Good Times Roll at Lenovo
Taiwanese rival Acer got Packard Bell, but Lenovo is surging ahead in Europe and other markets, leading to a quarterly earnings gain of 178%
by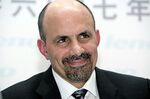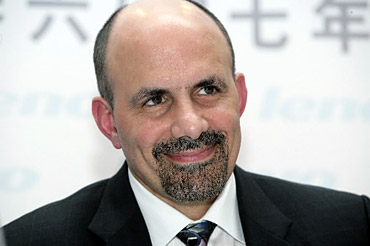 It's probably been a frustrating few months for William Amelio, the chief executive officer at Lenovo. The Chinese computer maker had been in the driver's seat to acquire Packard Bell, a PC maker that has a good base of support among consumers in Western Europe. A deal would have helped Amelio address one weakness Lenovo had as a result of its acquisition of IBM's (IBM) PC division in 2005: The company enjoyed stronger support among corporate customers than consumers.
Then a pesky Lenovo rival got in the way. On Aug. 27, Acer stymied Amelio's plans by acquiring Gateway, the U.S. computer company that, for complicated historical reasons, had first dibs on Packard Bell. In the intense race between Lenovo and Acer for the No. 3 spot among PC makers globally, behind Hewlett-Packard (HPQ) and Dell (DELL), the Taiwanese company had trumped its mainland competitor (BusinessWeek, 8/27/07).
But Acer's move hasn't stopped Lenovo from surging ahead in Europe and other markets. On Nov. 1, the company announced its revenue for the quarter ending Sept. 30 had jumped 20%, to $4.4 billion. Even better, Lenovo's quarterly earnings surged 178%, to $105 million, over the same period in 2006. Lenovo's Hong Kong-traded shares are up 170% so far this year and hit a 52-week high on Oct. 31 of 9.20 in Hong Kong dollars before giving up some gains to close at 8.55 on Nov. 1 before the earnings announcement.
Neck-and-Neck Race with Acer
Amelio now is talking confidently about Lenovo's next move to build its appeal among consumers. One step involves shifting the company's Think laptops away from the IBM brand. (Lenovo bought the rights to the brand when it purchased the PC division from Big Blue.) While not many consumers in the U.S. or European markets were familiar with the Lenovo brand a few years ago, today the company's advertising efforts and sponsorship campaigns (it's the official computer of the National Basketball Assn., for instance) have changed things. "By making substantial progress on all of our critical priorities over the past few quarters, we're now a stronger, healthier company," Amelio said in a Lenovo press statement. "One important sign of this progress is our decision to completely transition our Think products from the IBM brand to the Lenovo brand two years earlier than planned."
Winning the battle for consumers is still going to be tough, though. Lenovo had a good quarter, but so did Acer, which is in a neck-and-neck fight with the Chinese company for bragging rights as the top Asian PC brand. On Oct. 26, Acer reported quarterly earnings had jumped 58%, to $90 million, and said the fourth quarter would be even stronger.
And, unlike Lenovo, Acer traditionally has been stronger among consumers than among corporate customers. HP also has been targeting consumers. "That's the challenge," says Bryan Ma, an analyst with International Data in Singapore. "The hot area is really on the consumer notebook side, but even though Lenovo is taking steps toward consumers, you have people like HP and Acer that are already there and have been aggressive."
Acer: Also-Ran in the Mainland
Lenovo can always count on the advantage of a giant home market. In China, the world's second-largest PC market after the U.S., the company continues to enjoy a big lead. According to Lenovo's earnings announcement, its sales in Greater China (which include Hong Kong and Taiwan but are overwhelmingly a reflection of sales in the mainland) surged 26.5% to $1.8 billion, and accounted for 41% of the company's overall revenue.
That home-court advantage is something executives at Lenovo's Taiwanese rival, Acer, can hardly imagine. While Acer is strong in Europe and making more of an effort in the U.S. via the Gateway acquisition, the company remains an also-ran in China, where no one is within shouting distance of No. 1 Lenovo. In a bit of wishful thinking, execs at Taiwanese companies once tried to convince people that they were as Chinese as companies based in the mainland. "They used to say that China was also their domestic market," says Tony Tseng, an analyst with Merrill Lynch (MER) in Taipei. So far, they have had little to show for that claim. "The Chinese government wants to promote their own brands, so it has been more challenging for Taiwanese to build up their brands" in the mainland.
One possible way to chip away at Lenovo's big Chinese advantage is for Acer or some other foreign company to acquire one of Lenovo's local rivals. For instance, there have been rumors for months that Dell might buy Founder, a second-tier Chinese PC maker, in order to jump-start its China business. Acer has also been the subject of speculation, but Acer CEO J.T. Wang says for now the company isn't interested in trying to buy a Chinese company.
"I don't rule out the possibility" of Acer trying to make a deal (BusinessWeek, 10/29/07), he said in an interview with BusinessWeek last week.
But with Acer now focusing on digesting Gateway and Packard Bell, "we are not in a hurry." Moreover, with a presidential election in Taiwan set for early next year, uncertainty about the political climate between the mainland and Taiwan makes it even more difficult for a company such as Acer to make a move on Lenovo's turf. "We have to be careful," said Wang. "No matter how much we emphasize that we are a global company, China says you are a Taiwanese company."
Before it's here, it's on the Bloomberg Terminal.
LEARN MORE