Why Delta Should Buy Northwest
With a new CEO and a clean balance sheet, Delta is pondering expansion. Here's why Northwest is the logical choice
by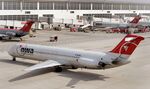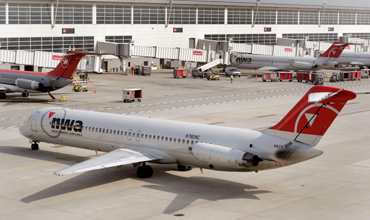 Northwest Airlines (NWA) Chief Executive Doug Steenland calls the U.S. airline industry's consolidation "inevitable." Richard Anderson, the new chief executive at Delta Air Lines (DAL), says his company would do a deal provided Delta is the acquirer and it helps the airline.
If Delta and Northwest executives really are committed to consolidating the field and tackling some of the industry's financial problems, they need look no farther than each other. From route networks and planes to workers and investors, the third- and fifth-biggest U.S. airlines face compelling reasons to merge.
"The strategic combination of Northwest and Delta might make a lot of economic sense, and we'd like to see both companies explore that potential," says Matthew Philo, a senior managing director at MacKay Shields, a private investment firm that holds a 3.1% stake in Northwest and 1.8% of Delta. "It might be a win for all constituents…including labor."
Consensus
Now may be the time. After the two companies filed for bankruptcy in 2005, they scrubbed their balance sheets back to respectability, converting heavy loads of debt to equity before emerging earlier this year. Today, many of the airlines' biggest holders are hedge funds and other strategic investors anxious for a profitable exit. At Northwest, half of the 20 largest institutional shareholders are hedge funds or private equity firms, with a nearly 31% stake in the airline. "The best target out there just sitting around saying, 'Hey, buy me' is Northwest," says Roger King, a senior airline analyst with CreditSights in New York.
Both airlines surprised some analysts in the past two weeks by raising the prospect of consolidation. In an Oct. 29 conference call with analysts, Steenland noted that Northwest and its hub-and-spoke peers were created from earlier mergers. "We believe that this trend will continue and that further consolidation of the industry is inevitable," he said, adding that "six major domestic network carriers are too many."
That's one point airline chief executives agree on (BusinessWeek.com, 12/4/06). It's been made for more than a year by United Airlines' (UAUA) CEO Glenn Tilton and US Airways' (LCC) CEO Doug Parker. "We're encouraged that others seem to be coming around to the conclusions that we made long ago, that this industry still isn't fixed," says Parker, who made a failed bid for Delta earlier this year. "While we're making money, we're not making the kind of money that most other mature businesses make."
Delta declined to comment beyond Anderson's previous statements, and a Northwest spokesman said the company had no immediate comment.
Pilots on Board
Northwest is one of only two U.S. carriers—United is the other—with a sizable route network in Asia, a prized growth destination where all the major airlines have been scrambling to expand. The airlines do not have significant route overlap and most of Delta's workforce isn't unionized, two key factors that would smooth an integration.
Moreover, Northwest's rank and file is no fan of their leaders. Northwest chopped $2.4 billion in costs during its bankruptcy, with much of the burden falling on workers. When the court approved its plan, Steenland received nearly $27 million in stock in the new company—an award that infuriated workers and added to years of rancor between labor and management. Northwest is also alone among U.S. carriers in operating a separate air-freight service to Asia, an asset that could realize significant revenue growth as business ties to China expand.
The other historic hurdle to airline deals has been pilots, leery of losing their spot on merged seniority lists. But Delta's 6,200 pilots now appear to be open to the prospect. Last winter, amid the fight with US Airways, they ponied up $1 million to fund their own analysis of any proposals and their union chairman, Captain Lee Moak, told Congress that Delta pilots would assist "the 'right' consolidation effort, a consensual merger with a rational mix of routes, employees, and resources, and with the absence of major antitrust and other detrimental issues." He wasn't describing Delta's acquisition of Northwest, but he could have been.
Complementary Hubs and Fleets
Geographically, the two airlines could combine operations fairly easily: Northwest's Memphis hub is near Delta's main Atlanta hub and could be scrapped, just as Delta's Cincinnati hub could give way to a larger Northwest operation in Detroit. Internationally, Delta has built deep European networks from Atlanta and New York, but flies to only two cities in Asia. Northwest, in turn, has a hub at Tokyo's Narita airport and has been flying in Asia for more than 60 years.
In terms of aircraft, the two also fit well. On their most lucrative business-class routes to Asia and Europe, Delta and Northwest don't even fly the same models. That difference makes it slightly easier to meld pilot seniority lists, since it is unlikely Delta would scrap the long-haul fleet Northwest has assembled. The carriers' combined 11,200 pilots are a constituency that must be placated for any combination to yield the expected benefits.
Of course, no deal is inevitable. Whatever the financial benefits, Delta and Northwest executives also will have to give ground personally. Cutting planes, low-yield routes, and excess workers is one thing, but consolidation also means shedding executive teams. "It's ego. For all of us," says US Airways' Parker. "There is a certain level of 'Yeah, I know this makes sense. But we're the ones who can run it better.'"
Before it's here, it's on the Bloomberg Terminal.
LEARN MORE